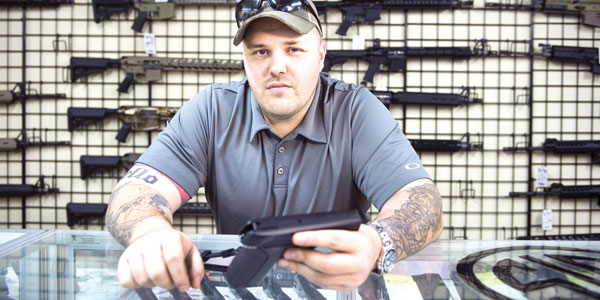 El 27 de junio, la Corte Suprema dictaminó 6-2 para mantener una decisión de la Corte Menor para la prevención de la posesión de armas de fuego a las personas condenadas de abuso doméstico.
El caso, Voisine v. Estados Unidos, llegó a la Corte Suprema de un caso en Maine, donde dos hombres declarados culpables de abuso doméstico fueron prohibidos de poseer una arma de fuego. La prohibición pertenecía a una ley federal del 1996 que evita que abusadores posean armas de fuego.
Los demandados presentaron dos argumentos. Se declaró que sus convicciones que fueron "imprudentementes" no les deberia de impedir que posean una pistola, en contraposición a un abusador que deliberadamente o intencionalmente causó daños a su pareja. También declararón que la ley de 1996 estaba infringiendo con su segunda enmienda de derechos.
Después de escuchar los testimonios, la Corte decidió mantener la prohibición federal, indicando que incluso acciones "imprudentes" se mantendrán a los mismos estándares. "Una persona que imprudentemente 'utiliza' la fuerza, lleva a cabo a esa misma acción que al que lo hace a sabiendas o intencionalmente," escribió la juez Elena Kagan, quien escribió la opinión mayoritaria en concurrencia con otros cinco jueces. Jueces Sonia Sotomayor y Clarence Thomas decidierón en contra de la sentencia.
En la raíz de la masacre en Orlando, Florida., y la reciente protesta democrática en la cámara de representantes exigiendo regulaciones estrictas a las armas de fuego, la decisión fue bien recibida por las comunidades y las organizaciones de apoyo a favor de la legislación de armas de fuego y a favor de los derechos de las mujeres. Oponentes dicen que la decisión infringe en sus derechos de la segunda enmienda y consideran la decisión como inconstitucional.
_______________________________________________________________________________________________________
Supreme Court rules to keep domestic abusers from owning guns
By Melissa Arroyo
On June 27, the U.S. Supreme Court ruled 6-2 to uphold a lower court decision preventing people convicted of misdemeanor domestic abuse from owning firearms.
The case, Voisine v. United States, reached the Supreme Court from a case in Maine, where two males convicted of domestic abuse were banned from owning a firearm. The ban pertained to a 1996 federal law that prevents domestic abusers from owning firearms.
The defendants presented two arguments. They stated that their past convictions of "recklessly" harming a partner shouldn't prevent them from possessing a gun, as opposed to a domestic abuser who knowingly or intentionally caused harm to a partner. They also stated the 1996 law they were subject to was infringing on their Second Amendment rights.
After several hearings, the court decided to uphold the federal ban, stating that even the "reckless" are held to the same standards.
"A person who assaults another recklessly 'uses' force, no less than one who carries out that same action knowingly or intentionally," wrote Justice Elena Kagan, who wrote the majority opinion in concurrence with five other justices.
Justices Sonia Sotomayor and Clarence Thomas decided against the ruling.
In the wake of the June massacre in Orlando, Fla., and the recent Democratic sit-in in the U.S. House of Representatives demanding strict gun regulations, the decision was well-received by communities and organizations supporting tighter gun legislation and women's rights. Opponents said the ruling infringes on their Second Amendment rights and regarded the decision as unconstitutional.