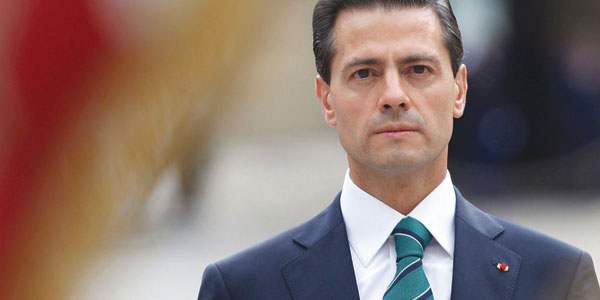 Durante la reciente promulgación del Sistema Nacional Anticorrupción, una nueva iniciativa por parte del gobierno mexicano para mitigar el fraude y la corrupción entre sus políticos, el presidente de México, Enrique Peña Nieto habló públicamente sobre el escándalo de la "casa blanca" que lo involucró en el 2014.
También se disculpó al público de nuevo.
"Este error afectó a mi familia, lastimó la investidura presidencial y dañó la confianza en el gobierno…. Así que pido humildemente perdón ", dijo el presidente de México, durante un discurso televisado de julio de 19 personas.
Durante una entrevista exclusiva con la primera dama Angélica Rivera en el 2013 para la revista ¡HOLA!, Rivera dijo que la casa fotografiada y que acompañó a la historia es la sede oficial de su familia para reubicarse después de la presidencia. Un grupo de periodistas decidieron obtener más información acerca de la casa y descubrieron que la mansión de $ 7 millones, que se encuentra en una zona exclusiva en la Ciudad de México, no pertenecía a Peña Nieto o Rivera.
En su lugar, la propiedad estaba a nombre de Grupo Higa, la empresa de ingeniería que había recibido numerosos contratos federales durante el mandato de Peña Nieto como gobernador del estado de México y su presidencia. Ciudadanos mexicanos mostraron su indignación y decepción en el gobierno después de que la información había llegado a ser ampliamente divulgada y una investigación del gobierno no había mostrado ningún delito por el Presidente.
La periodista Carmen Aristegui, que dio a conocer los resultados en el 2014 en su programa de noticias, declaró el 21 de julio en línea que una disculpa no era suficiente.
"En otros países con un verdadero estado de derecho, se habría llevado a cabo una investigación independiente … y lo más probable es que el Presidente se habría visto obligado a renunciar", dijo Aristegui.
_____________________________________________________________________________________________________________
Mexican president apologizes for "white house" scandalBy Melissa Arroyo
By Melissa Arroyo
During the recent enactment of the National Anticorruption System, a new initiative by the Mexican government to mitigate fraud and corruption among its politicians, Mexican President Enrique Pena Nieto (Peña Nieto in Spanish) spoke publicly about the 2014 "white house" scandal involving him.
He also apologized to the public again.
"This mistake affected my family … and damaged (citizens') confidence in the government…. So I humbly ask for forgiveness," the Mexican president said during a July 19 televised speech. "I reiterate my sincere and profound apology … (for) the grievance and outrage that I caused to all of you."
During an exclusive interview with first lady Angelica Rivera in 2013 for ¡HOLA! magazine, Rivera said the house she was pictured in that accompanied the story was the official home of her family for relocating after the presidency. A group of investigative journalists set out to learn more information about the house and discovered that the $7 million mansion, located in an exclusive area in Mexico City, didn't belong to Pena Nieto or Rivera.
Instead, the property was listed under the ownership of Grupo Higa, the engineering firm that had received numerous federal contracts during Pena Nieto's tenure as governor of the state of Mexico and his presidency. Mexican citizens showed their outrage and disappointment in the government after the information had become widely known and a government investigation had shown no wrongdoing by the president.
Journalist Carmen Aristegui, who disclosed the findings in 2014 on her news show, stated on July 21 online that an apology wasn't enough.
 "In another country with a real rule of law, an independent investigation would've taken place … and most likely, the president would have been forced to resign," Aristegui said.