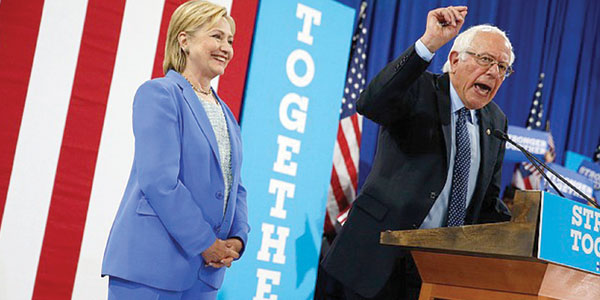 El estado de Kansas es conocido en los círculos políticos como republicano o un estado "rojo". Pero eso podría cambiar pronto.
De acuerdo con una historia reciente de KCUR-FM (89.3), los demócratas en el oeste de Kansas están reconociendo un grupo prometedor: los latinos.
Debido a las plantas procesadoras de carne lucrativos en el suroeste de Kansas, una alta población de latinos en busca de trabajo han establecido casas allí, allanando el camino para las próximas generaciones de latinos votantes elegibles. Según el último censo, el condado de Finney, donde se encuentra Garden City, tiene una población latina del 47 por ciento. Otros condados cercanos como Ford y Seward están por encima del 50 por ciento.
En comparación, la población latina del condado de Wyandotte está en el 26 por ciento – el más alto en el este de Kansas.
Pero de acuerdo con la historia de KCUR, los latinos tienden a no participar en las elecciones, ya se trate de funcionamiento para la oficina o el voto.
"Cuando nos fijamos en el número de votantes hispanos registrados, en comparación con el número de votantes hispanos registrados que llegaron a votar, hay una enorme bajada," Johnny Dunlap, presidente del Congreso del Distrito 1ro de Kansas para los demócratas, dijo KCUR.
Un pequeño grupo de demócratas hispanos en el condado de Finney está tratando de cambiar eso, alentando a los latinos a registrarse para votar y apoyar al Partido Demócrata, asistiendo a los eventos e involucrando a la comunidad. De frente a los temores de que son frecuentemente cuestionados al presentarse a votar a que simplemente se interesen en sus deberes cívicos, convencer a los latinos a votar puede ser un desafío, los demócratas reconocen. Sin embargo, los grupos demócratas están convencidos de que los latinos podrían convertir el oeste de Kansas en un área en gran parte "azul" por primera vez.
---
Latinos could turn Kansas into a "blue" state
By Melissa Arroyo
Kansas is known in political circles as a Republican or "red" state. But that could soon change.
According to a recent story from KCUR-FM (89.3), Democrats in western Kansas are recognizing an untapped voting pool: Latinos.
Because of the lucrative meat packing plants in southwestern Kansas, a high population of Latinos seeking jobs have established homes there, paving the way for upcoming generations of voting-eligible Latinos. According to the latest census, Finney County, where Garden City is located, has a Latino population of 47 percent. Other nearby counties such as Ford and Seward are above 50 percent.  
By comparison, Wyandotte County's Latino population is at 26 percent – the highest in eastern Kansas.
But according to the KCUR story, Latinos tend to not partake in elections, whether that involves running for office or voting.
"When you look at the number of registered Hispanic voters, versus the number of registered Hispanic voters who actually voted, there's a huge drop-off," Johnny Dunlap, 1st Congressional District chair for the Kansas Democrats, told KCUR.
A small group of Hispanic Democrats in Finney County is trying to change that by encouraging Latinos to register to vote and support the Democratic Party, by attending events and getting engaged with the community. From addressing eligible voters' fears of being targets when showing up to vote to simply getting them interested in their civic duties, convincing Latinos to vote can be a challenge, the Democrats acknowledge. However, the Democratic groups remain convinced that, if done accordingly, Latinos could turn western Kansas into a largely "blue" area for the first time.