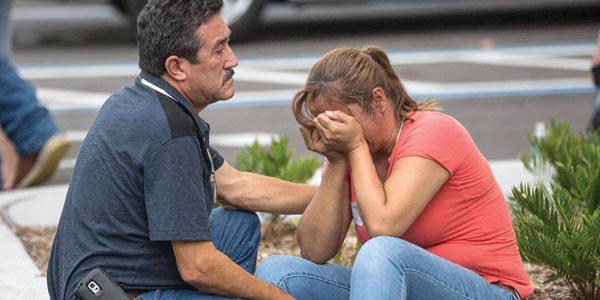 El Violence Policy Center (VPC), una organización que resguarda por la legislación de prevención de la violencia armada, publicó en un informe en junio que describe los resultados de cómo la violencia armada afecta de manera desproporcionada a los hispanos, en comparación con los blancos.
El informe incluye las muertes por armas de fuego para los hispanos que fueron víctimas de la violencia y el suicidio. Un hallazgo clave reveló que más de 3,000 hispanos fueron asesinados por armas de fuego solamente en el 2014, con más de la mitad como consecuencia de homicidios.
Desde 1999 al 2014, más de 50.000 hispanos fueron asesinados por armas de fuego, según el informe. Más investigación sugiere que el homicidio es la segunda causa principal de muerte entre los hispanos de 15-24 años de edad.
Al hacer comparaciones con las comunidades blancas y afro americanas, la tasa de victimas de homicidio en los hispanos fue 4.69 por cada 100.000 habitantes, la tasa de victimas de homicidio para los afro americanos era 18.74 por 100.000 y la tasa de victimas de homicidios para los blanco fue de 2.41 por 100.000.
El VPC publicó un informe similar que se centró en la comunidad afroamericana, que fue la más afectada en todos los grupos raciales. Sin embargo, el VPC indica en el informe que la falta de datos disponibles sobre las tasas de victimización de hispanos podría ocultar un ritmo mayor que los números reportados sugieren.
Para ver el informe, visite www.vpc.org/studies.
_____________________________________________________________________________________________________________________
More than 3,000 Hispanics killed each year by gun violence, report finds
By Melissa Arroyo
The Violence Policy Center (VPC), an organization that advocates for gun violence prevention legislation, published a report in June outlining the results of how gun violence disproportionately affects Hispanics, compared to their white counterparts.
The report included gun-related deaths for Hispanics who were victims of violence and suicide. One key finding revealed that more than 3,000 Hispanics were killed by guns in 2014 alone, with more than half resulting from homicides.
From 1999 to 2014, more than 50,000 Hispanics were killed by guns, according to the report. Further investigation suggests that homicide is the second leading cause of death for Hispanics ages 15-24.
When making comparisons with the black and white populations, the Hispanic homicide victimization rate was 4.69 per 100,000, the black homicide victimization rate was 18.74 per 100,000 and the white homicide victimization rate was 2.41 per 100,000.
The VPC published a similar report that focused on the African American community, which was affected the most among all racial groups. However, the VPC stated in the report that a lack of available data about Hispanic victimization rates could conceal a higher rate than the reported numbers suggest.
To view the report, visit www.vpc.org/studies.