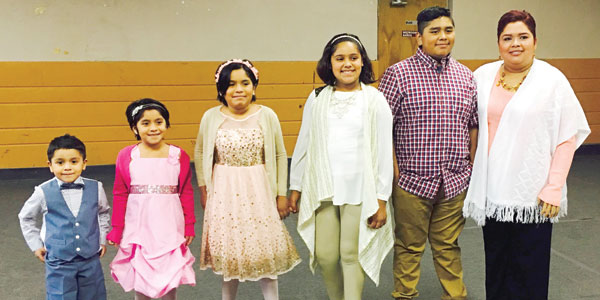 Un robo que tuvo lugar la noche del 19 de septiembre ha dejado una residente mexicana del área de Kansas City sin un brazo protésico de un valor de $127.000.
El robo, que sigue bajo investigación, ocurrió en la entrada de la casa de Martha Carmona. Carmona utilizaba el brazo protésico $127.000 para ayudarla a hacer las tareas diarias – incluyendo de tres a cuatro puestos de trabajo durante la semana.
"Yo estaba en shock, no lo podía creer", dijo Carmona. "Me dirigí a mi carro el martes por la mañana y me di cuenta que la puerta estaba abierta. Al principio, pensé que era mis hijos, pero después vi que no tenía mi bolsa, mi seguro de carro y mi prótesis. Llamé a la policía."
Carmona, madre de cinco hijos, dijo que ella nació con una malformación en su brazo bajo el codo. Ella ha usado una prótesis de brazo desde que tenía 5 años de edad para ayudarla a hacer las tareas diarias.
"Pasé 15 años con una prótesis pasiva", dijo. "Sin embargo, los médicos vieron que estaba teniendo problemas de espalda y me recomendaron el brazo mioeléctrico que tenía. Yo era capaz de tener una cierta movilidad y hacer las cosas como cualquier otra persona con dos brazos".
Según Carmona, el brazo mioeléctrico cuesta alrededor de $127.000. Sin embargo, lo consiguió a través de su seguro en septiembre de 2015 y sólo pagó el deducible.
"Yo no tengo seguro en este momento", dijo. "Ya hablé con la clínica, y … (la clínica) no podra reemplazarlo. En este momento, estoy tratando de comprar una prótesis pasiva que me ayudará a volver a mi vida normal".
Carmona dijo que el brazo protésico no sólo la ayudó con sus actividades físicas, sino también emocionales. De acuerdo a ella, dice que fue víctima de bullying en su adolescencia y la prótesis la ayuda a sentirse más segura de sí misma.
Carmona ha iniciado una campaña de recaudación de fondos para comprar una prótesis pasiva. Su objetivo es llegar a $ 5,700. Para hacer una donación, visite https://www.gofundme.com/2qdhf9g.
---
Latina seeking to replace $127,000 stolen prosthetic arm
By Paula Alzate
A burglary that took place the night of Sept. 19 has left a Mexican native and Kansas City area resident without a $127,000 prosthetic arm.
The theft, which remains under investigation, happened in Martha Carmona's driveway. Carmona used the $127,000 prosthetic arm to help her do daily tasks – including working three to four jobs during the week.
"I was in shock, I couldn't believe it," Carmona said.  "I walked to my car on Tuesday morning and realized the door was open. At the beginning, I thought it was my kids. But then, I saw I didn't have my bag, my car insurance and my myoelectric arm. I called the police."
Carmona, a mother of five, said she was born with a malformation in her arm under the elbow. She has worn a prosthetic arm since she was 5 years old to help her do daily tasks.
"I spent 15 years with a passive prosthesis," she said. "But the doctors saw I was having back problems and recommended the myoelectric arm I had. I was able to have some mobility and do things like any other person with two arms."
According to Carmona, the myoelectric arm cost around $127,000. However, she got it through her insurance in September 2015 by just paying her deductible.
"I don't have insurance right now," she said. "I already talked to the clinic, and … (the clinic) won't be able to replace it. Right now, I am trying to buy a passive prosthesis that will help me go back to my normal life."
Carmona said the prosthetic arm not only helped her with her physical activities, but also her emotional ones. According to her, she was bullied as a teen-ager and the prosthesis helps her feel more secure about herself.
Carmona has started a fund-raising campaign to buy a passive prosthesis. Her goal is to reach $5,700. To donate, visit https://www.gofundme.com/2qdhf9g.