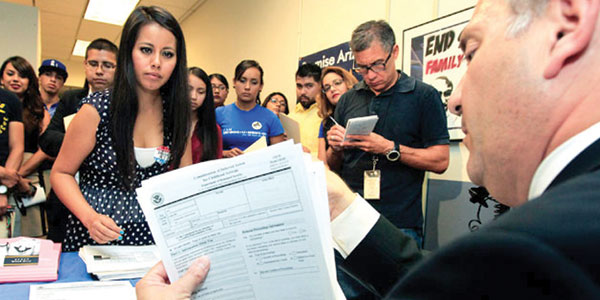 ¡El tiempo de renovar tu acción diferida ha llegado! Cada persona tiene un tiempo diferente para ingresar su aplicación, dependiendo del tiempo de expiración de su permiso. Es muy importante tomar acción y revisar la fecha en que tu permiso de trabajo se vence. ¡Si muestra una fecha en los próximos seis meses, necesitarás renovar inmediatamente!
Es crucial aplicar a tiempo, para obtener el nuevo permiso de trabajo antes de que el que tienes actualmente, expire.  Si no recibes tu nuevo permiso de trabajo antes de la fecha de expiración, tendrías que dejar de trabajar hasta que recibas el nuevo.  Podrías ser deportable y comenzarías a acumular días de presencia ilegal que podrían dañar tus chances de obtener residencia permanente en el futuro.
Aquellos que estén renovando no deben enviar nueva evidencia, a menos que hayan tenido problemas criminales. Esto nos permite ofrecer el cómodo precio de $200 por los honorarios legales de asistirte con tu proceso de renovación.  La tarifa que se paga al USCIS es la misma que en la aplicación inicial, $465.  ¡Pero pronto va a subir hasta $495, entonces aplica ya!
Si aún no has aplicado para la acción diferida, aún hay tiempo de hacerlo por primera vez. No hay fecha límite para aplicar por primera vez, si es que cumples con los requisitos originales.  Si no estás seguro de que puedas calificar, puedes consultar con la abogada por tan solo $25.  Lo más pronto que apliques, lo más pronto que podrás comenzar a trabajar por alcanzar tus sueños.
¡Llámanos al 816-895-6363 para una cita!
____________________________________________________________________________________________________________
The time is now to renew your Deferred Action
By Jessica Piedra
The time is now to renew your Deferred Action for Childhood Arrivals paperwork!  Everyone will have a different time to submit the application depending on the expiration date of their DACA.  It is very important to take action by checking the date on your work permit.  If it shows a date in the next six months, you will need to renew right away!
It is crucial to apply in time to get the new work permit before the current one expires.  If you do not receive your new work permit prior to the expiration of the current one, you could be subject to deportation and start gaining days of unlawful presence that could damage your chances of obtaining permanent residence in the future.    
Those who are renewing do not have to submit new evidence unless they have had criminal problems.  Therefore, we are offering a lower price of $200.00 to assist you with your renewal process.  The USCIS filing fee is still $465.00, but it will soon increase to $495, so file now!
If you have not yet applied for Deferred Action, there is still time to file for the first time.  There is no deadline to file for the first time if you meet the original guidelines.  If you are not sure if you qualify, you can discuss it with the attorney for only $25.00.   The sooner you apply, the sooner you can start working towards achieving your dreams.
Call us at 816-895-6363 to make an appointment!