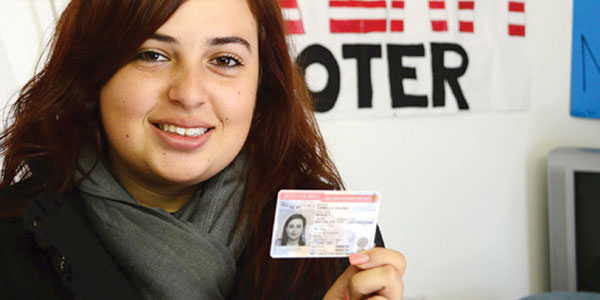 Vamos hablar sobre la fe que cosas buenas vendrán para nuestra comunidad.  Muchas veces se siente cuando tomamos dos pasos hacia adelante se siente que también estamos tomando un paso atrás. Así es el caso para la lucha para la educación por nuestra juventud inmigrante.
El gobierno federal no ha pasado nuevas leyes para arreglar nuestra situación y por esto inmigración se hizo un tema muy corriente a nivel de estado en los últimos años de los 2000s.
En el 2008 el gobierno estatal de Missouri prohibió la asistencia de estudiantes inmigrantes en las universidades públicas. Ante de ese momento no había leyes sobre inscripción o matrícula.  Muchos estudiantes no podían ir a la escuela y tuvieron que abandonar los estudios o buscar otras opciones. De 2008 at 2012 dirigí muchas reuniones con estudiantes y universidades sin mucho éxito. Y luego empezó el programa DACA. Ahí fue que pude explicar a los abogados de UMKC que los estudiantes de DACA eran capaces asistir las universidades públicas a pesar de la ley de 2008. Todas las universidades públicas empezaron a aceptar y matricular estudiantes DACA por lo que hice, por la información que había preparado.
Desafortunadamente un poco después el gobierno estatal pasa nuevas leyes que aumentaron la matrícula para los estudiantes DACA.  Pero no nos rendimos. Los jóvenes son nuestro futuro.   Seguimos preparando para excelencia y esperamos que va ver más oportunidades en el futuro. Necesitamos recordar lo que dijo Martin Luther King Jr. "El arco de la historia es largo, pero se dobla hacia la justicia."
Si no tienes DACA aplica hoy.  Llame nuestra oficina a 816.895.6363.  Síguenos en nuestra página de Facebook.  Para las últimas noticias, incluyendo becas y otra información  para estudiantes.
_______________________________________________________________________________________________________________
Keep the faith!
Let's talk about keeping the faith that good things will come for our community. Often, it seems like we take two steps forward and then a step back.  Such is the case with the struggle for education for our immigrant youth.  
Because the federal government has not passed laws fixing our situation, immigration became a hot topic on the state level in the late 2000's.
In 2008, the Missouri state government barred undocumented students from attending public universities.  Before that time, there were no state rules about enrollment or tuition.  Many students suddenly could not attend school and had to drop out or find other options.  I led a group of students in meeting with the university many times without success from 2008 to 2012. Then the DACA program started!  At that time, I was able to explain to UMKC's attorneys how DACA students were able to attend public university, despite the 2008 law.  All public universities in Missouri began enrolling DACA students the next semester based on the legal information I had prepared!   
Unfortunately, soon after that, the state government passed laws increasing the tuition for DACA students.  But we will not give up!  Young people are our future – keep preparing for excellence and expect there to be more opportunities in the future.  We have to remember what Martin Luther King, Jr. said, "The arc of history is long, but it bends toward justice."  
If you do not yet have DACA, apply today! Call our office at 816-895-6363.  Follow our Facebook page for the latest updates, including scholarships and other information for students!