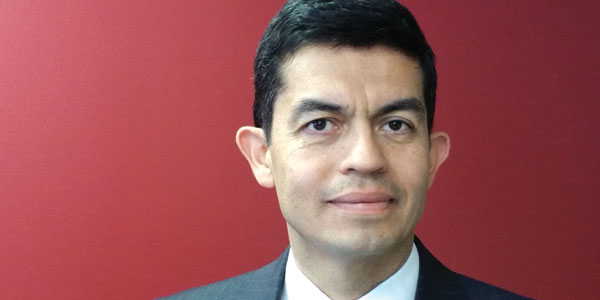 Alfonso Navarro–Bernachi, el nuevo cónsul primario de México en Kansas City planea crear conciencia sobre las contribuciones de los ciudadanos mexicanos para la vitalidad económica, el desarrollo tecnológico y la identidad artística en el corazón del país,, representar una imagen precisa de México y promover la importancia del desarrollo comercial y económico de la región para Estados Unidos y la relación bilateral de México.
«Esas son mis principales tareas», dijo Navarro–Bernachi a Dos Mundos.
Su trabajo se hace más fácil en Kansas City, mediante la diversidad dinámica y amable del corazón del país y su espíritu innovador, dijo él.
"La hospitalidad del área se presenta verdaderamente en las acciones diarias. Las autoridades y todos en las comunidades han sido amables de manera muy natural y agradable, dijo él.
Navarro–Bernachi fue nombrado cónsul primario el 1º de marzo por el presidente mexicano Enrique Peña Nieto y ocupó el puesto el 20 de junio. Él suplanta a Alicia Guadalupe Kerber Palma, quien fue reasignada al consulado mexicano en Filadelfia, Pensilvania. Los dos cónsules tuvieron varias oportunidades para hablar sobre el Consulado Mexicano en Kansas City y reunirse en persona en Washington, D.C. en mayo, dijo un vocero del Consulado.
Esta es la primera vez que Navarro–Bernachi está en Kansas City. Él y su esposa Mariana Navarro están impresionados por la vegetación del área, el escenario pintoresco y la conservación histórica.
«Ha sido una gran sorpresa para mí y mi esposa. Dado los alrededores preciosos de esta ciudad, trato de correr tres o cuatro veces a la semana, dijo Navarro–Bernachi.
El cónsul y su esposa también ya empezaron a asimilar algunas de las atracciones locales. Ellos encuentran impresionante la variedad de opciones culturales.
«Hago un gran esfuerzo para dar un poco de mi tiempo a estas actividades», dijo el cónsul. Él llegó de la Ciudad de México donde dio servicio como director general delegado para protección consular de mexicanos en el extranjero. Él es un veterano de 23 años de servicio extranjero de México. Los períodos de servicio anteriores incluyeron Cónsul general delegado en Phoenix Arizona y San Diego, California, y en la embajada mexicana en el Ecuador.
El 12 de agosto, la Cámara de Comercio Hispana de Kansas City organizó un evento de bienvenida formal. Esto le dio a Navarro–Bernachi la oportunidad de conocer a los líderes del área.
Desde que tomó el puesto, Navarro-Bernachi ha asistido a reuniones por todo el distrito consular, el cual abarca todo Kansas y Missouri y la parte oeste de Oklahoma. Hasta ahora se ha reunido con miembros de la comunidad e «importantes accionistas» en St. Louis, Mo y Garden City, Dodge City, Wichita, Manhattan, Olathe, Overland Park, Merriam, Lenexa y KCK en Kansas, de acuerdo con un vocero del Consulado.
«Él seguirá haciéndolo para dar un mejor servicio y entender las necesidades de la comunidad mexicana», dijo ella.
Al igual que sus cónsules colegas en Estados Unidos, Navarro-Bernachi está siguiendo la elección presidencial.
«Mis colegas y yo vamos a poner mucha atención a la nueva administración y actuaremos de acuerdo con los reglamentos del Ministerio Mexicano de Asuntos Exteriores», expresó.
_______________________________________________________________________________________________________________
Mexico's new consulate chief in Kansas City
By Edie R. Lambert
Alfonso Navarro-Bernachi, the new chief consul of Mexico in Kansas City plans to actively create awareness about the contributions of Mexican nationals to the heartland's economic vitality, technological development and artistic identity, portray an accurate picture of Mexico and promote the importance of the region's trade and economic development to the U.S. and Mexico's bilateral relationship.  
"Those are my main tasks," he told Dos Mundos.
His work is made easier in Kansas City, he said, by the welcoming, dynamic diversity of the heartland and its innovative spirit.
"Midwestern hospitality is truly present in everyday actions," he said. "The authorities and everyone in the communities have been very natural and pleasant and welcoming."
Navarro-Bernachi was appointed chief consul on March 1 by Mexican President Enrique Peña Nieto and took up the post on June 20. He succeeds Alicia Guadalupe Kerber Palma, who was reassigned to the Mexican Consulate in Philadelphia, Pa. The two career diplomats had several opportunities to discuss the Mexican Consulate in Kansas City and met in person in Washington, D.C. in May, said a consulate spokesperson.
This is Navarro-Bernachi's first time in Kansas City. He and his wife, Mariana Navarro are struck by the area's verdancy, picturesque scenery and historic preservation.
"It has been a great surprise for me and my wife," said Navarro-Bernachi. "Given the beautiful surroundings of this city, I try to run three to four times a week."
The consul and his wife have also started taking in some of the local attractions. They find the variety of cultural choices impressive.
"I make a great effort to give a little of my time to those activities," Navarro-Bernachi said.
He came from Mexico City where he served as deputy director general for consular protection of Mexicans abroad.  He's a 23-year veteran of Mexico's foreign service. Previous tours of duty include deputy consul general in Phoenix, Ariz., and San Diego, Calif., and in the Mexican Embassy in Ecuador.
On Aug. 12, the Hispanic Chamber of Commerce of Greater Kansas City hosted a formal welcome event. It gave Navarro-Bernachi the opportunity to meet area leaders.
Since taking office, he has attended meetings across his consular district, which takes in all of Kansas and Missouri and western Oklahoma. He has so far met with community members and "relevant stakeholders" in St. Louis, Mo., and Garden City, Dodge City, Wichita, Manhattan, Olathe, Overland Park, Merriam, Lenexa and KCK in Kansas, according to a consulate spokesperson.
"He will continue to do so in order to better serve and understand the needs of the Mexican community," she said.
Like his fellow consuls in the United States, Navarro-Bernachi is following the presidential election.
"I and my colleagues are going to be very attentive to the new administration and will act accordingly in the guidelines of the Mexican Ministry of Foreign Affairs," he said.