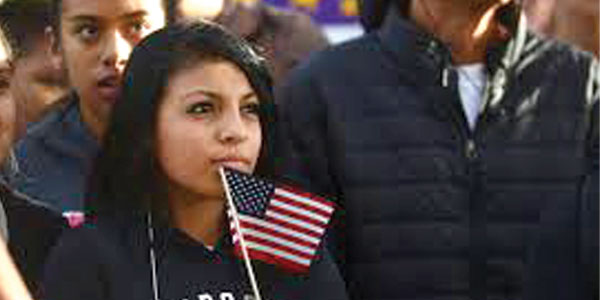 De acuerdo con una reciente proyección del Centro de Investigación Pew, un máximo histórico de 27.3 millones de latinos son elegibles para votar este año en Estados Unidos.
Además, Pew declaró que este año, el electorado de Estados Unidos es la población más diversa racialmente que nunca, con los hispanos impulsando el cambio demográfico.
"Casi uno de cada tres votantes elegibles (31 por ciento) en el Día de Elecciones (8 de noviembre) será hispano, africano americano, asiático o de otra minoría étnica o racial, un aumento del 29 por ciento comparado con el 2012", declaró Jens Manuel Krogstad en el sitio web de Pew. "Gran parte de este cambio se debe al fuerte crecimiento entre los votantes hispanos elegibles, en particular los jóvenes nacidos en Estados Unidos".
Estos jóvenes son conocidos como los "Millennials" un término popular definido por Pew como "los nacidos después de 1980 y la primera generación que llegó a la mayoría de edad en el nuevo milenio".
Sin embargo, un número menor de latinos dijo que están seguros de votar este año. De los encuestados por el Centro Pew, el 69 por ciento estaban "absolutamente seguros", comparado con el 77 por ciento en el 2012.
Y a pesar del potencial del electorado hispano, el número de hispanos que acuden a votar permanece menor que el de los blancos y de los afroamericanos.
"En las elecciones pasadas la cantidad de votos latinos se ha quedado atrás de otros grupos. Por ejemplo, en el 2012, los latinos tuvieron un índice de votación del 48 por ciento, comparado con 67 por ciento para afroamericanos y 64 por ciento para los blancos".
Para mayor información, visite pewresearch.org
---
Pew Research Center projects record-high 27.3 million Latinos can vote
By Nicholas Peterson   
A record-high 27.3 million Latinos are eligible to vote this year in the United States, according to a recent Pew Research Center projection.
Additionally, Pew stated that this year's U.S. electorate is the most racially diverse population ever, with Hispanics driving the demographic change.  
"Nearly one-in-three eligible voters (31 percent) on Election Day (Nov. 8) will be Hispanic, black, Asian or another racial or ethnic minority, up from 29 percent in 2012," Jens Manuel Krogstad stated on Pew's website. "Much of this change is due to strong growth among Hispanic eligible voters, in particular U.S.-born youth."
Such young people are known as Millennials, a popular term defined by Pew as "those born after 1980 and the first generation to come of age in the new millennium."
However, fewer Latinos said they were certain they would vote this year. Of those polled by Pew, 69 percent said they were "absolutely certain," compared to 77 percent in 2012.
And despite the potential of the Hispanic electorate, the numbers of Hispanics who turn out to vote remains lower than whites and blacks.  
"In past elections, the Latino voter turnout rate has lagged (behind) that of other groups," Pew states. "For example, in 2012, Latinos had a turnout rate of 48 percent, compared with 67 percent for blacks and 64 percent for whites."
For more information, visit pewresearch.org.