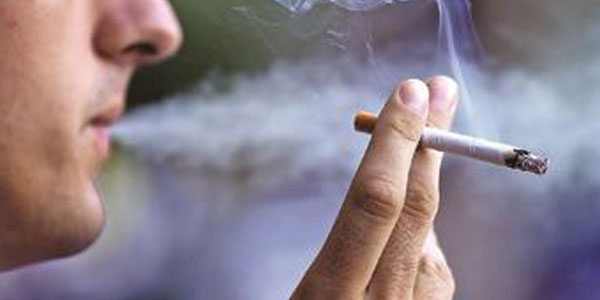 Casi una cuarta parte de todos los adultos en el condado de Wyandotte, Kansas, tienen condiciones de salud estable o mal, según las estadísticas.
Estas condiciones se atribuyen a varios factores, como vivir un estilo de vida sedentario, malos hábitos alimenticios y fumar. El veinticinco por ciento de todos los adultos del condado de Wyandotte en el Condado de Wyandotte son fumadores, en comparación con el 18 por ciento en general para el estado. Sin embargo, Wyandotte, en un esfuerzo para reducir el consumo de tabaco, organizado por la coalición liderada por la comunidad Healthy Communities Wyandotte, está trabajando para que la comunidad no esté expuesta al tabaco.
Coordinado por Rebecca Garza, Tobacco Free Wyandotte ha reducido los lugares de acceso al tabaco para los jóvenes a nivel local. Lo ha hecho a través de esfuerzos tales como una ordenanza recientemente aprobada que prohíbe que las tiendas vendan tabaco a personas menores de 21 años. El esfuerzo también busca poner en marcha programas dirigidos por jóvenes y redes de promoción que crearán un impacto positivo en la comunidad.
Además, para reducir la exposición al humo de cigarrillos, Wyandotte colocó letreros de "Play Tobacco Free" en los lugares públicos del gobierno unificado de Wyandotte County / Kansas City, Kansas, incluyendo parques, senderos y todos los espacios públicos al aire libre. Y durante los próximos meses, la iniciativa está trabajando para proporcionar educación comunitaria sobre recursos para ayudar a los consumidores a dejar de fumar y dar a conocer las disparidades de salud en Wyandotte County debido al consumo de tabaco.
Para obtener más información sobre Healthy Communities Wyandotte, visite http://www.hcwyco.org/.
______________________________________________________________________________________________________________
Healthy Communities Wyandotte working to reduce tobacco consumption
By Melissa Arroyo
Almost a quarter of all Wyandotte County, Kan., adults have fair or poor health conditions, statistics show.
Those conditions are attributed to several factors, such as living a sedentary lifestyle, poor eating habits and smoking. Twenty-five percent of all Wyandotte County adults in Wyandotte County are smokers, compared to 18 percent overall for the state. But Tobacco Free Wyandotte, an effort organized by the community-led coalition Healthy Communities Wyandotte, is working to make the community tobacco-free.
Coordinated by Rebecca Garza, Tobacco Free Wyandotte has reduced tobacco access venues for young people at the local level. It has done so through such efforts as a recently passed ordinance prohibiting stores from selling tobacco to individuals younger than 21. The effort also seeks to launch youth-led programs and advocacy networks that will create a positive impact in the community.
In addition, to reduce secondhand smoke exposure, Tobacco Free Wyandotte placed "Play Tobacco Free" signs on Unified Government of Wyandotte County/Kansas City, Kan., property, including parks, trails and all outdoor public spaces. And over the next several months, the initiative is working to provide community education about resources to help consumers quit smoking and shed light on the health disparities in Wyandotte County because of tobacco consumption.
To learn more about Healthy Communities Wyandotte, visit http://www.hcwyco.org/.