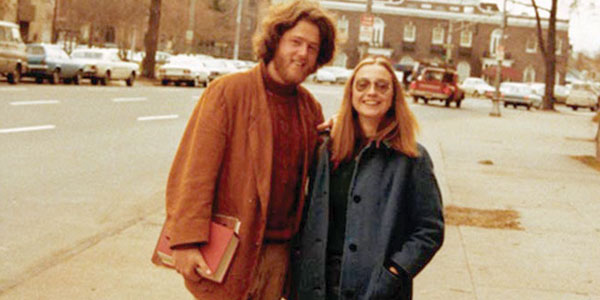 Todos los caminos llegan a Roma, muchos dicen. Pero el camino que la llevó a Hillary Clinton a convertirse en una candidata presidencial fue compuesto por trabajo duro, pasión, ambición y perseverancia. Esto es fácil de percibir mediante el análisis de sus primeros años.
Nació en Chicago como Hillary Diane Rodham, irónicamente, sus padres eran republicanos. Su padre tenía su propia empresa mientras que su madre se quedó en el hogar.
Clinton siempre demostrado una gran ambición. A los 12 años, por ejemplo, escribió a la NASA, preguntando cómo podía ser astronauta. Recibió una respuesta diciendo que la NASA no aceptaba mujeres. En lugar de desalentarse, esto pareciera haber despertado su pasión por la lucha por la igualdad femenina.
Las primeras experiencias políticas de Clinton fueron de orientación republicanas. Mientras cursaba la universidad en el Wellesley College de Massachusetts, dirigió el grupo Jóvenes Republicanos local. Sin embargo, rápidamente su ideología se transformó hacia la izquierda – y al momento de graduarse con un título en ciencias políticas, ya era una demócrata.
Después de la universidad, Clinton trabajó como voluntaria para una organización que más tarde se convirtió los Fondos para la Defensa de los Niños. Su trabajo consistía en entrevistar a las familias de los trabajadores migrantes e informar de sus conclusiones al subcomité del Senado de Walter Mondale. Está claro que fue en este momento de su vida que su compromiso con los niños comenzó.
Desde los primeros tiempos de su carrera, Clinton logró superar las restricciones que la sociedad norteamericana a menudo impone en las mujeres. En 1974, Clinton se mudó a Washington, DC, como una de las tres mujeres de un total de 43 abogados para trabajar en la investigación sobre la posible destitución del presidente Nixon.
Hillary Clinton no nació ni rica ni poderosa. En lugar de esto, obtuvo su reconocimiento y su poder al aprovechar las oportunidades que esta gran nación ofrece para convertirse en un ciudadano extremadamente valioso. El resto de nosotros podemos lograr nuestros objetivos, al igual que ella logró los suyos: siguiendo el camino constituido por trabajo duro, pasión, ambición y perseverancia.
___________________________________________________________________________________________________________________
Hillary Clinton's early days
Commentary by Dermidio Juez-Perez
Many roads can take you to Rome, many say. For presidential candidate Hillary Clinton, the road that took her to become a presidential candidate was paved with hard work, passion, ambition and perseverance.  This is clear to see by examining her early years.
Born in Chicago as Hillary Diane Rodham, ironically her parents were Republicans. Her father owned a drapery-making business, and her mother stayed home.
Clinton has always shown great drive. At age 12, for example, she wrote to NASA, asking how she could become an astronaut. She received a reply saying that NASA didn't accept women. Rather than discouraging her, it seemed to have sparked her passion for fighting for women's equality.
Clinton's first political experiences were Republican-oriented. While at Wellesley College in Massachusetts, she became the head of the local Young Republicans chapter. However, she quickly moved toward the left – and by the time she graduated with a degree in political science, she was a Democrat.  
After college, Clinton volunteered for an organization that later became the Children's Defense Fund. Her job was to interview the families of migrant laborers and report her findings to Walter Mondale's Senate subcommittee. Clearly, it was at this point in her life that her commitment to children's issues started.
From the earliest time in her career, Clinton has overcome the restrictions U.S. society has often placed on women. In 1974, she went to Washington, D.C., as one of only three women out of 43 lawyers to work on the inquiry into the possible impeachment of President Nixon. Impressive indeed.
Hillary Clinton wasn't born rich or powerful. Instead, she earned her recognition and power by taking the opportunities this great nation has to offer to become an incredibly valuable citizen. The rest of us can accomplish our goals, just as she accomplished hers: by following the road paved with hard work, passion, ambition and perseverance.