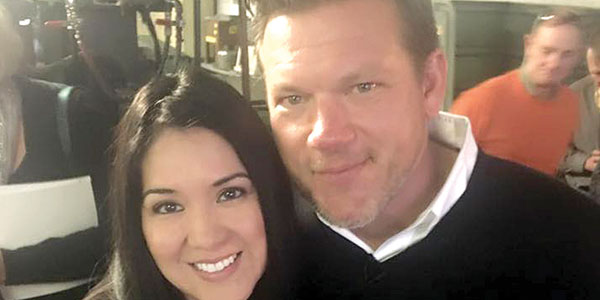 El 15 de noviembre, una celebridad se tomó tiempo para visitar el área de Kansas City – y compartir sus pensamientos sobre México.
Ese día, la Vita Craft Corp. de Shawnee, Kansas, realizó una recepción VIP para celebrar el lanzamiento de su nueva línea de utensilios de cocina, co-diseñada por el chef Tyler Florence. Florence aparece en los programas de la industría de alimentos com  "The Great Food Truck" Race," "Worst Cooks in America" y "The Great Food Truck Race."."
«Vita Craft fue el primer juego de ollas y sartenes  en el que aprendí a cocinar cuando tenía alrededor de 8 años", dijo Florence en un comunicado de prensa.
Durante el evento, Vita Craft – que ha hecho utensilios de cocina durante 75 años – permitió a los clientes, presenciar el proceso de fabricación de su nueva línea de utensilios de cocina. Florence, por su parte, habló y se fotografió con los invitados. También habló con Dos Mundos sobre México y su rico patrimonio culinario.
"He pasado mucho tiempo en México", dijo. "Preparo una salsa muy buena."
Florence describió los sabores de la cocina mexicana como "espectaculares" y reflexionó sobre la posición de México en la cocina mundial.
"Creo que México es tan importante para América como lo es Italia para Europa", afirmó.
Para obtener más información sobre Vita Craft, visite vitacraftcommercialcookware.com.
---
Celebrity chef discusses Mexico during Kansas City area visit
By Nicholas Peterson
On Nov. 15, a celebrity took time to visit the Kansas City area – and share his thoughts about Mexico.
That day, the Vita Craft Corp. of Shawnee, Kan., hosted a VIP reception to celebrate the launch of its new line of cookware, co-designed by the company in partnership with chef Tyler Florence. Florence appears on such Food Network shows as "The Great Food Truck Race," "Worst Cooks in America" and "The Great Food Truck Race."
"Vita Craft was the first set of pots and pans that I learned how to cook with when I was probably 8 years old," Florence said in a press release.
During the event, Vita Craft – which has made cookware for 75 years – allowed guests to witness the manufacturing process of its new cookware line. Florence, meanwhile, talked to guests and granted photo opportunities. He also spoke with Dos Mundos about Mexico and its rich culinary heritage.
"I've been extensively through Mexico," he said. "I make a really great mole sauce."
Florence described the flavors of Mexican cuisine as "spectacular" and reflected on Mexico's position in world cuisine.
"I think Mexico is as important to America as Italy is to Europe," he stated.
For more information on Vita Craft, visit vitacraftcommercialcookware.com.