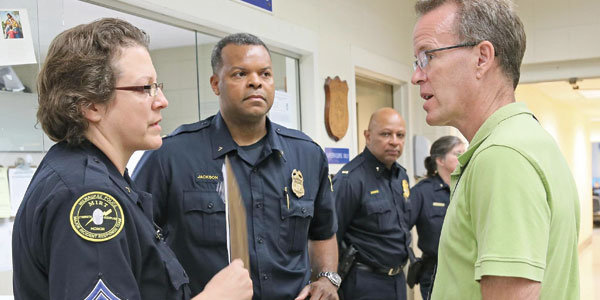 Los agentes de policía frecuentemente se enfrentan a situaciones de crisis, incluyendo a personas que padecen enfermedades mentales.
Ayudar a una persona con esta característica requiere habilidades especiales. Habilidades como saber cómo desanimar una situación, reconocer señales de advertencia y saber cómo y cuándo ofrecer apoyo. Afortunadamente, muchas comunidades reconocen esta necesidad y proporcionan a los oficiales de policía entrenamiento especializado en el trabajo con esta población. Lamentablemente, sin embargo, no todas las comunidades ofrecen este tipo de entrenamiento.
Como resultado, muchos oficiales deben confiar en su formación general y no especializada para trabajar con personas con enfermedades mentales. La falta de capacitación específica trae consecuencias indeseables para esta población vulnerable, como el aumento de los arrestos y la violencia cometida por ambas partes.
Afortunadamente, Kansas City, Missouri, es una de las muchas comunidades en todo el país que abogan por el cambio y la implementación de programas de capacitación adecuada para los oficiales de policía. Por ejemplo, el Departamento de Policía de Kansas City cuenta con un equipo de intervención en crisis, que recibe capacitación especializada en salud mental y ayuda a reconocer los síntomas de enfermedades mentales. Los oficiales ayudan a reducir las situaciones de crisis, con la esperanza de disminuir las restricciones y encarcelamientos inapropiados.
A finales de octubre, Kansas City abrió un centro de crisis con 16 camas para atender a personas con enfermedades mentales o problemas de alcohol. Los agentes de policía pueden llevar a los sujetos este centro de estabilización, en lugar de utilizar salas de emergencia superpobladas y cárceles.
Con la difusión de programas similares en todo el país, la concientización sobre la salud mental se espera que gane impulso y más comunidades tomarán medidas. Y al hacerlo, más oficiales de policía estarán debidamente capacitados para manejar situaciones de crisis que involucren a personas con enfermedades mentales.
_________________________________________________________________________________________________________
Police officers need proper mental health training
Commentary by Dermidio Juez-Perez
Police officers frequently face crisis situations, including many involving those with mental illnesses.
Helping this population requires specific skills in de-escalation, recognizing warning signs and offering support. Fortunately, many communities recognize this need and provide police officers with specialized training in working with this population. Unfortunately, however, not all communities offer them.
As a result, many officers must rely on general training to work with those with mental illnesses. Their lack of specific training brings undesirable consequences for this vulnerable population, such as increases in arrests and violence committed by both parties.
Thankfully, Kansas City, Mo., is among the many communities nationwide that are advocating for change and implementing proper training programs for police officers. For instance, the Kansas City Police Department has a crisis intervention team, which receives specialized training in mental health and helps recognize symptoms of mental illnesses. The officers assist with de-escalating crisis situations, with the hopes to decreasing inappropriate restraint and incarceration.
And in late October, Kansas City opened a crisis center with 16 beds to serve those with mental illnesses or alcoholic distress. Police officers can take subjects to the center for stabilization, rather than utilizing overcrowded emergency rooms and jails.
With the spread of similar programs nationwide, mental health awareness will hopefully gain momentum and more communities will take action. And by doing so, more police officers will be properly trained to handle crisis situations involving those with mental illnesses.