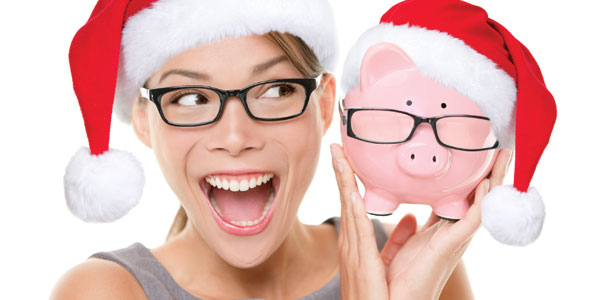 La temporada de vacaciones trae "alegría al mundo," pero no a su billetera o cuenta bancaria.
    Durante el frenesí de compras navideñas, mantenerse financieramente a flote puede ser difícil de manejar. Aunque la temporada navideña está en pleno apogeo, aquí hay algunos consejos para considerar al comprar regalos que te ayudarán a ahorrar dinero:
*Desarrollar un presupuesto de gastos navideñas: A pesar de que las celebraciones están a la vuelta de la esquina, todavía se puede crear un pequeño presupuesto para regalos simples. Recuerde, durante este tiempo, no se trata de que grande es su regalo; Es la intención detrás de ella.
*Compra en línea: Durante la temporada de vacaciones, tiendas y minoristas en línea tienen descuentos importantes – y en algunos casos, incluyen envío gratuito. El término "compras en línea" puede parecer desalentador, pero la idea podría ahorrarle mucho dinero y molestia. Las compras en línea se han vuelto más significativas al obtener mejores ofertas que las ventas en las tiendas.
*Crear do-it-yourself (DIY) regalos: Si usted tiene el tiempo – y la paciencia – no hay mejor manera de ahorrar en los regalos que los que crea. En los últimos años, los regalos de bricolaje se han convertido en la rabia, sobre todo con la ayuda de plataformas sociales como Pinterest para impulsar el interés público. La creatividad no tiene que ser compleja, y un regalo de bricolaje es más personal. Además, su billetera le agradecerá.
Y aquí hay algunos consejos para manejar eficazmente su dinero el resto del año:
*Agregue todas sus facturas mensuales, además de necesidades: Esto ayuda a visualizar cuánto está saliendo de sus cheques de pago. A continuación, puede calcular la cantidad de cada cheque de pago que queda.
*Hacer un plan y presupuesto para sus ahorros: Dinero de emergencia es una necesidad, porque nunca se sabe qué crisis financiera que podría experimentar. Tomar cantidades razonables de cada cheque para ser colocado en su cuenta de ahorros. Algunos empleadores ofrecen la opción de depositar una cierta cantidad o porcentaje de su cheque directamente en una segunda cuenta bancaria. Esto podría ser una opción inteligente si no confía en sí mismo con la supervisión de su dinero y ahorro.
* Tenga en cuenta su deuda de tarjeta de crédito: Es imprudente para ahorrar mientras que también se acumulan deudas de tarjetas de crédito. Lo mejor es administrar su deuda y asegurarse de que está usando sólo lo que sabe que puede pagar en una cantidad razonable de tiempo. Trate de usar su tarjeta de crédito sólo para gas, comestibles o una emergencia de buena fe.
______________________________________________________________________________________________________________
How to manage your holiday spending and year-round finances
Commentary by Katherine Diaz
The holiday season brings "joy to the world," but not to your wallet or bank account.
During the holiday shopping frenzy, staying financially afloat can be difficult to manage. Although the holiday season is in full swing, here are some tips to consider when shopping for gifts that'll help you save money:
    *Develop a holiday spending budget: Even though the holidays are around the corner, you can still create a small budget for simple gifts. Remember, during this time, it's not about how big your gift is; it's the intention behind it.
*Shop online: During the holiday season, stores and online retailers have major discounts – and in some cases, include free shipping. The term "online shopping" might seem daunting, but the idea might save you a lot of money and hassle. Online shopping has become more significant in scoring better deals than in-store sales.
*Create do-it-yourself (DIY) gifts: If you have the time — and the patience — there's no better way to save on gifts than those you create. In recent years, DIY gifts have become the rage, especially with the help of social platforms such as Pinterest to boost public interest. Creativity doesn't have to be complex, and a DIY gift is more personal. Besides, your wallet will thank you.
And here are some tips to effectively manage your money the rest of the year:
*Add up all your monthly bills, plus necessities: This helps visualize how much is coming out of your paychecks. You can then calculate how much of each paycheck is left over.
*Make a plan and budget for your savings: Emergency money is a must because you never know what financial crisis you might experience. Take reasonable amounts from each check to be placed in your savings account. Some employers offer the option to deposit a certain amount or percentage of your check directly into a second bank account. This might be a smart option if you don't trust yourself with monitoring your money and saving.
*Be mindful of your credit card debt: It's unwise to save while you're also racking up credit card debt. It's best to manage your debt and ensure that you're using only what you know you can pay back in a reasonable amount of time. Try to use your credit card only for gas, groceries or a bona fide emergency.