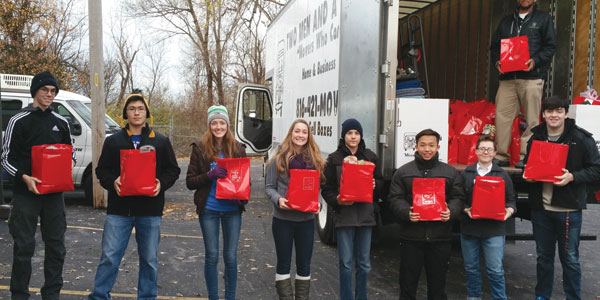 El Fondo del Amor para los Niños (Love Fund for Children) está en una misión para llevar el espíritu navideño a todos, especialmente a los adolescentes menos privilegiados del área de Kansas City a través del programa anual Sack It for Santa.
Patrocinado por WDAF-TV (FOX4), el programa dona bolsas de regalo especiales a las edades 13-18.
«(El programa) se inició hace 11 años – en diciembre del 2005,» dijo Carrie Hibbler, productora ejecutiva de FOX4 y directora de asuntos comunitarios. «Originalmente se llamaba 'Sock It para Santa,' pero nos enteramos de que cuando estábamos recogiendo todas las medias todas las cosas se caían. Es por eso que al año siguiente lo hicimos 'Sack It for Santa,' y así es como empezamos a usar esas bolsas de regalo rojas."
Los individuos dispuestos a ayudar pueden visitar una farmacia local de CVS, recoger un saco rojo y empezar a crear una bolsa de regalo. El regalo debe ser devuelto a las 6 p.m. del 7 de diciembre a cualquier CVS participante.
Las personas que llenen los sacos puede n hacerlo en cualquier tienda, incluso aunque no sea una tienda de CVS. Hibbler aconseja a las personas que sino ven los sacos rojos en una tienda pueden preguntar a un empleado en el mostrador, tal vez la tienda no tiene espacio para mostrar las bolsas.
«Mucha gente quiere hacer algo por las vacaciones," dijo Hibbler. «Simplemente no saben qué hacer o cómo hacerlo."
El programa comenzó cuando el Fondo del Amor notó que hubo varios esfuerzos para apoyar a los niños y familias necesitadas durante los tiempos navideños, pero esencialmente no hay programas para ayudar a los adolescentes del área.
«Comenzó porque, a través del Fondo del Amor, hay Toys for Tots, el Angel Tree – cosas para los niños – y ellos Adopt-A-Family," dijo Hibbler. «Pero hemos reconocido en el área de Kansas City que había una gran necesidad de ayudar a los adolescentes en las fiestas y no había ningún programa para adolescentes en absoluto. Así que decidimos que era una necesidad que realmente queríamos ayudar a cumplir."
El Fondo del Amor triene trabajadores sociales, escuelas, clérigos y organizaciones sin fines de lucro para ayudar a las personas con los recursos que puedan necesitar.
«Si hay algo que podamos hacer para ayudar a que su vida sea un poco más brillante en las vacaciones – eso es lo que estamos tratando de hacer," dijo Hibbler.
    Para más información sobre el programa o para donar, visite fox4kc.com/sackit.
______________________________________________________________________________________________________________
Sack It for Santa brightening holidays for area teens
By Katherine Diaz
The Love Fund for Children is on a mission to bring the Christmas spirit to all, especially to less privileged Kansas City area teens through the annual Sack It for Santa program.
Sponsored by WDAF-TV (FOX4), the program donates special sacks to ages 13-18.
"(The program) was started 11 years ago – so December 2005," said Carrie Hibbler, FOX4 executive producer and community affairs director. "It was originally called 'Sock It for Santa,' but we found out that when we were picking up all the stockings that all the stuff would fall out. So the next year we made it 'Sack It for Santa,' and that's how we started using those red gift bags."
Individuals willing to help can stop by a local CVS Pharmacy, pick up a red sack and start creating a gift bag. The sack must be returned by 6 p.m. Dec. 7 to any participating CVS.
Anyone filling the sacks may do so at any store, even if it's not a CVS store. Hibbler advises individuals that if they don't see the red sacks at a store to check with an employee at the counter because the store might not have had room to display the sacks on the floor.
"A lot of people want to do something for the holidays," Hibbler stated. "They just don't know what to do or how to do it."
The program began when the Love Fund noticed there were several holiday efforts to support needy children and families, but essentially no programs to help area teens.
"(It) started because, through the Love Fund, there's Toys for Tots, the Angel Tree – things for children – and they do Adopt-A-Family," Hibbler said. "But we recognized in the Kansas City area that there was a big need to help teens at the holidays and there wasn't any teen program at all. So we decided that was a need that we really wanted to try to help meet."
The Love Fund works with social workers, schools, clergies and non-profit organizations to help assist individuals with whatever resources they might need.
"If we can do a little bit – or if there's just something that we can do to make their lives during the holidays a little bit brighter – that's what we're trying to do," Hibbler stated.
For more information on the program or to donate, visit fox4kc.com/sackit.