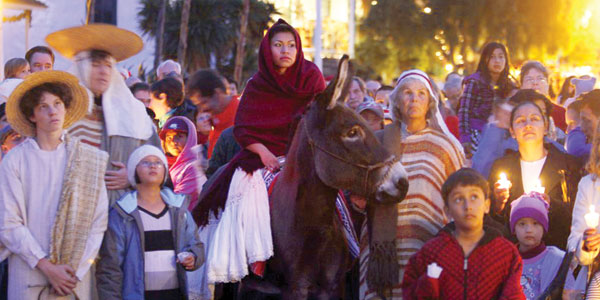 Mientras que mucha gente a nivel mundial se prepara para celebrar la Navidad, muchos latinoamericanos se preparan para celebrar ese día un poco antes de Navidad que está asociado con ello: Las Posadas.
Muchos países latinoamericanos celebran Las Posadas durante 9 días, reconociendo el viaje de 9 días que hicieron María José y desde Nazaret hacia Belén. De acuerdo con la historia del nacimiento de Jesucristo en el Evangelio, María estaba a punto de dar a luz cuando llegaron a Belén y la pareja tenía problemas para encontrar un lugar para quedarse. Después de una larga noche caminando, una persona les ofreció ayuda. Ellos encontraron un lugar para quedarse, un pesebre, donde nació el niño Jesús.
El origen de celebrar Las Posadas para honrar la jornada de María y José se data a 1587, cuando el hermano Diego de San Soria recibió permiso del papa Sixto V para celebrar misas conmemorativas del 16 al 24 de diciembre en México. A partir de allí, las misas crecieron hasta que tomaron las calles.
Al observar que Las Posadas se han esparcido desde México hacia otros países latinoamericanos, han emergido las tradiciones relacionadas con el período del día festivo. Por ejemplo, durante la celebración de 9 días, las personas caminan hacia varias casas para pedir refugio, igual como lo hicieron María y José. Y el organizador de la posada local decora su casa con adornoss navideñas, y ofrece comida y ponche a los participantes.
La celebración ha evolucionado en otras maneras. Con frecuencia, Las Posadas se celebran encendiendo velas, comiendo dulce mexicano; piñatas, comiendo alimentos de temporada tales como cacahuates, mandarinas, limones y caña; prenden luces de bengala, tocan música, y por supuesto toman ponche.
Los residentes de Kansas City que deseen más información sobre las posadas locales se les sugiere comunicarse a su Iglesia.
__________________________________________________________________________________________________________
Las Posadas: A Latin American tradition
By Chara
As many people worldwide prepare to celebrate Christmas, many Latin Americans are preparing to observe a holiday shortly before Christmas that's associated with it: Las Posadas.
Many Latin American countries celebrate Las Posadas over nine days, in recognition of Joseph and Mary's nine-day journey from Nazareth to Bethlehem. According to the story of Jesus Christ's birth in the Gospels, Mary was about to give birth when they reached Bethlehem and the couple struggled to find a place for lodging. After a long night of walking, a person offered to help them. They found a place to stay – a manger, where Jesus was born.
The origin of celebrating Las Posadas to honor Mary and Joseph's journey goes back to 1587, when Brother Diego de San Soria received permission from Pope Sixto V to host commemorative Masses from Dec. 16 to Dec. 24 in Mexico. From there, the Masses grew in scope until they took over the streets.
As observing Los Posadas has spread from Mexico to other Latin American countries, traditions related to the holiday period have emerged. Over the nine-day celebration, for example, holiday observers walk to various houses to ask for shelter, as Mary and Joseph did. And the local Posada organizer decorates his house with Christmas elements, and offers food and ponche (punch in English) to participants.
The celebration has evolved in other ways. Often, Los Posadas are celebrated with the lighting of candles; the eating of Mexican candy; pinatas (piñatas in Spanish); eating seasonal food, such as peanuts, clementines, limes and cane; lighting sparklers; the playing of music; and, of course, drinking ponche.
Kansas City area residents wanting more information about local Los Posadas activities are advised to contact their local church.