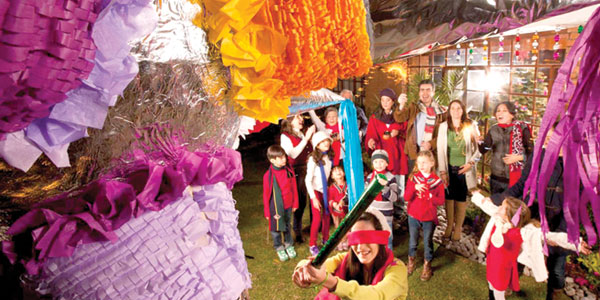 Los latinos tienen maneras únicas de celebrar la Navidad, particularmente cuando se compara con las tradiciones navideñas de Estados Unidos.
Aunque la Navidad es una fiesta religiosa, los latinos toman estas celebraciones para reunirse con sus familias y comer, beber, intercambiar regalos y celebrar. Una tradición importante  que se celebra en Nochebuena (24 de diciembre) es que los latinos religiosos van a la iglesia a las 11 p.m., después comen, beben y bailan con sus familias. Las personas que no son religiosas sólo se reúnen para festejar la celebración.
Por lo general, la celebración de la Nochebuena comienza alrededor de las 8 de la noche. A la medianoche, la gente se da el abrazo, intercambia regalos y dice "Feliz Navidad". Una vez que hayan finalizado este "ritual", comen y comienza la gran fiesta. Muchas familias comen primero, después se dan el abrazo y empiezan la fiesta, esto depende de las preferencias de cada familia.
El día de Navidad (25 de diciembre), las familias latinas se reúnen para comer el tradicional recalentado (las sobras de la cena). A diferencia de la Nochebuena, la celebración del día de Navidad comienza durante el día y la reunión puede seguir hasta la noche.
En Estados Unidos, las familias normalmente se reúnen el día de Navidad y abren sus regalos alrededor del árbol, después realizan un almuerzo o cena. Sin embargo algunas familias de Estados Unidos, se reúnen en Nochebuena y despiertan juntos para celebrar el día de Navidad. Algunos estadounidenses van a la iglesia antes de celebrar con sus familias.
Independientemente de las diferentes tradiciones, las celebraciones de Navidad en América Latina y Estados Unidos tienen en común: el sentido de la familia y el amor. Esto es porque la Navidad es tiempo de paz, amor y felicidad. Así que, sin importar si sus tradiciones son latinas o americanas, disfrute de la Navidad con las personas que ama, al igual que de la magia de esta maravillosa celebración.
Ya sea que sus tradiciones sean de sabor latino o más afín a las tradiciones de los Estados Unidos, Feliz Navidad de todos nosotros en Dos Mundos.
__________________________________________________________________________________________________________
Latin American Christmas traditions are unique
Commentary by Chara
Latin Americans have unique ways of celebrating Christmas, particularly when compared to the Christmas traditions of the United States.
Although Christmas is a religious holiday, Latinos take this holiday to get together with their families to eat, drink, exchange gifts and celebrate. A major Latin American tradition is to celebrate on Christmas Eve (Dec. 24). Religious Latinos go to church at 11 p.m. Then, they eat, drink and dance with their families. People who aren't religious just get together to celebrate the holiday.
Typically, a Latino Christmas Eve celebration starts around 8 p.m. At midnight, people hug, exchange gifts and say, "Merry Christmas." Once they've completed that "ritual," then they eat and the big party starts. That stated, many families eat earlier, and then hug and start partying, depending on their preferences.
On Christmas Day (Dec. 25), Latino families gather again to eat the traditional recalentado (leftovers). Unlike Christmas Eve, the Christmas Day celebration begins during the day and the gathering can go until the night.
In the United States, families typically gather on Christmas Day and open their gifts around the family Christmas tree. Then, they have a Christmas lunch or dinner. Some U.S. families, however, get together on Christmas Eve, then wake up together to celebrate Christmas Day. And some Americans go to church before celebrating with their families.
Regardless of the differences in traditions, observances of Christmas in Latin America and the United States have this in common: a sense of family and love. That's because Christmas is a time for peace, love and happiness. So whether your traditions are Latin American-oriented or U.S.-oriented, enjoy Christmas with the people you love and enjoy the magic of this wonderful celebration.
And whether your traditions are more Latin-flavored or more akin to the traditions of the United States, Merry Christmas to you from all of us at Dos Mundos.