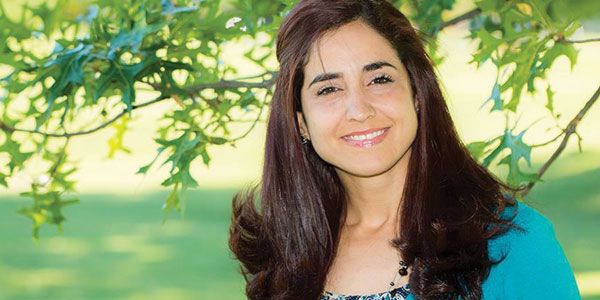 "Penuel," una palabra derivada de la Biblia que significa un lugar de transformación, se convirtió en una palabra de inspiración para Daylin Rodríguez para ayudar a otros en el área de Kansas City.
Rodríguez convirtió esa palabra en el nombre de su clínica, Penuel Counseling. Ella fundó su clínica para ayudar a individuos de todas las edades a sanar y enfrentar experiencias traumáticas.
"Yo trabajo con niños que pueden haber experimentado un cierto tipo de trauma, incluyendo problemas de apego," dijo Rodríguez, que sirve como propietaria, directora y terapeuta psicológica. "También trabajo con adolescentes, parejas e individuos."
Rodríguez y su equipo de consejeros realizaron sus esfuerzos para abogar por la comunidad hispana local y proporcionar recursos educativos. Por ejemplo, Penuel ha organizado clases para padres y grupos de duelo para adultos y niños.
"Nos encanta educar a nuestra comunidad," dijo Rodríguez.
Rodríguez y su equipo de consejeros ayudan a personas afectadas por trauma o son víctimas de crímenes y los guían hacia un camino de sanación y auto-mejoramiento. Los miembros del personal tienen diversas especialidades, incluyendo trauma infantil, problemas de apego, abuso mental, abuso físico y consejería para parejas.
"Mi visión es ayudar a la comunidad a desarrollarse de una manera saludable," dijo ella. "Y tengo una pasión por ayudar a mi comunidad hispana."
Rodríguez, que estudió consejería clínica en el Midwestern Baptist Theological Seminary, se especializa en hipnoterapia, hipnoterapia clínica y desensibilización y reprocesamiento del movimiento ocular (EMDR). De acuerdo con el Instituto EMDR Inc., este tipo de tratamiento de psicoterapia está diseñado para "aliviar la angustia asociada con recuerdos traumáticos."
Para más información sobre los servicios de Penuel, llame al (913) 890-3876. El sitio web de Penuel está en construcción.
__________________________________________________________________________________________________
Psychological therapist seeks to help area residents
By Katherine Diaz
"Penuel," a word derived from the Bible signifying a place of transformation, became a word of inspiration for Daylin Rodriguez to help others in the Greater Kansas City area.
Rodriguez turned that word into the name of her clinic, Penuel Counseling. She founded her practice to help individuals of all ages heal and cope with traumatic experiences.
"I work with children who may have experienced a certain type of trauma, including attachment issues," said Rodriguez, who serves as owner, director and a psychological therapist. "I also work with teens, couples and individuals."
Rodriguez and her team of counselors put forth their efforts to advocate for the local Hispanic community and provide educational resources. For example, Penuel has arranged parenting classes and grief groups for adults and children.
"We love to educate our community," Rodriguez stated.
Rodriguez and her team of counselors help individuals affected by trauma or are victims of crimes and guide them toward a path of healing and self-improvement. The staff members have various specialties, including childhood trauma, attachment issues, mental abuse, physical abuse and couples counseling.
"My vision is to help the community develop in a healthy way," she said. "And I have a passion for helping my Hispanic community."
Rodriguez, who studied clinical counseling at the Midwestern Baptist Theological Seminary, specializes in hypnotherapy, clinical hypnotherapy and eye movement desensitization and reprocessing (EMDR). According to the EMDR Institute Inc., this type of psychotherapy treatment is designed "to alleviate the distress associated with traumatic memories."
For more information on Penuel's services, call (913) 890-3876. Penuel's website is under construction.