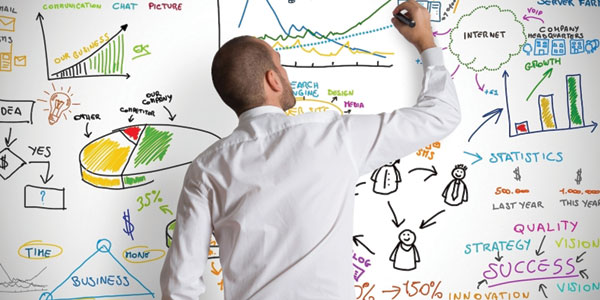 Traducción por Maria Mendoza
"Si usted no planea, está planeando al fracaso"
-Benjamin Franklin
Para quienes queremos iniciar un pequeño negocio, o uno que ya está operando, cada decisión que tomamos tiene un nivel de riesgo. ¿Dónde abrir? ¿A quién le vendemos? Con cada elección que hacemos para nuestro negocio, hay una conexión directa entre la cantidad de dinero que puede perder o ganar. Como dueño de negocio – o con la esperanza de algún día iniciar uno – es importante desarrollar un plan para evitar el mayor riesgo: Fracaso.
Más de lo que deseáramos saber, nuevos negocios cierran debido a la falta de un plan.  Un dueño de restaurante nuevo optimista firma un contrato de alquiler de un edificio antes de darse cuenta de los costos de renovación (y los dolores de cabeza, regulaciones de zonificación).  Un contratista contrata a nuevos empleados, pero olvida de configurar los impuestos adecuados para pagarle al estado por tener empleados.  Estas son situaciones que se pueden evitar con facilidad.
Al desarrollar un plan de negocios, es importante definir la razón de por qué quiere tener su propio negocio.  ¿Es por dinero?  ¿libertad?  Cada emprendedor tiene un objetivo diferente al final; algo que lo guía y ayuda a cómo cada individuo hace negocios.
Una vez que conoce la razón de por qué quiere iniciar un negocio, empiece a desarrollar una declaración de visión y misión.  Esta declaración le explica a la gente lo que hace, y lo que representa la empresa; razón general de la empresa para existir.
Planificación no garantiza el éxito total.  Pero limitará los errores y ayuda a sobrellevar los pequeños fallos mucho más fácil.
¿Quieres empezar a armar tu plan de negocios?
Llámenos al 816.221.3442
___________________________________________________________________________________________________
Planning to Not Fail
By Michael Carmona
"If you fail to plan, you are planning to fail"
Benjamin Franklin
For those of us wanting to start a small business – or already operating one – every decision we make has a level of risk involved.  Where do you open?  Who do you sell to?  With each choice we make for our business, there is a direct connection between the amount of money that can be lost or made.  As a business owner – or one hoping to someday get started – it is important to have a plan in place to avoid the biggest risk: failure.
More often than we wish to know, new businesses close due to the failure to plan.  An optimistic new restaurant owner signs a lease for a building before realizing the costs of renovation (and the headaches of zoning regulations).  A contractor hires new employees, but forgets to set up the proper tax accounts to pay the state for having those employees.  These are situations that can very easily be avoided.
When putting together a business plan, it is important to define the reason for why you want to have your own business.  Is it for money?  Leisure?  Every entrepreneur has a different end goal; something that will help guide how each individual does business.
Once you know the reason for why you want to start a business, begin developing a vision statement and mission statement.  These statements explain to people what the company does, and what it represents; the business's overall reason for existing.
Planning does not guarantee total success.  But it will limit the mistakes you make, and help make coming back from small failures a lot easier.
Want to start putting together your business plan?
Call us at 816.221.3442