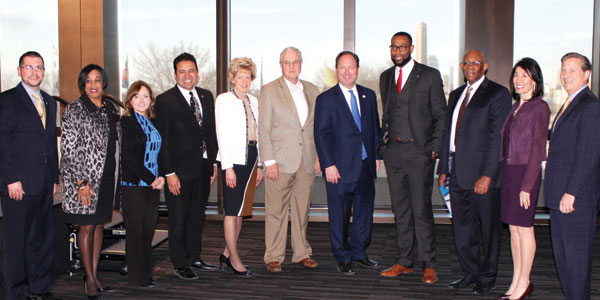 El programa de la Escuela Turner de Administración de Construcción ha llegado a un momento importante: 20 años en el área de Kansas City.
Para celebrarlo, la Cámara Hispana de Comercio de Kansas City y la Asociación de Contratistas Minoritarios de Kansas City ofrecieron un evento el 2 de marzo en el Banco Federal Reserve en Kansas City, Missouri.
El programa fue iniciado en 1969, para ayudar a las compañías minoritarias y de propiedad de mujeres. Desde entonces, el programa gratis ha ayudado a muchos contratistas con un curso que aborda diferentes disciplinas relacionadas con la construcción. En 1997, fue establecido en Kansas City.
"Este programa cubre una amplia variedad de temas, incluyendo presupuestos, mercadeo, ley de construcción, prevención de riesgos, estrategias de manejo financiero, operaciones diarias, fijación de finanzas, seguro, cómo evaluar, seguridad y más", dijo Joseph E. Mabin, director ejecutivo de la Asociación de Contratistas Minoritarios de Kansas City. "Toda mujer y contratista minoritario exitoso ha tomado esta clase, para que no lo aprendan de la manera equivocada".
De acuerdo con un comunicado de prensa de la Asociación de Contratistas Minoritarios de Kansas City, Turner ha otorgado más de $1 mil millones de dólares cada año para compañías propiedad de minorías, mujeres, personas en malas situaciones económicas y veteranos que subcontratan con la compañía".
"Este es un curso fabuloso, ideal para contratistas que necesitan certificarse", dijo Mabin.
Aunque el programa del 2017 ya inició, está disponible la información sobre el programa para el año 2018. Para mayor información sobre el programa del 2018, envíe un correo electrónico a DeJon Slaughter en dslaughter@tcco.com.
___________________________________________________________________________________________________
Turner celebrates 20th anniversary in KC area
By Chara
The Turner School of Construction Management program has reached a milestone: 20 years in the Kansas City area.
To celebrate that milestone, the Hispanic Chamber of Commerce of Greater Kansas City and the Minority Contractors Association of Greater Kansas City hosted an event on March 2 at the Federal Reserve Bank in Kansas City, Mo.
The program was initiated in 1969 in to help minority- and women-owned firms. Since then, the free program has helped many contractors with a course that tackles various construction-related disciplines. In 1997, it was established in Kansas City.
"This program covers a wide range of topics, including estimates, marketing, construction law, risk management, strategies of financial management, daily operations, bonding, insurance, how to evaluate, safety and more," said Joseph E. Mabin, executive director, Minority Contractors Association of Greater Kansas City. "Every successful woman and minority contractor has taken this class, so they don't learn in the wrong way."
According to a press release from the Minority Contractors Association of Greater Kansas City, Turner has awarded more than $1 billion each year to minority-, women-, disadvantaged- and veteran-owned firms who subcontract with the company.
"This is a great course, ideal for contractors that need to get certified," Mabin said.
Although the 2017 program has already started, information about the 2018 program is available. For more information about the 2018, email DeJon Slaughter at dslaughter@tcco.com.