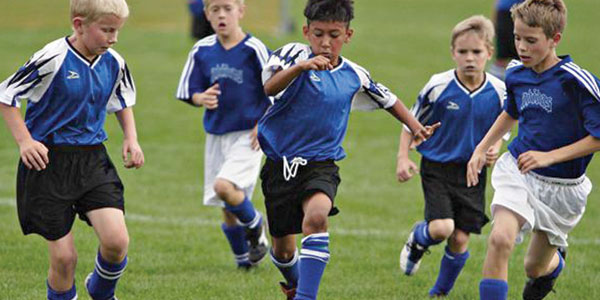 Muchos americanos quizás piensen que la participación en deportes juveniles ha aumentado durante los años y siga aumentando. Sin embargo, los estudios demuestran lo contrario.
En un artículo de febrero de 2015 hecho por el Instituto Aspen. Alice Lee escribió que ha habido una notable disminución de participación de jóvenes entre el 2008 y el 2013. Además, la Asociación de la Industria de Deportes y Ejercicio reportó que "el número de niños que jugaron un deporte de equipo regularmente disminuyó de 44.5 por ciento que había en el 2008, a 40 por ciento en el 2013".
La participación en los deportes para edades de 6 a 12 años ha disminuido en basquetbol, fútbol soccer, atletismo, béisbol, fútbol y softbol.
Otro artículo, "Estudio demuestra gran desplome en participación deportiva de jóvenes norteamericanos", presentado en Sports Illustrated y publicado en agosto del 2015, también apoyó el hecho que "la inactividad entre los niños llegó al 20% en el 2014".
El declive en los deportes juveniles quizás se deba a preocupaciones financieras de los padres. En su artículo, Lee presentó el tema que el ingreso era "un mayor indicador de la participación deportiva". Las familias de bajos ingresos no pueden mantener los costos de los deportes juveniles, los cuales incluyen equipo, uniformes, cuotas de inscripción y el combustible para llevar a los hijos a las prácticas y juegos.
Sin embargo, los profesionales de atención médica recomiendan que los niños participen en deportes porque presentan múltiples oportunidades para que los jóvenes crezcan de manera cognitiva y física mediante la interacción con compañeros y desarrollan habilidades de liderazgo y respeto. Y si el dinero evita que los niños jueguen deportes que ellos disfrutan, existen varios programas locales que ayudan a familias de bajos ingresos.
Para mayor información sobre deportes juveniles locales, comuníquese con su municipio para tener información sobre programas deportivos locales o la YMCA más cercana a usted.
---
Participation in youth sports declining
By Katherine Diaz
Many Americans might believe that enrollment in youth sports has increased over the years and remains on the rise. However, studies show the contrary.
In a February 2015 article for The Aspen Institute, Alice Lee wrote there had been a significant drop in youth participation between 2008 and 2013. In addition, the Sports & Fitness Industry Association reported that "the number of kids that played a team sport on a regular basis decreased from 44.5 percent in 2008 to 40 percent in 2013."
Sport participation for ages 6-12 has declined in basketball, soccer, track and field, baseball, football and softball.
Another article, "Study shows major drop in American youth sports participation," featured in Sports Illustrated and published in August 2015, also supported the fact that "inactivity among children approached 20 percent in 2014."
The decline in youth sports might be because of parents' financial concerns. In her article, Lee raised the issue that household income was "one major indicator (of) sports participation." Low-income families often can't keep up with the costs of youth sports, which include equipment, uniforms, enrollment fees, and the fuel to take their children to and from practices and games.
However, healthcare professionals recommend that children participate in sports because they present multiple opportunities for youth to grow cognitively and physically through peer interaction, and developing leadership skills and respect. And if money is holding back children from playing sports they enjoy, there are various local programs that assist low-income families.
For more information on local youth sports, contact your city hall for local youth sports programs or the nearest YMCA.