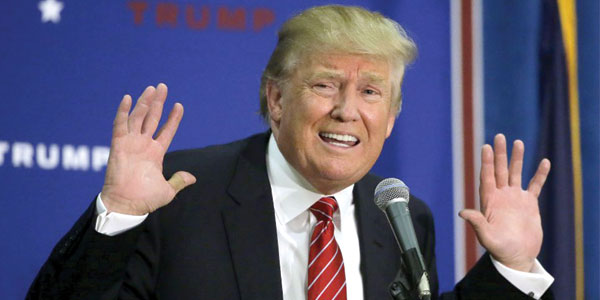 El presidente Donald J. Trump continúa quebrado todas sus promesas, una a la vez.
Como candidato republicano a la presidencia, Trump excitó a sus multitudes prometiendo que, de ser elegido, derogaría y reemplazaría Obamacare. Las promesas específicas de Trump incluyeron una cobertura nueva y mejorada diseñada por legisladores republicanos que cubriría a más personas, reduciría sus primas y evitaría recortar Medicaid. Recientemente, los republicanos de Trump acordaron apoyar un proyecto de ley para reemplazar Obamacare. Sin embargo, ha sido muy criticado – por los demócratas y los republicanos.
El lunes (13 de marzo), la Oficina de Presupuesto del Congreso (CBO) divulgó información que indica que el proyecto de ley apoyado por la administración del presidente Trump causaría que millones de estadounidenses perdieran su seguro y aumentaría los costos para las personas más vulnerables.
La Administración de Trump afirma que ninguna persona actualmente asegurada perderá cobertura bajo este plan. Sin embargo, la realidad contradice las afirmaciones de Trump. Según la CBO, 14 millones de personas menos estarían aseguradas en 2018 – y 24 millones de personas menos tendrían un seguro en 2026 bajo el plan de atención médica de Trump.
No sólo millones perderán cobertura, sino que el costo del plan de Trump también está siendo cuestionado. Durante su campaña, Trump prometió "una gran asistencia sanitaria por una fracción del precio". Sin embargo, la CBO concluyó que el reemplazo propuesto aumentaría inicialmente los costos de los seguros de un 15 a un 20 por ciento por encima de los de la Ley del Cuidado de Salud a Bajo Precio. Pero se espera que los costos eventualmente disminuirán.
Sin embargo, es importante señalar que los costos no bajarán para todos. Los costos de seguro para los miembros más vulnerables de la sociedad, los ancianos, aumentará. La CBO proyecta que una persona de 64 años vería aumentos en sus primas de un 20-25 por ciento. Por ejemplo, un hombre de 64 años que gana $26.500 al año pagaría un promedio de $1.700 por el seguro médico en 2026 bajo Obamacare; Pero bajo el proyecto de ley, el mismo de 64 años pagaría $14,600.
Trump también está quebrando su promesa de no alterar Medicaid. Durante una entrevista en el 2016, Trump declaró: "No voy a cortar el Seguro Social como cualquier otro republicano y no voy a cortar Medicare o Medicaid". Durante el gobierno de Obama, Medicaid fue ampliado para cubrir a cerca de 11 millones de personas más. Bajo el plan de Trump, el gasto de Medicaid se reduciría en $880 millones para 2026, dejando a 14 millones de pacientes de Medicaid sin cobertura.
_________________________________________________________________________________________________
Breaking every promise: One at a time
By Dermidio Juez Perez
Then, Presidential candidate Donald J. Trump, excited his crowd by making allegations that if elected President he would repeal and replace Obama Care. Trump's promises included a new and improved coverage engineered by Republican which would cover more people, reduce their premiums, and avoid cutting Medicaid.
Trump's Republicans have recently agreed on supporting a bill to replace Obama Care. However, such plan has been greatly criticized by both Democrat and Republican.
The nonpartisan Congressional Budget Office (CBO) released information on Monday March 13th indicating that the bill supported by Trump's administration would cause millions of Americans to lose their insurance and it will raise costs for the most vulnerable populations.
The Trump administration claims that no one currently insured will lose coverage under this plan, however, reality is contradicting the President's claims. According to the CBO, 14 million fewer people would be insured in 2018 and 24 million fewer people would have insurance in 2026 under Trump's healthcare plan.
    Not only would million loss coverage but its affordability is also being questioned. Trump promised "much lower deductibles." In a speech in Las Vegas during his campaign he promised "great health care for a fraction of the price." The CBO concluded that the proposed replacement would initially rise insurance cost by 15% to 20% above the Affordable Care Act. However, it is expected that it would eventually decrease.
It is important to point out that costs will not go down for everyone. Insurance cost for the most vulnerable members of society, the elderlies, will continue to rise. The CBP projects the average 21 year old could expect a 20-25% decrease in their premiums. However, a 64-year-old would see their premiums go up by 20 to 25%. For instance, a 64-year-old making $26,500 a year would pay an average of $1,700 for their health insurance in 2026 but under the proposed bill the same 64-year-old would pay $14,600.
Trump is also breaking his promise to leave Medicaid untouched. In an interview last year Trump stated "I'm not going to cut Social Security like every other Republican and I'm not going to cut Medicare or Medicaid." During the Obama administration Medicaid was expanded to cover about 11 million more people, but Trump's plan would reduce Medicaid spending by $880 billion by 2026 leaving 14 million Medicaid patients without coverage.