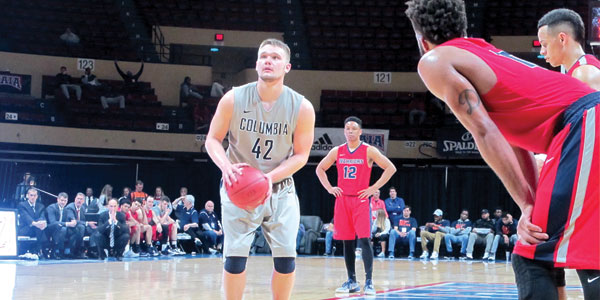 (Biggs Free Throw): Columbia College forward Nathan Biggs (No. 42) attempts a free throw during Columbia's 71-59 win on March 17 in  Kansas City, Mo.'s Municipal Auditorium in the Buffalo Funds-NAIA Division I Men's Basketball National Championship. The Cougars bowed out of the 32-team, single-elimination tournament in the second round. (Photo by Shawn Roney).
Story and photo by Shawn Roney
Vallejo looking to exchange playing sneakers for coaching whistle
C.J. Vallejo's days of playing basketball are over.
He hopes his involvement with basketball isn't.
The Kansas City, Kan., native and grandson of a Mexican immigrant played his final game on March 17, when Benedictine College of Atchison, Kan., lost to The Master's University 85-56 in the Buffalo Funds NAIA Division I National Men's Basketball Championship in Kansas City, Mo.'s Municipal Auditorium. With the first-round loss in the 32-team, single-elimination tournament, Benedictine finished 21-12.
"(It) feels good to be part of this team just because (of) the guys in general, man," said Vallejo, a 6-foot-4 senior guard. "They're the best group of guys I've been around – and I've played … college ball for five years."
Vallejo, who played for Kansas City, Kan., Community College before playing for Benedictine, plans to finish his final semester of college. After graduating, he hopes "to teach and coach at the high school or middle school level," he said.
One and done for Mo-Kan schools
Benedictine was among four Missouri and Kansas schools in the tournament, which concluded on Tuesday (March 21) at Municipal. Only one advanced beyond the first round: Columbia (Mo.) College.
The Cougars defeated Lewis-Clark State College 71-59 on March 17 before falling 56-51 to the University of Pikeville (Ky.) on March 18. It was the fifth time for the Cougars to advance beyond the first round in their last six tournament appearances.
"I know it sounds very simplistic and (yet) every coach here will tell you how hard the first game is – for so many reasons," Columbia coach Bob Burchard said after the Cougars' first-round victory. "It's the nature of the tournament."
Columbia was among three Missouri schools in the tournament. Park University, a Kansas City area school, lost to Georgetown (Ky.) College 81-72 on March 16. Harris-Stowe State University in St. Louis lost to Dalton (Ga.) State Collee 84-82 on March 17.