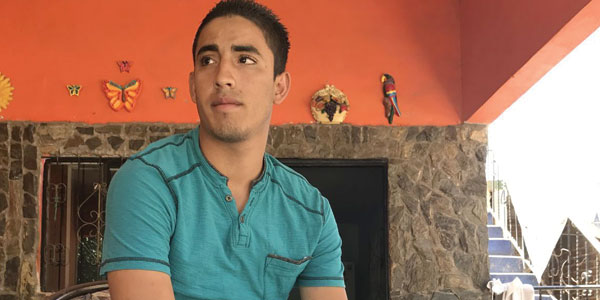 El 17 de febrero, Juan Manuel Montes, de 23 años, fue detenido por agentes de la Patrulla Fronteriza en la ciudad fronteriza de Calexico, California, llevado a un centro, interrogado y deportado en pocas horas.
En una entrevista con USA Today, Montes dijo que los agentes le pidieron una identificación, que había dejado en el coche de un amigo. Según Montes, los agentes no le permitieron recuperar su billetera y fue inmediatamente detenido y deportado.
Bajo la administración de Trump, se convirtió en el primer caso de un otorgado de DACA que fue deportado ilegalmente. Montes y sus abogados insistieron en que su condición de DACA era válida hasta el 2018, pero el Departamento de Seguridad Nacional (DHS) afirmó que su condición de DACA había expirado en el 2015.
Pocos días después, DHS se retractó de su reclamo y confirmó que el estatus de DACA de Montes seguía vigente en el momento de su deportación. Pero todavía niega que fue deportado el 17 de febrero y afirma que no tiene registros del encuentro ese día.
Funcionarios del DHS afirman tener registros del encuentro de Montes con agentes de la Patrulla Fronteriza el 19 de febrero, insistiendo en que fue a México sin solicitar permiso y volvió a entrar ilegalmente.
Si la cuenta de Montes es verdad, entonces la administración de Trump ilegalmente deportó un "Dreamer", que podría afectar el futuro de los 750,000 beneficiarios de DACA por toda la nación. Si la versión del DHS de la historia es verdadera, entonces la agencia deportó a un receptor de DACA legalmente, validando así los esfuerzos de la deportación de la administración de Trump.
El caso de Montes aún está pendiente. El juez Gonzalo Curiel, a quien se le asignó el caso de la estafa de la Universidad de Trump en el 2016, asumirá el caso en la corte federal. Durante su campaña para la presidencia de Estados Unidos, Trump acusó a Curiel de ser sesgado debido a la herencia mexicana de Curiel.
_______________________________________________________________________________
Case of deported DACA recipient moves to federal court
By Melissa Arroyo
On Feb. 17, 23-year-old Juan Manuel Montes was detained by Border Patrol agents in the border town of Calexico, Calif., taken to a center, interrogated and deported within a few hours.
In an interview with USA Today, Montes said the agents asked him for an ID, which he had left in a friend's car. According to Montes, the agents didn't allow him to retrieve his wallet and he was immediately detained and deported.
Under the Trump administration, this became the first case of a Deferred Action for Childhood Arrivals (DACA) recipient being deported illegally. Montes and his attorneys insisted that his DACA status was valid until 2018, but the Department of Homeland Security (DHS) claimed his DACA status had expired in 2015.
A few days later, DHS retracted its claim and confirmed that Montes' DACA status was still valid at the time of his deportation. But it still denies he was deported on Feb. 17 and claims to have no records of the encounter that day.
DHS officials claim they have records of Montes' encounter with Border Patrol agents on Feb. 19, insisting he went to Mexico without requesting permission and re-entered illegally.
If Montes' account is true, then the Trump administration illegally deported a "Dreamer," which could affect the future of the 750,000 DACA recipients nationwide. If the DHS' version of the story is true, then the agency deported a DACA recipient lawfully, thus validating the Trump administration's deportation efforts.
Montes' case is still pending. U.S. District Judge Gonzalo Curiel, who was assigned the case of the Trump University scam in 2016, will take over the case in federal court. During his campaign for the U.S. presidency, Trump accused Curiel of being biased because of Curiel's Mexican heritage.