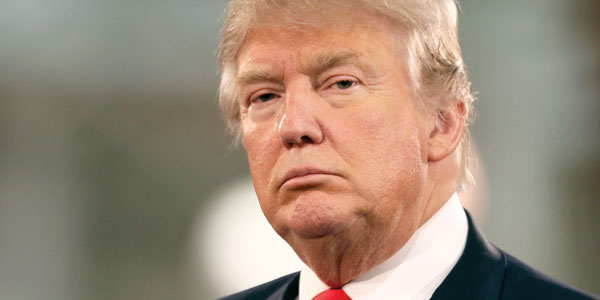 Cuando se me pidieron que escribiera sobre los primeros 100 días del presidente Trump no savia que hacer.
Si escribo sobre los logros de Trump, no habría ningún artículo. Si escribo sobre sus controversias, sería un artículo interminable.
Aquí está mi mejor esfuerzo para informar y comentar los primeros 100 días de Trump.
La gente ha descripto la presidencia de Trump de muchas maneras. Pero independientemente de cómo se ha descripto, la gente puede estar de acuerdo en que ha sido todo menos aburrida.
Fue Sean Spicer quien marco el tono. En su segundo día como secretario de prensa, Spicer atacó a los medios por "vergonzosos" informes sobre el tamaño de la multitud en la inauguración de Trump. Fue el primer día completo de la administración y su única preocupación fue el número de asistentes a su inauguración!
Kellyanne Conway dio a luz "hechos alternativos". El principal asesor del presidente declaró que "Sean Spicer, nuestro secretario de prensa, dio hechos alternativos" cuando Spicer hizo declaraciones sobre la asistencia a la inauguración. Pero los hechos alternativos eran sólo el comienzo.
Como todos los estadounidenses saben, Trump no ganó el voto popular. Sin embargo, después de las elecciones, Trump declaró que millones de personas habían emitido votos ilegalmente. Y en su cuarto día como presidente, dio una conferencia a todos en una reunión bipartidista sobre el "hecho alternativo" de que no había logrado ganar el voto popular debido a los votantes ilegales.
Se ha demostrado que esas alegaciones carecen de fundamento. Además, hubo muchas preocupaciones acerca de los votantes republicanos tratando de emitir su voto dos veces.
Y luego, la administración impuso una prohibición de viajes de siete países de mayoría musulmana. La acción se encontró no sólo con múltiples protestas, sino también con un juez federal bloqueándolo. La respuesta de Trump al fallo fue "desalentadora", como lo describió el propio candidato de Trump a la Corte Suprema.
"La opinión de este supuesto juez, que esencialmente lleva a las fuerzas del orden fuera de nuestro país, es ridículo y será derrotado!" Trump twitteó.
Las controversias no han cesado. La administración de Trump es como un tornado que cambia direcciones tan rápidamente que uno no puede decir si viene o va.
Sin embargo, a pesar de la impredecible presidencia de Trump, debemos mantenernos fuertes. No dejes que las controversias de la administración de Trump ni de nadie te hagan cuestionar tu dignidad a esta nación. Trabajemos más y continuemos haciéndonos indispensables.
Dios bendiga a Estados Unidos y a TODA SU GENTE.
_______________________________________________________________________________
Trump's first 100 days have been anything but boring
Commentary by Dermidio Juez-Perez
When I was asked to write about President Trump's first 100 days, I was at a loss.
If I wrote about Trump's accomplishments, there would be no article. If I wrote about his controversies, it would be an endless article.
Here's my best effort to report and comment on Trump's first 100 days.
People have described Trump's presidency in many ways. But regardless of how it has been described, people can all agree that it has been anything but boring.
It was Sean Spicer who set the tone. On his second day as press secretary, Spicer attacked the media for "shameful" reporting about the crowd size at Trump's inauguration. It was the administration's first full day and its only concern was the number of attendees at its inauguration!
Then, Kellyanne Conway gave birth to "alternative facts." The president's senior adviser stated that "Sean Spicer, our press secretary, gave alternative facts" when Spicer made claims about the inauguration attendance. But the alternative facts were just the beginning.
As all Americans know, Trump didn't win the popular vote. However, after the election, Trump stated that millions of people had cast votes illegally. And on his fourth day as president, he lectured everyone at a bipartisan meeting on the "alternative fact" that he had failed to win the popular vote because of illegal voters.
Those claims have been shown to be unfounded. Furthermore, there were many concerns about Republican voters trying to cast their vote twice.
And then, the administration placed a travel ban on seven Muslim-majority countries. The action was met not only with multiple protests, but also with a federal judge blocking it. Trump's response to the ruling was "disheartening," as it was described by Trump's own Supreme Court nominee.
"The opinion of this so-called judge, which essentially takes law enforcement away from our country, is ridiculous and will be overturned!" Trump tweeted.
The controversies haven't stopped. The Trump administration is like a tornado changing directions so quickly that one cannot tell if it's coming or going.
However, despite Trump's unpredictable presidency, we need to stay strong. Don't let the controversies of the Trump administration or anyone make you question your worthiness to this nation. Let's all work harder and continue making ourselves indispensable.     
God bless America and ALL ITS PEOPLE.