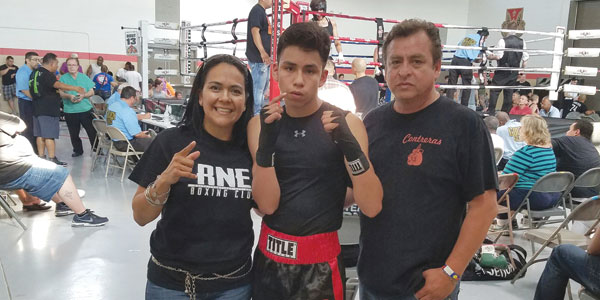 Boxeador adolescente de KC persiguiendo los Juegos Olímpicos
A los 8 años, Johnathan Contreras decidió que el box sería su deporte- sin importar la
opinión de las otras personas.
Ahora con 14 años, Contreras quiere crearse un nombre como un gran boxeador. Conocido localmente como el "Niño Boxeador", está planeando competir en las pruebas de box olímpico juvenil en Kansas City.
"Desde que empecé en el box, mi objetivo (y motivación) ha sido… llegar a los Juegos Olímpicos – siempre ha estado en mi mente", mencionó Contreras.
Sin embargo, la búsqueda del sueño de Contreras no ha sido fácil. Para empezar, nadie en su familia o ninguno de sus amigos cercanos tenía experiencia en el box. Y aunque la familia de Contreras ha apoyado sus sueños, Contreras tuvo que trabajar para poder ganarse el apoyo de un miembro de su familia: su madre, Adriana Ordaz.
"Unos amigos nos habían invitado a ver un partido de box en Turner (Comisión de actividades recreativas en Kansas City, Kansas) y llevamos a Johnathan – y de la nada nos dijo: 'Yo también quiero boxear', recordó Ordaz. "Como madre, no estaba muy entusiasmada con la idea. Vi a mi hijo, que era un niño tímido y me pregunté, '¿Qué va a hacer en el box?' "
Finalmente, el padre de Contreras convenció a Ordaz para dejar que el niño lo intentara y ver si le gustaba. Lo llevaron a Turner, donde comenzó a entrenar.
"Mi hijo nunca había practicado un deporte", dijo Ordaz. "No tenía ninguna coordinación para hacer los ejercicios – y fue realmente raro para nosotros porque a pesar de sus debilidades, tenía un gran deseo de boxear".
De acuerdo con Ordaz, Contreras era puntual y nunca quería perderse una práctica. Contreras recibió comentarios negativos al principio, la mayoría de ellos le decían que debía dejar el box. Pero trabajó, superando esa negatividad. Después de mucha dedicación – no sólo de Contreras, sino también de sus padres – comenzó a avanzar en el deporte. Según Ordaz, Contreras ha participado en importantes peleas de box local y nacional en los Juegos Olímpicos juveniles, ganando una medalla de bronce en su división.
_____________________________________________________________________________
KC teen boxer striving for Olympics

By Katherine Diaz
At age 8, Johnathan Contreras decided boxing would be his sport – regardless of other people's opinions.
Now 14, Contreras wants to make a bigger name for himself as a boxer. Known locally as "Nino Boxeador" ("Kid Boxer"), he's planning on competing in the Junior Olympic boxing tryouts in Kansas City.
"My whole goal (and inspiration has been) … getting to the Olympics since I started boxing – and that's always been on my mind," Contreras stated.
Admittedly, however, Contreras' pursuit of his dream hasn't been easy. For instance, no one in his family or none of his close friends had previous boxing experience. And although Contreras' family has supported his boxing dreams, Contreras had to work to earn the support of one family member: his mother, Adriana Ordaz.
"Some friends had invited us to watch a boxing match at Turner (Recreation Commission in Kansas City, Kan.) and we took Johnathan – and out of nowhere, he said to us, 'I want to box too,' " Ordaz recalled. "As a mother, I wasn't too excited about the idea. And I saw my son, who was a shy little boy, and asked myself, 'What is he going to do boxing?' "
Ultimately, Contreras' father convinced Ordaz to let the boy try boxing and see if he liked it. They took him to Turner, where he started training.
"My son had never really exercised," Ordaz said. "He did not have any coordination to do the exercises – and it was just really strange to us because he had so much desire to do boxing, despite his flaws."
According to Ordaz, Contreras never wanted to miss a practice and was punctual to each one.
Contreras received negative feedback at the beginning – most of it in the form of being told he should quit boxing. But he worked through that negativity. After much dedication – not only from Contreras, but also from his parents – he began to advance in the sport. According to Ordaz, Contreras has participated in significant boxing matches locally and nationally in the Junior Olympics, earning a bronze medal in his division.