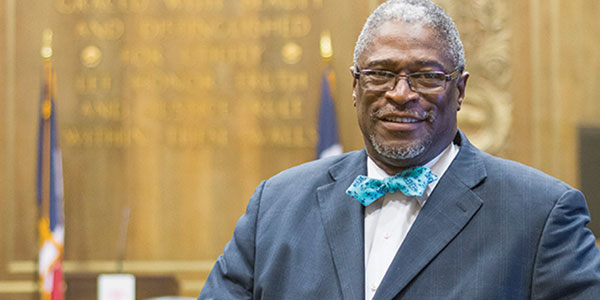 A Kansas City, Mo., program designed to provide recreational activities for teens and adults is about to get underway.
The city's Mayor's Night program will start the first weekend of June and run until early August. Mayor's Night includes four main activities: Club KC, offering disc jockeys, dancing, basketball, swim parties, video games, arts, robotics and digital literacy; Nighttime Hoops, an evening basketball league; Night Kicks, an evening soccer program; and Night Nets, an evening volleyball program.
"Mayor's Nights offers families a variety of fun and safe activities to participate in during the summer," Major Sly James said.
In a press release, the mayor affirmed that "the objective of the program is to give Kansas City families a wide variety of activities to participate in during the summer evenings when more stringent youth curfew rules are in effect."
"The curfew is going to be in place from May 26 to Sept. 24, supported by an increment in police presence," the press release quoted James as saying. "For minors age 15 and younger, the curfew is established at 10 p.m., while for minors ages 16 and 17, it is set at 11 p.m."
In addition, the press release stated The Plaza, Westport, Downtown/Central Business District, 18th and Vine, and Zona Rosa would have a special summer curfew, with anyone under 18 required to have a parent or guardian accompanying them after 9 p.m.
Mayor James said he encourages parents and kids to register for the Mayor's Night activities and invite their friends and family members to get involved.
---
KCMO ofrece alternativas de verano para jóvenes y adultos
By Emiliano Gross
Un programa designado a proveer actividades recreacionales para adolescentes y adultos está por empezar en Kansas City, Mo.
El programa denominado Mayor's Nights comenzará el primer fin de semana de junio y se extenderá hasta comienzos de agosto. El programa incluye cuatro actividades principales: Club KC, ofreciendo disc jockeys, baile, basquetbol, fiestas en piscinas, video juegos, arte, robótica y literatura digital; Nighttime Hoops, una liga vespertina de basquetbol; Night Kicks, un programa vespertino de fútbol; y Night Nets, un programa vespertino de vóleibol.
"Mayor's Nights ofrece a las familias la posibilidad de participar en una variedad de actividades de manera segura y divertida durante el verano," dijo el alcalde Sly James.
En un comunicado de prensa, el alcalde afirmó que "el objetivo del programa es otorgar a las familias de Kansas City una variedad de actividades en las cuales participar durante las noches del verano cuando se intensifica la medida de toque de queda para los jóvenes".
"El toque de queda se implementará desde el 26 de mayo al 24 de septiembre, incluyendo un incremento en la presencia policial", según el comunicado de prensa desde la oficina del alcalde James. "Para menores de 15 años el toque de queda empezará a las 10 p.m., mientras que para menores de 16 y 17 años la medida será implementada a partir de las 11 p.m".
Más aún, el comunicado de prensa detalló que las zonas de Plaza, Westport, Downtown/Central Business District, 18th y Vine, y Zona Rosa van a tener un toque de queda especial durante el verano, en el cual jóvenes menores de 18 años requerirán el acompañamiento de alguno de sus padres o tutor legal después de las 9 p.m.
El alcalde James declaró que él alienta a padres e hijos para que se registren en las actividades del programa Mayor's Nights y a que inviten a sus amigos y familiares a participar también.