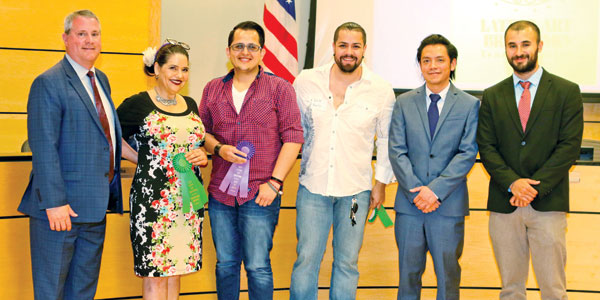 Story by Melissa Arroyo and photos by Michael Alvarado
Each year, Lenexa, Kan., recognizes its Latino population.
The city does so by hosting its annual Latino Art Bravisimo to display artwork from local Latino artists. On June 22, there was a reception and awards ceremony at Lenexa City Hall to honor this year's artists, including Best of show winner Hector Perez.
"Art has always been in my life since I was a kid," Perez said. "I was always found with colored pencils and drawing."
Because Perez always had a feeling that art was part of his life, he decided to pursue graphic design studies in Guadalajara, Jalisco, Mexico, where his artistic abilities improved and changed his outlook in life, he said.
"Art has always helped me to get ahead in all the senses," Perez said. "It allows me to focus and allows me to be who I am.… I have slowly opened the way to this world of art because sometimes it can be a bit difficult to break through."
When Perez moved to the Kansas City area from Mexico, he constantly heard about the art exhibit. But it took him a while to feel encouraged enough to participate. In 2012, he participated for the first time. This year, Perez's piece "Stop the Clock" was awarded first place for its "creativity and uniqueness," according to the feedback he received from the judging panel.
Perez encourages other area Latino and Latina artists to always seek opportunities for their art to be seen.
"I like this event because it seeks to highlight the art of Latinos and the magic we can have in our hands…. We are hardworking people and there are very talented artists in the Latino community…. I am very grateful to have been recognized for my work … and to the organizers who make this event for Latino(a) artists," he said.
____________________________________________________________________________________
Lenexa acoge Arte Latino Bravisimo
Cada año, Lenexa, Kansas, reconoce su población latina.
La ciudad lo hace al recibir su Arte Latino anual Bravisimo para mostrar obras de arte de artistas latinos locales. El 22 de junio se realizó una recepción y entrega de premios en el Ayuntamiento de Lenexa para homenajear a los artistas de este año, incluido el ganador de el premio el mejor de el show, Héctor Pérez.
"El arte siempre ha estado en mi vida desde que era niño", dijo Pérez. "Siempre me encontraban con lápices de colores y dibujos".
Debido a que Pérez siempre tuvo la sensación de que el arte era parte de su vida, decidió conseguir estudios de diseño gráfico en Guadalajara, Jalisco, México, donde sus habilidades artísticas mejoraron y cambiaron su visión de la vida, dijo.
"El arte siempre me ha ayudado a salir adelante en todos los sentidos", dijo Pérez. "Me permite concentrarme y permitirme ser quien soy … Poco a poco me he abierto camino a este mundo del arte porque a veces puede ser un poco difícil abrirse camino".
Cuando Pérez se trasladó a la zona de Kansas City desde México,él constantemente oía hablar de la exposición de arte. Pero le tomó un tiempo sentirse lo suficientemente animado como para participar. En el 2012, participó por primera vez. Este año, la pieza de Pérez "Stop the Clock" fue galardonada con el primer lugar por su "creatividad y singularidad", de acuerdo con la retroalimentación que recibió del jurado.
Pérez anima a otros artistas latinas y latinos de la zona a buscar siempre oportunidades para que su arte sea visto.
"Me gusta este evento porque busca destacar el arte de los latinos y la magia que podemos tener en nuestras manos …. Somos gente trabajadora y hay artistas muy talentosos en la comunidad latina …. Estoy muy agradecido de haber sido reconocido por mi trabajo … y a los organizadores que hacen este evento para los artistas latinos (a) ", dijo.