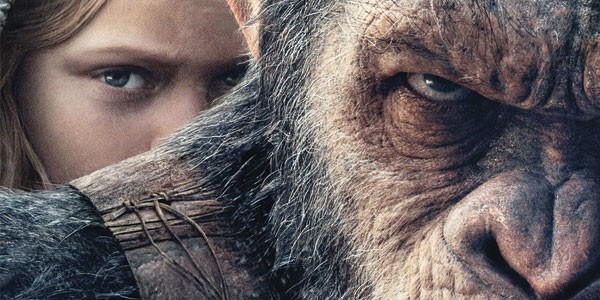 Llega la tercera parte de la exitosa saga Planet of the apes desde hace catorce años comenzo esta aventura desde que un experimento científico salió mal dio lugar a una nueva especie de simios inteligentes. La gripe simia, como se la conoció, llevó a la humanidad al borde de la extinción.
Los simios florecieron en ausencia de contacto humano… hasta que fueron descubiertos por un pequeño grupo de supervivientes desesperados que trataban de establecer una nueva colonia propia. Los colonos y los simios lucharon por coexistir. Pero su frágil paz llegó a su fin por culpa de Koba, un simio que no pudo resistirse a vengarse de sus antiguos captores.
César, el líder de los simios, intentó restaurar el orden. Pero ya no había vuelta atrás de la brutal lucha que ya había comenzado.
Los colonos asediados enviaron frenéticas llamadas de socorro sin saber si había alguien ahí fuera que pudiera escucharlos. La señal se recibió unos 1.300 km al norte, en la base militar Lewis-McChord, donde cientos de soldados se refugiaron después del apocalipsis viral. Estos hombres y mujeres eran todo lo que quedaba de las Fuerzas Armadas de los Estados Unidos. Como respuesta a la llamada, envían una curtida división de combate, encabezada por un coronel condecorado de las Fuerzas Especiales, para unirse a la batalla. César y los simios se retiran a los bosques, pero las fuerzas humanas los persiguen, decididos a destruir a los simios de una vez por todas. Durante dos años, los soldados han estado buscando a César en vano, que se rumorea que está comandando a sus simios desde una base escondida en lo profundo del bosque.
En esta tercera parte de esta nueva trilogia La guerra del planeta de los simios de el director, Matt Reeves, y su elenco de estrellas ven cómo los simios evolucionan rápidamente en un mundo que hierve de ira y diferencias a medida que la batalla entre simios y humanos por el control del mundo se dirige hacia el fin, en el que sólo puede quedar uno. En una oleada de cine mítico, el público será testigo del momento crucial que determinará el destino de la civilización humana para siempre, y se verá inmerso en la búsqueda emocional del líder simio, César, para llevar a su joven comunidad a un nuevo hogar, mientras en su interior se desata una guerra entre su creencia en la familia y el honor y la seducción de la venganza.
En el fondo, se trata de la historia de la batalla definitiva, tanto militar como emocional. Cuando la paz entre las especies se derrumba -y una banda de soldados humanos renegados, dirigidos por un imperioso coronel realiza un despiadado ataque- César se ve golpeado por una pérdida personal inimaginable, que hace que se cruce una línea oscura dentro de su mente. Ahora, lucha a base de impulsos despiadados y duda sobre su propia capacidad para liderar a los simios hacia la libertad. Pero para que los simios puedan sobrevivir al conflicto, César debe liderarlos. En un tiempo en el que la empatía y la compasión prácticamente han desaparecido tanto en el mundo como en su corazón, César busca el valor y el sentido del compañerismo y las ideas para guiar a los simios hacia un futuro de esperanza.