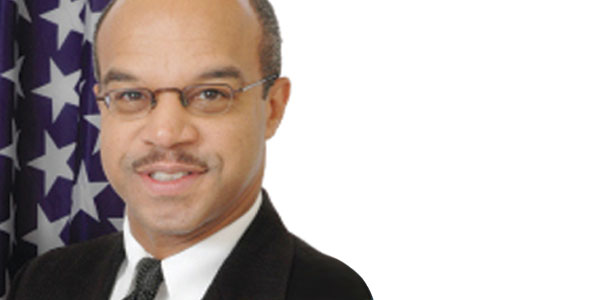 David Haley is looking to change jobs.
By Melissa Arroyo
Haley has served in the Kansas Legislature for more than 20 years, including the past 16 as a senator. This spring, however, he entered the race for mayor/CEO of the Unified Government of Wyandotte County/Kansas City, Kan.
"I see room for a candidate that reflects knowledge and passion for people," Haley stated during a recent interview. "As mayor, I will bring our new commission together to have the 2018 budget reflect the enhancement of our main streets."
In his 2018 budget, Haley plans to include funding to enhance Kansas, Central and Minnesota avenues. He also plans to include funding for enhancing Parallel Parkway, Southwest Boulevard, Quindaro Boulevard and the corresponding numbered streets, beginning with Third Street and going over to 38th Street.
Haley's main objective, however, is to restore the communities he believes have been neglected over the years, he said. Although all taxpayers have contributed to the success of the Village West entertainment district in Wyandotte County, not all of the community has been rewarded for contributing. As a result, Haley wants to change things for the better.
"Wyandotte County is a tale of two cities… All county taxpayers and all BPU-payers (payers to the Board of Public Utilities) have invested through our BPU fees and our taxes, property taxes, sales taxes, in the enhancement of Village West," Haley said. "Now that that investment is paying dividends that go back to our county treasury, … BPU Commissioner David Alvey and Mayor (Mark) Holland have no plans to do anything differently to enhance our historic and our blighted neighborhoods."
Haley also discussed the need to partner with community organizations to produce change and improve the quality of life for the African American and Latino communities in Wyandotte County – two communities that, according to him, are normally the last to reap the benefits of long-term community improvement plans.
"Constituents want a safer, cleaner impression on all parts of the city…. We need a rapid response from our local government – aqui y ahora ('here and now' in Spanish)," Haley said.
The Wyandotte County primary election will take place on Aug. 1. To view a sample ballot, visit www.wycovotes.org. To learn more about Haley's candidacy, visit www.growwyco.com.
__________________________________________________________________________________________
Senador estatal que busca la alcaldía de WyCo / posición del CEO
David Haley está buscando cambiar de trabajo.
Haley ha servido en la Legislatura de Kansas por más de 20 años, incluyendo los últimos 16 como senador. Esta primavera, sin embargo, entró en la carrera de alcalde / CEO del Gobierno Unificado de Wyandotte County / Kansas City, Kan.
"Veo espacio para un candidato que refleje el conocimiento y la pasión por la gente", dijo Haley durante una entrevista reciente. "Como alcalde, traeré nuestra nueva comisión para que el presupuesto del 2018 refleje la mejoría de nuestras calles principales".
En su presupuesto del 2018, Haley planea incluir fondos para mejorar las avenidas Kansas, Central y Minnesota. También planea incluir fondos para mejorar Parallel Parkway, Southwest Boulevard, Quindaro Boulevard y las calles numeradas correspondientes, comenzando con la calle tres y pasando a la calle 38.
El objetivo principal de Haley, sin embargo, es restaurar las comunidades que cree han sido descuidadas a través de los años, él dijo. Aunque todos los contribuyentes han contribuido al éxito del distrito de entretenimiento Village West en el condado de Wyandotte, no toda la comunidad ha sido recompensada por contribuir. Como resultado, Haley quiere cambiar las cosas.
"El condado de Wyandotte es un cuento de dos ciudades … Todos los contribuyentes del condado y todos los pagadores de BPU (contribuyentes a la Junta de Servicios Públicos) han invertido a través de nuestras tarifas BPU y nuestros impuestos e impuestos de propiedad," Dijo Haley. "Ahora que esa inversión está pagando dividendos que se remontan a la tesorería del condado, … el comisionado de BPU David Alvey y el alcalde (Mark) Holland no tienen planes de hacer nada diferente para mejorar nuestros vecindarios históricos y deteriorados".
Haley también discutió la necesidad de asociarse con organizaciones comunitarias para producir cambios y mejorar la calidad de vida de las comunidades afroamericanas y latinas en el condado de Wyandotte – dos comunidades que, según él, normalmente son las últimas en cosechar los beneficios de las comunidades a largo plazo de mejora comunitaria.
"Los constituyentes quieren una impresión más segura y limpia en todas las partes de la ciudad …. Necesitamos una respuesta rápida de nuestro gobierno local – aquí y ahora ", dijo Haley.
La elección primaria del Condado de Wyandotte tendrá lugar el 1 de agosto. Para ver una muestra de la boleta, visite www.wycovotes.org. Para obtener más información sobre la candidatura de Haley, visite www.growwyco.com.