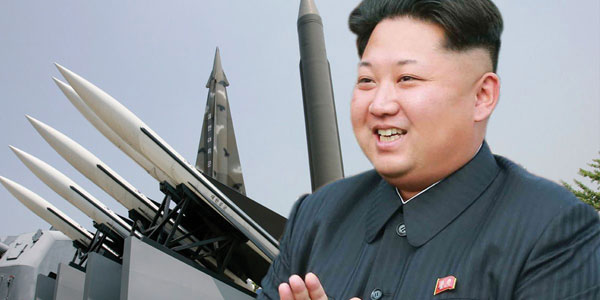 Twelve years ago, New York Times journalist William Grimes penned a book review published in the May 18 edition. His critique of Rogue Regime Kim Jong Il and the Looming Threat of North Korea bore a provocative title: "What to Do About a Country That Has a Nuclear Threat and No Use for Rules." Its author was veteran foreign correspondent, Jasper Becker. The "catalyst" for his exposé had been North Korea's test of a nuclear weapon.
Becker details the dangers North Korea poses, wrote Oxford University Press that published Rogue Regime. It's a unique land, ruled by one family's megalomania and paranoia, that seems destined to survive, a menace to its own people and the rest of the world, read the publisher's description. In closing, Becker's 2015 book asks whether "the nations of the world should allow this regime to survive."
The Kim dynasty survives still, posing an ever greater threat. Kim Jong Il died in 2011 and was succeeded by his son, Kim Jong Un who has aggressively furthered his father's nuclear ambitions. Since assuming power, he's overseen at least five atomic test explosions and two successful satellite launches.
On the Fourth of July, North Korea launched an intercontinental ballistic missile, the likes of which could reach Alaska, Hawaii and possibly Pacific Northwestern states, experts say. North Korea claims the missile could carry a nuclear warhead.
Just two weeks earlier, the belligerent nation repatriated a 22-year-old American college student in a comatose state. He died six days later, never regaining consciousness. Otto Warmbier of Cincinnati, Ohio had gone to North Korea as a tourist in late December 2015. On Jan. 2, 2016, he was arrested for a "hostile act." Warmbier was convicted and sentenced to 15 years of hard labor for allegedly trying to steal a poster.
Human Rights Watch called Warmbier's trial a "kangaroo court" and warned that North Korea is "a human rights 'black hole' for citizens and foreigners." At least 10 other foreigners, including three Americans are being held.
Prison officials attributed Warmbier's coma to botulism. His American doctors found evidence of a "catastrophic head injury" but no botulism. Warmbier's parents declined an autopsy.
Last weekend, Hawaii announced plans to prepare for an intercontinental ballistic missile strike. House and Senate lawmakers agreed on new sanctions against North Korea, and the U.S. State Department imposed a ban on travel to North Korea for Americans.
Kim Jong Un has threatened to turn our West Coast into a "sea of fire." Does he have the capability? On July 20, CNN reported that U.S. intelligence indicates North Korea's preparing for another ICBM test.
Will additional economic sanctions and threats deter Kim Jong Un? How does the world deal with a brutal totalitarian dictator bent on amassing offensive nuclear weapons, provoking the West and nearest adversaries, South Korea and Japan, and murdering and torturing his own people?
How likely is it that a country the size of Pennsylvania would attack America, a country 83 times bigger and possessing more than 4,000 nuclear warheads? If the U.S. were to strike North Korea's nuclear sites, would it provoke Kim Jong Un to launch missiles at Japan and South Korea?
The problem, to reprise Grimes, is what to do about a country that has a nuclear threat and no use for rules. We can't afford to get the solution wrong.
_______________________________________________________________________________________
Manejando a un pequeño tirano agresivo
Hace 12 años, el periodista William Grimes de New York Times escribió la reseña del libro publicado en la edición del 18 de mayo. Su crítica de Rogue Regime Kim Jong Il and the Looming Threat of North Korea produjo un título provocativo: "Qué hacer sobre un país que tiene una amenaza nuclear y las reglas no sirven". Su autor era el correspondiente extranjero veterano, Jasper Becker. El "catalista" de su denuncia fueron las pruebas de un arma nuclear de Corea del Norte.
Becker enumera los peligros que posee Corea del Norte, escribió Oxford University Press que publicó Rogue Regime. Es un territorio único, gobernado por la manía de grandeza y paranoia de una familia, que parece destinada a sobrevivir, una amenaza a su propio pueblo y para el resto del mundo, decía la descripción del editor. Al cerrar, el libro de Becker del 2015 pregunta si "los países del mundo deben permitir que sobreviva este régimen".
La dinastía de Kim aún sobrevive, representando aún una mayor amenaza. Kim Jon II murió en el 2011 y fue sustituido por su hijo Kim Jon Un quien ha impulsado agresivamente las ambiciones nucleares de su padre. Desde que asumió el poder, él ha supervisado por lo menos cinco explosiones atómicas de prueba y dos lanzamientos de satélite exitosos.
El 4 de julio, Corea del Norte lanzó un misil balístico intercontinental, del tipo que podría alcanzar Alaska, Hawai y posiblemente los estados del pacífico noroeste, dicen los expertos. Corea del Norte afirma que el misil podría cargar una cabeza nuclear.
Sólo dos semanas antes, el agresivo país repatrió a un estudiante universitario americano de 22 años en un estado comatoso. El falleció seis días después, nunca recuperó la conciencia. Otto Warmbier de Cincinnati, Ohio había visitado Corea del Norte como turista a finales de diciembre del 2015. El 2 de enero 2016, fue arrestado por un «acto hostil». Warmbier fue convicto y sentenciado a 15 años de trabajos forzados por supuestamente tratar de robarse un póster.
El Observatorio de Derechos Humanos llamó el juicio de Warmbier una «corte de canguro» y advirtió que Corea del Norte es «un calabozo» de derechos humanos para ciudadanos extranjeros». Por lo menos otros 10 extranjeros, incluyendo tres americanos están detenidos.
Los oficiales de la prisión atribuyeron el estado de coma de Warmbier a botulismo. Los médicos en Estados Unidos encontraron evidencia de una «lesión catastrófica en la cabeza» pero no botulismo. Los padres de Warmbier se negaron a una autopsia.
El pasado fin de semana, Hawai anunció planes para prepararse para un ataque de misil balístico internacional. Los legisladores de la Cámara y el Senado acordaron en tener nuevas sanciones contra Corea del Norte, y el Departamento de Estado de Estados Unidos impuso una prohibición de viajes hacia Corea del Norte para los norteamericanos.
Kim Jong Un amenazado con convertir nuestra costa Oeste en un «mar de fuego». ¿Tiene él la capacidad? El 20 de julio, CNN reportó que la inteligencia de Estados Unidos indica que Corea del Norte se está preparando para otra prueba de misil balístico internacional.
¿Desanimarán a Kim Jong Un las sanciones económicas adicionales y amenazas? ¿Cómo puede tratar el mundo con un brutal dictador totalitario decidido a amasar armas nucleares ofensivas, provocando a los adversarios del Oeste y más cercanos, como Corea del Sur y Japón, y asesinando y torturando a su propio pueblo?
¿Qué tan probable es que un país del tamaño de Pennsylvania pudiera atacar a Estados Unidos, un país 83 veces más grande y que posee más de 4,000 cabezas nucleares? Si Estados Unidos atacara los sitios nucleares de Corea del Norte, provocaría esto que Kim Jong Un lanzara misiles contra Japón y Corea del sur?
El problema, repite Grimes, es qué hacer con un país que tiene una amenaza nuclear y para el cual no sirven las reglas. No podemos darnos el lujo de equivocarnos con la solución.