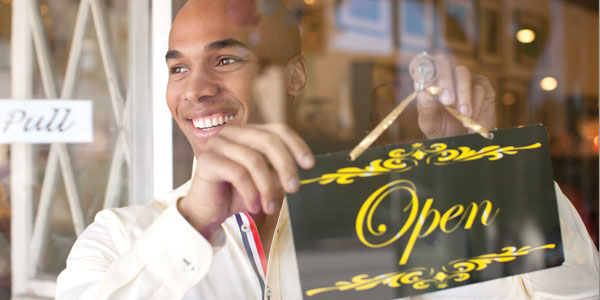 Commentary by Katherine Diaz
The first step of starting a new business is taking a leap of faith.
But there are many factors to consider when deciding whether or not to take that leap. So if you're thinking about starting a business, some of the most important factors you should consider include the following:
*What interests you the most: There's nothing to gain by establishing a business for its profits alone. However, there's much to gain if you're starting a new journey doing something you enjoy. Ask yourself, then, "Will I be happy working in this trade for many years to come?"
*Your odds of succeeding: Many individuals find themselves unhappy and unsatisfied shortly after starting their own businesses and are most likely to fail. According to Judy Day Wilfong, author of "It's Your Business It's Your Future: Success Can Be Yours" (2012), many statistics reveal that "most small businesses fail after five years."
*What you want to invest in: Take time to contemplate what you would like to put your money toward. Be smart about making an investment. Consider the industry where you're considering investing your money, how it's doing in the stock market, what the overall success rate in the industry is and whether or not the business will provide you and your family with stability.
*If you're prepared to handle the stress and obstacles: You've determined what interests you the most and what would be a smart investment for you. Great. But are you mentally and physically capable of addressing the obstacles and stress that come with starting a business? Remember, you have to be physically healthy to give your business and other people your full potential.
_______________________________________________________________________________________
Sea inteligente al iniciar un nuevo negocio
El primer paso para iniciar un nuevo negocio es dar un paso de fe.
Pero hay muchos factores para considerar cuando se decide o no dar ese salto. Así que si usted está pensando en iniciar un negocio, algunos de los factores más importantes que debe considerar son los siguientes:
*Qué le interesa más: No hay nada que ganar estableciendo un negocio sólo por sus ganancias. Sin embargo, hay mucho que ganar si estás empezando un nuevo capítulo haciendo algo que le gusta. Pregúntese entonces: "¿Seré feliz trabajando en este oficio por muchos años?"
*Sus probabilidades de éxito: Muchas personas se encuentran infelices e insatisfechos poco después de iniciar sus propios negocios y son más propensos a fracasar. Según Judy Day Wilfong, autor de "Es tu negocio es tu futuro: el éxito puede ser tuyo" (2012), muchas estadísticas revelan que "la mayoría de las pequeñas empresas fallan después de cinco años."
*En qué desea invertir: Tómese el tiempo para contemplar lo que le gustaría poner su dinero hacia. Ser inteligente acerca de hacer una inversión. Considere la industria en la que está pensando en invertir su dinero, cómo está haciendo en el mercado de valores, cuál es la tasa de éxito global de la industria y si la empresa le proporcionará estabilidad a usted ya su familia.
*Está preparado para manejar el estrés y los obstáculos: Ha determinado lo que más le interesa y qué sería una inversión inteligente para usted. Estupendo. Pero, ¿estás mentalmente y físicamente capaz de enfrentar los obstáculos y el estrés que vienen con el inicio de un negocio? Recuerde, usted tiene que estar físicamente saludable para dar a su negocio ya otras personas todo su potencial.