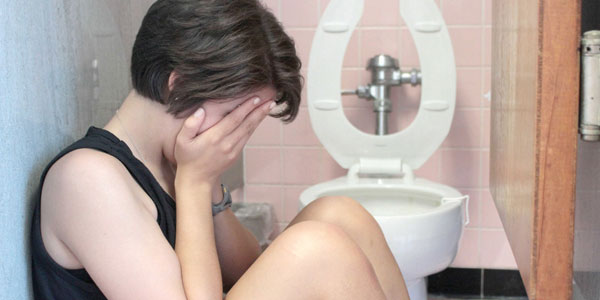 By Chara
During recent decades, losing weight has become a pursuit for millions of Americans.
But as dieting has grown in popularity, so have eating disorders, particularly among women. Bulimia is among those disorders.
According to the Massachusetts Eating Disorders Association, 91 percent of female teen-agers have attempted to control their weight through dieting. The association also has reported that 40 percent of teen-age females and 15 percent of women ages 17-24 have eating disorders. The National Association of Anorexia Nervosa has pointed out that 1.5 percent of American women have suffered from bulimia at one point in their lives.
Bulimia is characterized by purging or self-induced vomiting to compensate for the effects of eating. Bulimia can cause health problems, including an abnormal heartbeat, swollen glands, inflammation and tearing of the esophagus, (for women) irregular menstrual periods, depression and anxiety. In addition, there's a risk of developing heart failure.
Most people with bulimia try to deny they have it. Out of concern for their weight and the stigma often associated with bulimia, they often hide evidence of their eating disorder. Generally, that means hiding the food they eat in binges between those days they vomit and purge themselves.
Although the causes of bulimia are unknown, many researchers believe it's caused by a chemical imbalance in the brain. Genetics and traumatic events also can influence the development of bulimia. Science hasn't found a way to prevent bulimia.
Friends and loved ones can help those who've developed bulimia. To help someone with bulimia, friends and loved ones are advised to offer their support, encourage healthy eating and exercise, and help the person with bulimia find professional help.
__________________________________________________________________________________
Trastornos alimenticios: bulimia
Durante las décadas recientes, perder peso se ha convertido en la meta para millones de norteamericanos.
Pero a medida que la dietas han crecido en popularidad, también lo han sido los trastornos alimenticios particularmente entre las mujeres. La bulimia es uno de esos trastornos.
De acuerdo con la Asociación de Trastornos Alimenticios de Massachusetts, el 91 por ciento de chicas adolescentes han intentado controlar su peso mediante las dietas. La asociación también ha reportado que el 40 por ciento de las chicas adolescentes y el 15 por ciento de las mujeres entre 17 y 24 años de edad tienen trastornos alimenticios. La Asociación Nacional de Anorexia Nerviosa ha señalado que el 1.5 por ciento de mujeres norteamericanas han sufrido de bulimia en algún momento de sus vidas.
La bulimia se caracteriza por inducirse a sí mismo purgas o vómito para compensar los efectos al comer. La bulimia puede causar problemas de salud, incluyendo un ritmo cardiaco anormal, glándulas inflamadas, inflamación y desgarre del esófago, menstruaciones irregulares (para las mujeres), depresión y ansiedad. Además, existe un riesgo de desarrollar fallos cardíacos.
La mayor parte de las personas con bulimia tratan de negar que lo tienen. Debido a la preocupación de su peso y el estigma que con frecuencia está asociado con la bulimia, con frecuencia esconden la evidencia de su trastorno alimenticio. Generalmente, eso significa esconder la comida que consumen con desenfreno entre esos días que vomitan y se purgan ellos mismos.
Aunque las causas de la bulimia son desconocidas, muchos investigadores piensan que es causado por un desbalance químico en el cerebro. La genética y eventos traumáticos también pueden influenciar el desarrollo de bulimia. La ciencia no ha encontrado una manera para evitarla.
Los amigos y seres queridos pueden ayudar a quienes están desarrollando bulimia. Para ayudar a alguien con bulimia, se aconseja que los amigos y seres queridos ofrezcan su apoyo, motivar el comer sano y hacer ejercicio, y ayudar a la persona a encontrar ayuda profesional.