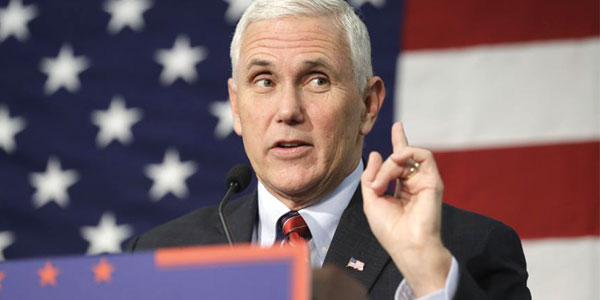 Commentary by Dermidio Juez-Perez
There seems to be as many Republican theories on what to do with America's healthcare system as there are Republicans in America.
On one side, Vice President Mike Pence told reporters on Aug. 3 the Republicans aren't finished in their efforts to repeal and replace the Affordable Care Act (a.k.a., "Obamacare") "by a long shot."
"We won't rest until we end the Obamacare nightmare once and for all," Pence said.
Even though efforts to repeal Obamacare have continued to stall in the Senate, Pence remains optimistic and believes the GOP can revisit the issue before the year ends. Someone who's not as optimistic as the vice president, however, is U.S. Sen. John McCain, who has encouraged his fellow senators to make "a fresh start" in reforming the American healthcare system. Near the end of July, the Republican from Arizona voiced his support for the fresh start approach by joining Democrats (and a few Republicans) by casting the decisive vote to defeat the most recent Republican Obamacare repeal bill.
Although Senator McCain still wants to repeal and replace Obamacare, he understands this cannot be accomplished without bipartisan efforts. McCain said it best when he stated: "I encourage my colleagues on both sides of the aisle to trust each other, stop the political gamesmanship and put the healthcare needs of the American people first."
On the pessimist side of the spectrum is another Republican – Sen. Ron Johnson, who has a different viewpoint on healthcare reform. Recently, the Republican Wisconsin said it's probably time for legislators to focus on other areas, such as tax reform and the economy.
"I really do think we probably ought to turn our attention to the debt ceiling and funding the government and tax cuts until we can really get all the parties together," Johnson told the press.
Considering the numerous failures to repeal and replace Obamacare, I hope the GOP will heed McCain's words, stop theorizing about America's healthcare system and work with Democrats to come up to a much-needed solution for it.
____________________________________________________________________________________
El GOP falla – una vez más
Parece haber tantas teorías republicanas sobre qué hacer con el sistema de salud, como hay republicanos en Estados Unidos.
Por un lado, el vicepresidente Mike Pence dijo a los periodistas el 3 de agosto que los republicanos no han terminado sus esfuerzos para derogar y reemplazar la Ley del Cuidado de Salud a Bajo Precio (a.k.a., "Obamacare") "por un largo tiro".
-No descansaremos hasta que terminemos la pesadilla de Obamacare de una vez por todas -dijo Pence-.
Aunque los esfuerzos para revocar Obamacare han seguido estancándose en el Senado, Pence sigue siendo optimista y cree que el Partido Republicano puede revisar el tema antes de que finalice el año. Alguien que no es tan optimista como el vicepresidente, sin embargo, es el senador estadounidense John McCain, quien ha animado a sus colegas senadores a tratar de comenzar de nuevo en la reforma del sistema de salud estadounidense. A fines de julio, el senador republicano de Arizona expresó su apoyo para el nuevo enfoque de inicio uniéndose a los demócratas (y algunos republicanos) mediante el voto decisivo para derrotar a la más reciente ley republicana para derogar a Obamacare.
Aunque el senador McCain todavía quiere derogar y reemplazar a Obamacare, entiende que esto no puede lograrse sin esfuerzos bipartidistas. McCain lo dijo mejor cuando declaró: "Animo a mis colegas de ambos lados del pasillo a confiar en los demás, detener el juego político y poner las necesidades de atención médica del pueblo estadounidense en primer lugar".
En el lado pesimista del espectro está otro republicano – el senador Ron Johnson, quien tiene un punto de vista diferente sobre la reforma de la salud. Recientemente, el senador republicano de Wisconsin dijo que probablemente es hora de que los legisladores se enfoquen en otras áreas, como la reforma tributaria y la economía.
"Realmente creo que probablemente deberíamos concentrar nuestra atención en el techo de la deuda y financiar el gobierno y los recortes de impuestos hasta que podamos realmente juntar a todas las partes", dijo Johnson a la prensa.
Teniendo en cuenta los numerosos fracasos para derogar y reemplazar a Obamacare, espero que el Partido Republicano preste atención a las palabras de McCain, detenga la teorización sobre el sistema de salud de Estados Unidos y trabaje con los demócratas para llegar a una solución tan necesaria.