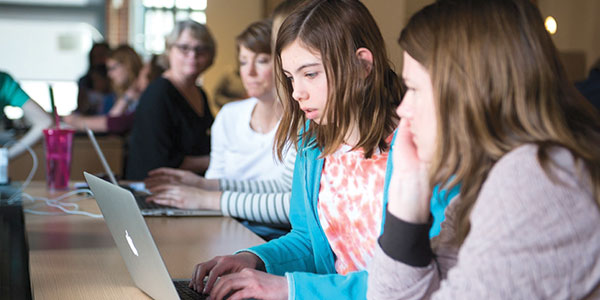 Commentary by Melissa Arroyo
Because of the high demand in the workforce for computer science graduates, more resources for kids are becoming available to pique their interest in choosing technology-related careers.
But there are other reasons why it's beneficial for children to learn about computers and software. Doing so helps them stay on top of technological trends and become better informed consumers about everyday technology. And overall, learning about technology can be an enjoyable, entertaining family activity.
Here are some ideas to get your children interested in technology, from learning website development to building a computer:
*Thimble by Mozilla: You and your children can learn how websites are built by learning the basics and creating fun projects, such as a "Homework Excuse Generator" or an "HTML Burger." For these and other free projects, visit https://thimble.mozilla.org.
*Raspberry Pi and Jewelbots: Both products have an upfront cost and require some time to get acquainted with the programming language. But both are fun, unique tech projects that give kids self-motivation to learn and explore. With Jewelbots, girls can learn how to program and connect their friendship bracelets and communicate through them. Raspberry Pi provides a wider range of projects, ranging from building a computer to building a weather station. Visit jewelbots.com or raspberrypi.org.
*Scratch.org and Code.org: Both resources offer kids and parents a wide range of free games and projects to learn how to code together. To learn more, visit scratch.mit.edu and code.org.
*Coder Dojo KC, and Coding and Cupcakes: There are organizations in the Kansas City area that host ongoing events so kids can learn to code for free. Coder Dojo holds a coding session from 9 a.m. to noon every second Saturday of the month. Coding and Cupcakes, an event for parents and daughters, will host its next session from 1 to 4 p.m. on Sept. 9. To learn more, visit http://codingandcupcakes.kcwomenintech.org/ and coderdojokc.com.
____________________________________________________________________________________
Diversos productos y proyectos de tecnología para toda la familia
Debido a alta cantidad de puestos de trabajo disponibles para los graduados de ciencias de la computación, más recursos para los niños se están lanzando al mercado para despertar su interés en escoger una carrera relacionada con la tecnología.
Pero hay otras razones por las que es beneficioso para los niños aprender sobre computadoras y software. Hacerlo les ayuda a mantenerse al tanto de las tendencias tecnológicas y convertirse en consumidores mejor informados sobre la tecnología cotidiana. Y en general, aprender sobre la tecnología puede ser una actividad familiar agradable y divertida.
Aquí hay algunas ideas para que sus hijos se interesen por la tecnología, desde el aprendizaje de desarrollo de sitios web hasta la construcción de una computadora:
* Thimble de Mozilla: Usted y sus hijos pueden aprender cómo los sitios web son construidos aprendiendo lo básico y creando proyectos divertidos, como un "Generador de Excusas de Tarea" o una "Hamburguesa HTML". Para éstos y otros proyectos gratuitos, visite https://thimble.mozilla.org.
* Raspberry Pi y Jewelbots: Ambos productos tienen un costo inicial y requieren algún tiempo para familiarizarse con el lenguaje de programación. Pero ambos son divertidos y exclusivos proyectos tecnológicos que les dan a los niños auto motivación para aprender y explorar. Con Jewelbots, las niñas pueden aprender a programar y conectar sus brazaletes de amistad y comunicarse a través de ellos. Raspberry Pi ofrece una gama más amplia de proyectos, que van desde la construcción de una computadora hasta la construcción de una estación meteorológica. Visita jewelbots.com o raspberrypi.org.
* Scratch.org y Code.org: Ambos recursos ofrecen a los niños y los padres una amplia gama de juegos y proyectos gratuitos para aprender a codificar juntos. Para obtener más información, visite scratch.mit.edu y code.org.
* Coder Dojo KC, y Coding and Cupcakes: Hay organizaciones en el área de Kansas City que acogen eventos en curso para que los niños puedan aprender a codificar de forma gratuita. Coder Dojo tiene una sesión de codificación de 9 a.m. al mediodía cada segundo sábado del mes. Coding and Cupcakes, un evento para padres e hijas, acogerá su próxima sesión de 1 a 4 p.m. El 9 de septiembre. Para obtener más información, visite http://codingandcupcakes.kcwomenintech.org/ y coderdojokc.com.