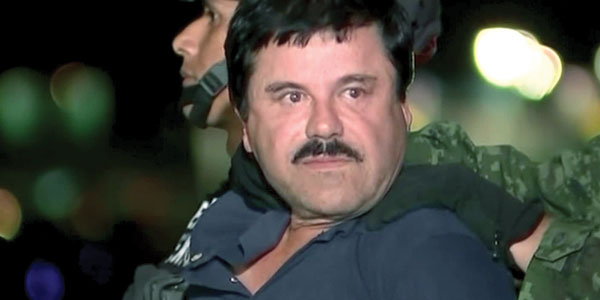 By Chara
Mexican drug lord Joaquin Guzman Loera – a.k.a., "El Chapo" – has hired private attorney Jeffrey Lichtman to defend him against criminal charges in the United States.
Lichtman – who successfully defended John A. Gotti Jr., the son of New York mob boss John Gotti, several years ago – has formed a team of lawyers to defend "El Chapo." The team includes Eduardo Balarezo, who defended Alfredo Beltran Leya, one of "El Chapo's" rivals in Mexico. It also includes William Purpura, who also has defended a drug lord; and Marc Fernich, who helped Lichtman defend John Gotti Jr.
"I'm used to dealing with clients that society has already discarded, already convicted and being able to convince (jurors) that maybe everything the government and the press says is not 100 percent accurate," Lichtman was quoted by Vice News as saying.
Rob Heroy, a lawyer who has worked similar cases to "El Chapo's," told BBC Mundo that Guzman Loera wants to put up a fight, instead of reaching an agreement with the U.S. government.
"It sounds like Guzman spent a lot of time thinking about who wanted him to handle the case," Heroy said.
According to BBC Mundo, part of Lichtman's strategy in defending Gotti was to question the credibility of witnesses, something he could try in Guzman's case.
"He has been convicted in the court of public opinion 100 times, but it doesn't mean he's guilty of the crimes that he's been charged with," Lichtman told The New York Times.
"El Chapo's" team might face difficulties in trying to defend him. Mexican media agencies are reporting that the U.S. government can confiscate "El Chapo's" paychecks to his defense team because the money might have "illegal" origins. However, the U.S. government can't deny Guzman Loera the right to hire a private attorney.
_____________________________________________________________________________________
"El Chapo" contrata a un defensor privado
El narcotraficante mexicano Joaquín Guzmán Loera – a.k.a., "El Chapo" – ha contratado al abogado privado Jeffrey Lichtman para defenderlo contra los cargos criminales en Estados Unidos.
Lichtman, quien defendió con éxito a John A. Gotti Jr., hijo del jefe de la mafia de Nueva York, John Gotti, hace varios años – ha formado un equipo de abogados para defender a "El Chapo". El equipo incluye a Eduardo Balarezo, que defendió a Alfredo Beltran Leya, uno de los rivales de "El Chapo" en México. También incluye a William Purpura, quien también ha defendido a un narcotraficante y Marc Fernich, quien ayudó a Lichtman a defender a John Gotti Jr.
"Estoy acostumbrado a tratar con clientes que la sociedad ya ha descartado, ya condenados y ser capaz de convencer a los jurados que tal vez todo lo que el gobierno y la prensa dicen no es 100% exacto", indicó Lichtman citado en Vice News.
Rob Heroy, un abogado que ha trabajado casos similares a "El Chapo", dijo a BBC Mundo que Guzmán Loera quiere pelear, en lugar de llegar a un acuerdo con el gobierno de Estados Unidos.
"Parece que Guzmán pasó mucho tiempo pensando en quién quería que manejara el caso", indicó Heroy.
Según BBC Mundo, parte de la estrategia de Lichtman en la defensa de Gotti era cuestionar la credibilidad de los testigos, algo que podría intentar en el caso de Guzmán.
"Él ha sido condenado en la Corte de la opinión pública 100 veces, pero no significa que sea culpable de los crímenes de los que ha sido acusado", dijo Lichtman al New York Times.
El equipo de "El Chapo" podría tener dificultades para intentar defenderlo. Los medios de comunicación mexicanos informan que el gobierno de Estados Unidos puede confiscar los cheques de "El Chapo" a su equipo de defensa porque el dinero podría tener un origen "ilegal". Sin embargo, el gobierno de Estados Unidos no puede negar a Guzmán Loera el derecho de contratar a un abogado privado.