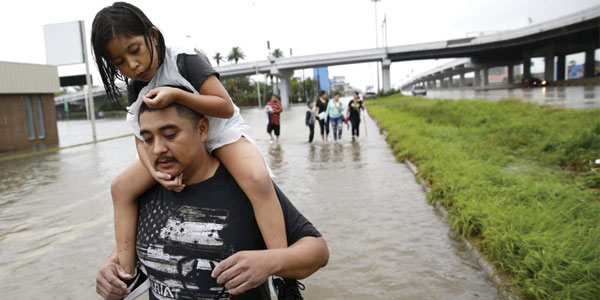 By Chara
Life won't be the same for residents of southeastern Texas after Hurricane Harvey.
That was Texas Gov. Greg Abbott's opinion Monday (Aug. 28), as the storm continued to wreak havoc on southern and southeastern Texas, particularly through major flooding. In a story that day in The New York Times, the governor called for people "to recognize it will be a new normal, a new and different normal for this entire region."
Indeed, the hurricane – which reached the shores of Texas on Aug. 25, has affected several major Texas cities, including Corpus Christi, Houston, Austin and San Antonio. At press time, the death toll was 30, with thousands of residents forced to evacuate their homes.
In Houston alone, more than 3,500 people had been rescued, according to the Houston Police Department. Moreover, Houston media outlets were reporting as of this writing that the George R. Brown Convention Center was providing shelter to more than 9,000 people. In addition, there were people waiting in line, seeking a place to stay.
Because of the destruction left by Harvey, the Federal Emergency Management Agency (FEMA) expects around 450,000 people to apply for federal assistance. In addition, FEMA is sending water and food to assist the victims.
On Tuesday (Aug. 29), President Trump visited the Corpus Christi area to inspect the damage. The president also gave his commitment to provide assistance.
"I want to begin today by extending my thoughts and prayers for those affected by Hurricane Harvey and the catastrophe of flooding and all of the other difficulties that they're currently going through in Houston, in southeast Texas," The Huffington Post quoted Trump as saying. "Recovery will be a long and difficult road – and the federal government stands ready, willing and able to support that effort."
During his visit, Trump was severely criticized because he reportedly didn't meet with any hurricane victims.
Texans are expecting to continue to see rainfall from Harvey through Friday (Sept. 1). The storm has reportedly moved to Louisiana, where residents are expecting more than 20 inches of rain.
______________________________________________________________________________________
El huracán Harvey causa destrucción masiva en Texas
La vida no será la misma para los residentes del sureste de Texas después del huracán Harvey.
Esa fue la opinión del gobernador de Texas, Greg Abbott, el lunes 28 de agosto, cuando la tormenta continuó causando estragos en el sur y sureste de Texas, particularmente a causa de importantes inundaciones. En un artículo de ese día en el New York Times, el gobernador llamó a la gente a «reconocer que será una nueva normalidad, una nueva y diferente vida para toda esta región».
De hecho, el huracán, que llegó a las costas de Texas el 25 de agosto, ha afectado a varias ciudades importantes de Texas, incluyendo Corpus Christi, Houston, Austin y San Antonio. Según la prensa, el número de muertos fue de 30 y  miles de residentes obligados a evacuar sus hogares.
Sólo en Houston, más de 3,500 personas habían sido rescatadas, según el Departamento de Policía de Houston. Por otra parte, los medios de comunicación de Houston estaban informando al cierre de esta edición que el Centro de Convenciones George R. Brown estaba proporcionando refugio a más de 9,000 personas. Además, había gente esperando en fila, buscando un lugar para quedarse.
Debido a la destrucción dejada por Harvey, la Agencia Federal para el Manejo de Emergencias (FEMA) espera que alrededor de 450,000 personas soliciten ayuda federal. Además, FEMA está enviando agua y alimentos para ayudar a las víctimas.
El martes (29 de agosto), el presidente Trump visitó el área de Corpus Christi para inspeccionar el daño. El Presidente también se comprometió a prestar asistencia.
«Quiero comenzar hoy, mandando mis pensamientos y rezos para aquellos afectados por el huracán Harvey, la catástrofe de las inundaciones y todas las otras dificultades que están atravesando actualmente en Houston, en el sureste de Texas», el Huffington Post citó a Trump. «La recuperación será un camino largo y difícil – y el gobierno federal está listo, dispuesto y capaz de apoyar ese esfuerzo».
Durante su visita, Trump fue severamente criticado porque según se informa él no se encontró con ninguna víctima del huracán.
Los tejanos esperan seguir viendo lluvias  hasta el viernes (1 de septiembre). Según informes, la tormenta se trasladó a Louisiana, donde los residentes esperan más de 20 pulgadas de lluvia.