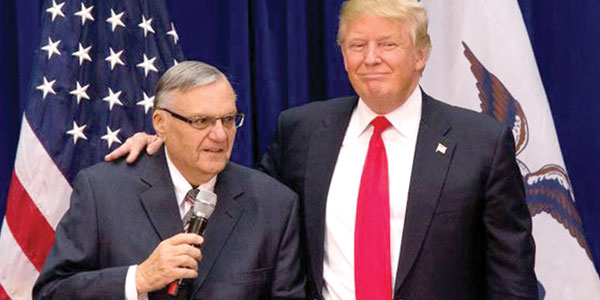 Commentary by Dermidio Juez-Perez
Traditionally, in the White House, Friday afternoons are quiet, uneventful days for U.S. presidential administrations.
That hasn't been the case with the Trump administration.
Instead, President Trump has used Friday evenings to announce some of his most controversial decisions – all with the hope that Americans would be too busy with their weekends to notice.
On the eve of catastrophic natural disasters in Texas, President Trump did it again. He pulled a few controversial moves, hoping the media would be too busy covering the natural disaster that would be named Tropical Storm Harvey. 
Late on Aug. 25, Trump pardoned former Sheriff Joe Arpaio of Maricopa County, Ariz., who had committed a crime by defying a court order to stop detaining suspected undocumented immigrants. On July 31, U.S. District Court Judge Susan R. Bolton found Arpaio, 85, guilty of criminal contempt of court, a misdemeanor punishable by up to six months in jail.
It should come as no surprise that the president pardoned Arpaio. After all, the Trump administration expects sheriffs nationwide to play a major role in Trump's immigration crackdown. The administration has gone as far as threatening to withhold federal funds from local governments that don't cooperate by holding jail inmates for deportation.
Fortunately, despite Trump's attempt to make his move in silence, media organizations did their job. Over the weekend (Aug. 25-27), the media successfully covered the natural disasters and kept Americans aware of Trump's political disasters.
On Sunday (Aug. 27), for example, longtime columnist Jorge Ramos called out Trump on CNN's "State of the Union" TV program by saying the president is "defending racism" by pardoning Arpaio.
Hector Sanchez, chair of the National Hispanic Leadership Agenda and executive director of the Labor Council for Latin American Advancement, issued the following statement after Trump had issued his pardon:
"Less than two weeks after the white supremacist rally in Charlottesville, Va., Donald Trump's pardon of Sheriff Joe Arpaio in the middle of a national emergency shows that the administration has a wanton disregard for the rule for law – and supports the extremist policies of brutality, bigotry and racism targeting Latinos, and all immigrants communities. This is yet another prime example of this administration's anti-Latino, xenophobic agenda."
Fortunately, the media did its job and Americans received full coverage of everything going on at the White House and in Texas.
______________________________________________________________________________________
Trump defiende al racismo al indultar a Arpaio
Tradicionalmente, en la Casa Blanca, los viernes por la tarde son días tranquilos y sin complicaciones para las administraciones presidenciales de Estados Unidos.
Pere este no ha sido el caso para la administración Trump.
En su lugar, el presidente Trump ha utilizado las tardes de los viernes para anunciar algunas de sus decisiones más controvertidas, todo con la esperanza de que los estadounidenses estarían demasiado ocupados con sus fines de semana para notar.
En vísperas de los desastres naturales catastróficos en Texas, el presidente Trump lo hizo de nuevo. Realizó algunos movimientos polémicos, esperando que los medios de comunicaciones estuvieran demasiado ocupados cubriendo el desastre natural que se convertiría en Tormenta Tropical Harvey.
A fines del 25 de agosto, Trump perdonó al ex sheriff Joe Arpaio, del condado de Maricopa, Arizona, quien había cometido un crimen al desafiar una orden judicial dejar de detener a sospechosos de ser inmigrantes indocumentados. El 31 de julio, la juez Susan R. Bolton encontró a Arpaio, de 85 años, culpable de desacato penal, un delito menor punible con hasta seis meses de cárcel.
No debería sorprendernos que el Presidente perdonara a Arpaio. Después de todo, la administración de Trump requiere que los sheriffs de todo el país jueguen un papel importante en la represión de inmigración de Trump. La administración ha llegado a amenazar con retener los fondos federales de los gobiernos locales que no cooperan con la detención de reclusos para la deportación.
Afortunadamente, a pesar del intento de Trump de hacer su movimiento en silencio, las organizaciones de medios hicieron su trabajo. Durante el fin de semana (del 25 al 27 de agosto), los medios cubrieron con éxito los desastres naturales y mantuvieron a los estadounidenses conscientes de los desastres políticos de Trump.
El domingo (27 de agosto), por ejemplo, el columnista Jorge Ramos dijo en el programa televisivo "Estado de la Unión" de CNN que el Presidente está "defendiendo el racismo" al perdonar a Arpaio.
Héctor Sánchez, presidente de la Agenda Nacional de Liderazgo Hispano y director ejecutivo del Consejo Laboral para el Avance Latinoamericano, emitió la siguiente declaración después de que Trump emitiera su indulto:
"Menos de dos semanas después de la manifestación de la supremacía blanca en Charlottesville, Virginia, el perdón de Donald Trump al sheriff Joe Arpaio en medio de una emergencia nacional muestra que la administración tiene un descarado desprecio por la ley y apoya las políticas extremistas de brutalidad, intolerancia y racismo dirigidos a los latinos y a todas las comunidades de inmigrantes. Este es otro ejemplo más de la agenda anti-latina, xenófoba de esta administración."
Afortunadamente, los medios hicieron su trabajo y los estadounidenses recibieron una cobertura completa de todo lo que ocurría en la Casa Blanca y en Texas.