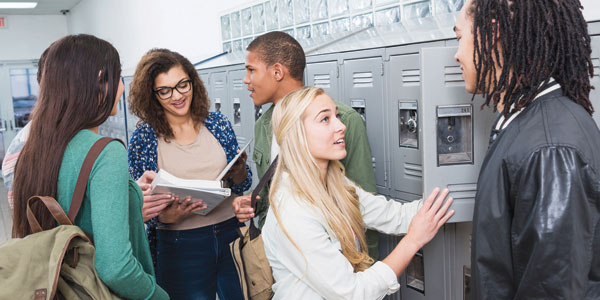 Must-haves for lockers and backpacks
Rushing out the door for another busy day of hitting the books can mean important things get left behind. Keeping a ready supply of everyday essentials in a backpack or locker can help ease the stress of a forgotten item.
Whether it's rehearsing for the school play, gearing up for athletic practices or just spending time after class with friends, teens seem to always be on the go. In order for teens to focus on their fun extracurricular activities, rather than the stresses of remembering everything they need, it's important to keep a few items on-hand.
Be prepared for whatever a busy school day may bring by stocking up on these necessities:
Backup school supplies. You may have a favorite pen that you use every day, but if it goes missing, be sure you're still prepared for class with a ready stash of extras. Same goes for note-taking paper in case you leave a notebook at home. Take inventory of the things you use every day and add an extra just in case something goes missing or gets left behind.
Personal care essentials. There are few things worse to realize you forgot than hygiene supplies. Keep a backup supply of items like deodorant available for days when you really need them. It's also a good idea to keep a brush or comb handy. If you're prone to oil, some dry shampoo can help, and for longer locks, don't forget extra elastic ties.
Spot treatment. Acne seems to make its appearance on its own time, and it's never a good time. With solutions like the OXY On-The-Go Acne Stick, there's no need to waste precious minutes on treatment. The stick is conveniently packaged in a slim, solid form, so it provides a portable, bathroom-free solution that can easily be placed in a small bag or backpack. Because it goes on clear via a handy mess-free applicator, you can spot-treat at any time. Learn more at oxyskincare.com.
Organization apps. Whether you're more of a write-it-down or key-it-in person, keeping track of the details in your life can help you be sure you stay on track with practice schedules, homework deadlines and other important information. You probably never leave your phone too far behind, but try and occasionally use it in a productive manner with an app you'll easily remember to update.
Spare change. A small stash of cash (say $5) is a good idea to keep on hand for any number of after-school activities. It could also certainly come in handy for a minor "emergency," like forgotten lunch money or leaving your water bottle at home.
Forgetting things on a busy morning is bound to happen, but if you prepare for the inevitable you can keep a simple mistake from ruining the day.
___________________________________________________________________________________
Alivio para el estrés del día de clases
Artículos esenciales en casilleros y mochilas
Salir apresurado para otro día dedicado a los libros puede significar que cosas importantes se olviden. Mantener un abastecimiento listo de artículos esenciales diarios en una mochila o casillero puede ayudar a aliviar el estrés de un artículo olvidado.
Si es para ensayar la obra en la escuela, prepararse para entrenamientos deportivos o solamente pasar tiempo después de clases con amigos, los adolescentes siempre parecen estar activos. Para que los adolescentes se enfoquen en sus actividades extracurriculares divertidas, en lugar del estrés de recordar todo lo que necesitan, es importante mantener algunos artículos a la mano.
Mantente preparado para lo que el día escolar pueda traer abasteciéndote de estas necesidades:
Ten reservas de artículos escolares. Quizás tengas una pluma favorita que usas todos los días, pero si se te pierde, asegúrate de estar preparado para la clase con un grupo de extras. Lo mismo para papel para tomar notas en caso de que olvides una libreta en casa. Toma inventario de las cosas que usas todos los días y agrega uno extra en caso de que algo se pierda o se olvide.
Esenciales de cuidado personal. Hay muy pocas cosas peores que darte das cuenta que olvidaste tus artículos de higiene. Mantén una reserva de artículos como desodorante disponible para los días cuando realmente los necesitas. También es buena idea tener un cepillo o peine a la mano. Si tiendes a tener pelo graso, un poco de champú seco puede ayudar, y para pelo largo, no olvides ligas extras.
Tratamiento para el acné. El acné parece presentarse en su propio momento, y nunca es un buen momento. Con soluciones como OXY On-The-Go Acne Stick, no hay necesidad de desperdiciar valiosos minutos en tratamientos. La barrita está empacada convenientemente en una forma delicada y sólida, la cual provee una solución portátil que puede colocarse en una pequeña bolsa o mochila. Y debido a que no se nota, puedes aplicártelo en cualquier momento. Entérate más en oxyskincare.com.
Aplicaciones para organización. Si eres una persona de escribir a mano o con teclas, mantener registro de los detalles en tu vida puede ayudarte a mantenerte al tanto con el horario de entrenamientos, fechas para entregar tareas y otra información importante. Probablemente nunca dejas lejos tu teléfono, pero intenta utilizarlo ocasionalmente en una manera productiva con una aplicación que fácilmente recordarás actualizar.
Monedas. Es una buena idea tener a la mano un pequeña cantidad de monedas (digamos $5), para un número de actividades después de clases. Podría también ciertamente ser útil para una "emergencia" menor, como dinero olvidado para el almuerzo o haber dejado tu botella de agua en casa.
Olvidar cosas en la mañana tendrá que suceder, pero si te preparas para lo inevitable puedes prevenir que un simple error arruine el día.