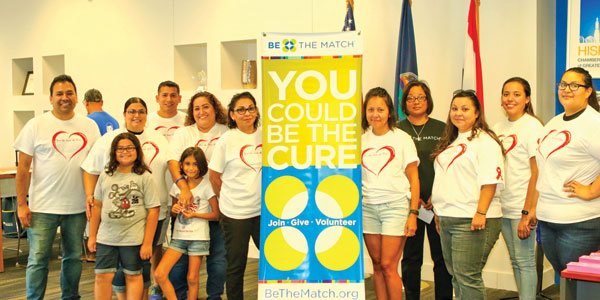 The Hispanic Chamber of Commerce of Greater Kansas City hosted their first annual HCC SWAB PARTY calling Latinos in the Kansas City area to register as bone marrow donors.
The SWAB PARTY, sponsored by Be The Match and Alvarado Photography, was held at the offices of the Hispanic Chamber of Commerce of Greater Kansas City (107 W. 10th St. KC, MO 64105) on Friday September 9, 2017. The drive was successful with 23 potential donors registered; that's 23 lives that can be SAVED!
In the US, someone is diagnosed with a blood cancer every 3 minutes.
•Only 30 percent of patients who need a bone marrow transplant have a matching donor in their families.
•The remaining 70 percent must hope that a compatible stranger can be found using the national registry.
•6 out of 10 patients are unable to find a compatible donor because of the shortage of donors, the odds are even lower for Latinos, Blacks and Asian
•A close match increases the chance that the patient'…s body will accept donated cells as its own and not fight them.
 •Only about 4 in 10 patients can find a donor with a very close match.
 •The closest matches generally occur between patients and donors who share the same ancestry.
•The best donors are between the ages of 18-44
 Be The Match – Be Involved Save Lives – Be the Match Mission statement:  by delivering cures to people diagnosed with life threatening blood cancers through marrow transplants.  But we can›t do this important work alone.  We work with amazing partners and volunteers like you to help the more than 14,000 patients in need of transplant.
 When it comes to matching human leukocyte antigen (HLA) types, a patient's ethnic background is important in predicting the likelihood of finding a match. This is because HLA markers used in matching are inherited. Some ethnic groups have more complex tissue types than others. So a person's best chance of finding a donor may be with someone of the same ethnic background. 
 There's a desperate need to find bone marrow donors of Latino origin. Only 11 percent of potential donors in the national bone marrow donor "Be The Match" registry are Latino. 
 If you missed the drive you can still register to Save-A-Life! Go online to:  http://join.bethmatch.org/heitagematters Complete the online form and a swab kit will be mailed to you.
---
Campaña de registro de donadores de médula espinal
La Cámara Hispana de Comercio de Kansas City realizó su primera HCC SWAB PARTY llamando a los latinos del área de Kansas City para que se registren como donadores de médula espinal.
El SWAB PARTY, patrocinado por Be The Match y Alvarado Photography, se llevó a cabo en las oficinas de la Cámara Hispana de Comercio de Kansas City (107 W. 10th St. KC, MO 64105) el viernes 9 de septiembre, 2017. La campaña fue exitosa, ya que se registraron 23 donadores posibles, lo cual significa que son 23 vidas que pueden SALVARSE!
En Estados Unidos, cada 3 minutos alguien es diagnosticado con cáncer en la sangre.
• Solamente el 30 por ciento de los pacientes que tienen un trasplante de médula espinal tienen un donador compatible en sus familias.
•El restante 70 por ciento deben esperar a encontrar un extraño que sea compatible utilizando el registro nacional.
• 6 de cada 10 pacientes no pueden encontrar un donador compatible debido a la escasez de donadores, las probabilidades son aún menores para los latinos, negros y asiáticos.
• Una compatibilidad cercana aumenta las posibilidades de que el cuerpo del paciente acepte las células donadas como sus propias y no las rechace.
•Solamente cuatro de cada 10 pacientes pueden encontrar un donador con una compatibilidad muy cercana.
• Las compatibilidades más cercanas generalmente ocurren entre pacientes y donadores que comparten la misma descendencia.
•Los mejores donadores son quienes tienen entre 18 y 44 años de edad.
El propósito de Be The Match – Be Involved Save Lives – Be the Match: entregar curas a personas diagnosticadas con cánceres en la sangre que amenazan la vida mediante trasplantes de médula. Pero no podemos hacer este trabajo solos. Trabajamos con fabulosos socios y voluntarios como tú para ayudar a más de 14,000 pacientes en necesidad de un trasplante.
Cuando se trata de igualar los tipos de antígeno leucocitario humano (HLA), es importante el origen étnico de un paciente para predecir la probabilidad de encontrar alguien compatible. Esto es porque los indicadores de HLA utilizados para encontrar compatibilidad son heredados. Algunos grupos étnicos tienen tipos de tejido más complejos que otros. Así que la mejor oportunidad de una persona de encontrar un donador puede ser con alguien del mismo origen étnico.
Existe una necesidad desesperada de encontrar donadores de médula espinal de origen latino. Solamente el 11 por ciento de los posibles donadores en el registro nacional de donadores de médula espinal "Be The Match"  son latinos.
Si usted se perdió la campaña, aún puede registrarse en Save-A-Life! Vaya en línea a
http://join.bethmatch.org/heitagematters complete el formulario y se le enviará por correo un estuche de análisis.