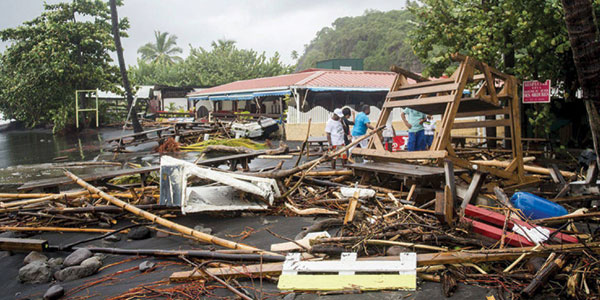 Compiled From News Reports
Another hurricane has inflicted major damage to islands in the Caribbean – the second one in less than a month.
At press time Wednesday afternoon (Sept. 20), Hurricane Maria was causing major damage in the Caribbean, specifically on the island of Puerto Rico, a U.S. commonwealth. Multiple news agencies were reporting Puerto Rico was without electricity and that Gov. Ricardo Rossello had imposed a curfew because of the storm.
Puerto Rico wasn't the only Caribbean island to get hit by the hurricane. Other islands where damage was reported included the U.S. Virgin Islands and Dominica.
Maria comes shortly after Hurricane Irma, a storm that formed in late August and swept through the Caribbean in early September, eventually inflicting major damage to part of the U.S. Southeast, namely Florida, before dissipating in mid-September. Puerto Rico was among the Caribbean islands affected by Irma. Bloomberg News reported Tuesday (Sept. 19) that the damage to Puerto Rico from Irma was "as much as $1 billion."
As of Wednesday, USA Today and other news sources were suggesting it was unlikely Maria would affect the mainland as Irma or Harvey had done. USA Today reported it was likely that Tropical Storm Jose would redirect Maria away from the mainland.
"It seems at this point that the most likely track for Maria would be similar to Jose, staying off the coast, but close enough to clip the Outer Banks (islands near North Carolina), maybe New England," USA Today quoted Rob Miller, a senior meteorologist with AccuWeather.com, as saying.
---
Huracán María golpea Puerto Rico y otras partes del Caribe
Otro huracán ha causado grandes daños a las islas del Caribe, el segundo en menos de un mes.
Al cierre de esta edición, el miércoles por la tarde (20 de septiembre), el huracán María estaba causando grandes daños en el Caribe, específicamente en la isla de Puerto Rico, una comunidad de Estados Unidos. Varios medios de información estaban reportando que Puerto Rico estaba sin electricidad y que el gobernador Ricardo Rosselló había impuesto un toque de queda debido a la tormenta.
Puerto Rico no fue la única isla caribeña en ser golpeada por el huracán. Otras islas donde se registraron daños fueron las Islas Vírgenes de los Estados Unidos y Dominica.
María llega poco después del huracán Irma, una tormenta que se formó a finales de agosto y barrió el Caribe a principios de septiembre, ocasionando daños mayores a parte del sureste de Estados Unidos, Florida, antes de disiparse a mediados de septiembre. Puerto Rico se encontraba entre las islas caribeñas afectadas por Irma. Bloomberg News informó el martes (19 de septiembre) que el daño de Irma a Puerto Rico era "de hasta mil millones de dólares".
A partir del miércoles, USA Today y otras fuentes de noticias estaban suponiendo que era improbable que Maria afectara el continente como Irma o Harvey lo habían hecho. USA Today informó que era probable que la Tormenta Tropical José redirigiera a María lejos del continente.
"Parece en este punto que el camino más probable para María será similar al de José, manteniéndose fuera de la costa, pero lo suficientemente cerca como para cortar los Outer Banks (islas cerca de Carolina del Norte), tal vez Nueva Inglaterra", USA Today citó hoy a Rob Miller, un meteorólogo principal de AccuWeather.com.