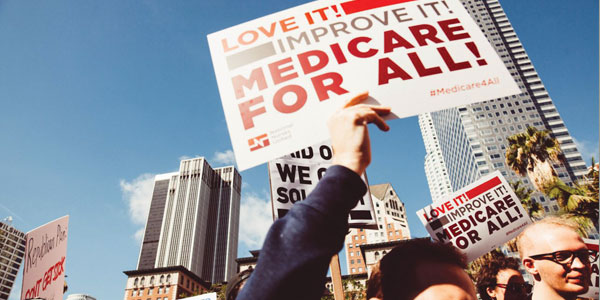 The issue of making health care in this country more accessible to more Americans affordably has a torturous modern history. Without the support of congressional Republicans, former President Obama in March 2010 signed into law the Affordable Care Act (ACA). By 2014, all of the law's major provisions were in force.
But last year, Republican presidential candidate Donald Trump campaigned on repealing the ACA, commonly referred to as Obamacare. Historically hostile to Obama's signature healthcare law, Congress has repeatedly tried and failed to repeal it. On Sept. 26, the Republican-led Senate aborted their latest effort for lack of votes. Then on Oct. 12, President Trump signed an executive order, killing parts of the ACA, including the federal premium subsidies benefitting lower-income Americans.
Meanwhile, Independent Sen. Bernie Sanders from Vermont was crafting a bill that would extend coverage nearly universally. On Sept. 13, Sanders introduced the Medicare for All Act of 2017. The 96-page Senate Bill 1804 calls for generously expanding the type of health coverage offered; eliminating co-pays, deductibles and insurance premiums; and removing insurance companies from the process.
Within four years under S. 1804, all Americans would be covered by a comprehensive healthcare plan that exceeds Medicare. It would include dental and vision benefits, home care, hospital and primary care, mental health services, prescription drugs and more.
Medicare for All would be phased in. The first year, it would cover children under age 18 and adults ages 55 and up. In the three succeeding years, adults ages 45, 35 and 25, consecutively, would be eligible for the comprehensive coverage. Their only insurer would be the federal government.
Sanders points out that the traditional Medicare program spends just two percent of total costs on administration – less than one-sixth the administrative costs of private health insurance companies. "A Medicare-for-all single-payer health care system" is the "most cost-effective and popular solution to this health care crisis," Sanders wrote in a Sept. 13 op-ed in The New York Times.
The federal government would be the "single payer" on any health expenses, thereby eliminating all the many other payers in the U.S. healthcare system and "layers of bureaucracy associated with the administration of hundreds of individual and complicated insurance plans." It's a "stunningly wasteful" system costing "hundreds of billions of dollars a year," Sanders asserts.
He didn't include in S. 1804 how to pay for Medicare for All, but he listed possible funding options on his Website (www.berniesanders.com/medicareforall/). "There has not been the kind of research and study that we need to put together cost estimates and funding plans in the proposed bill," Sanders explained in the Washington Post.
He knows the 115th Congress isn't going to pass S. 1804, but that's not the objective. The point of the bill, he says, is to "force a conversation." The United States is the only major country that doesn't guarantee healthcare to all people; spends far more per capita on health care than any other nation; and pays the highest prices for prescription drugs.
Sen. Sanders's bill is a long way from passage, but here's the political reality. It has injected new life into the single-payer concept at a critical juncture in our nation's health care history. On Monday, President Trump pronounced the ACA "dead" and "gone." Sanders's Medicare for All provides a starting point for discussing a healthy replacement.  
____________________________________________________________________________________
Punto de conversación: Medicare para todos
En la historia moderna el problema de hacer que el servicio de salud en este país sea accesible para más estadounidenses, tiene un pasado tortuoso. Sin el apoyo de los republicanos del Congreso, el ex presidente Obama anunció la ley del Servicio de Salud a Bajo Precio (ACA, por sus siglas en inglés) en marzo del 2010. Posteriormente en 2014, las principales disposiciones de la ley estaban en vigor.
Pero el año pasado, el candidato republicano a la presidencia, Donald Trump, hizo una campaña para derogar ACA, normalmente conocida como Obamacare. La históricamente hostil ley de salud de Obama que el Congreso ha intentado repetidamente y no ha logrado anular. El 26 de septiembre, el Senado encabezado por los republicanos abandonó su último esfuerzo por falta de votos. Después el 12 de octubre, el presidente Trump firmó una orden ejecutiva, anulando algunas partes de ACA, incluyendo los subsidios federales de primas que benefician a los estadounidenses de bajos ingresos.
Mientras tanto, Bernie Sanders, el senador independiente de Vermont estaba elaborando un proyecto de ley que extendería la cobertura casi universalmente. El 13 de septiembre, Sanders introdujo la ley de Medicare para todos (Medicare for All) del 2017. El proyecto de ley 1804 del Senado que contiene 96 páginas exige un generoso aumento del tipo de cobertura ofrecida, eliminando el cobro compartido, deducibles, primas de seguros y la eliminación de las compañías de seguros del proceso.
Dentro de cuatro años bajo S. 1804, todos los estadounidenses estarían cubiertos por un plan de salud integral que supera a Medicare. Incluyendo beneficios dentales y de la vista, atención domiciliaria, hospitalaria y primaria, servicios de salud mental, medicamentos recetados y más.
Medicare para todos se introducirá gradualmente. El primer año, cubriría a niños menores de 18 años y adultos mayores de 55 años. En los tres años siguientes, los adultos de 45, 35 y 25 años, consecutivamente, serían elegibles para la cobertura integral. Su único asegurador sería el gobierno federal.
Sanders señala que el programa tradicional de Medicare gasta sólo el dos por ciento del fondo total del gobierno, menos de la sexta parte de los costos administrativos de las compañías privadas de seguros de salud. "Un Medicare para todos los individuos con un único financiador del sistema de salud" es la "solución más rentable y popular para esta crisis de atención médica", Sanders escribió en un artículo de opinión del 13 de septiembre en The New York Times.
El gobierno federal sería el "único financiador" de cualquier gasto de salud, eliminando así a todos los otros administradores adicionales en el sistema de salud de los EE. UU. Al igual que las "capas de burocracia asociadas con la administración de cientos de planes de seguro individuales y complicados". Es un sistema "sorprendentemente despilfarrador" que cuesta "cientos de millones de dólares al año," afirma Sanders.
A pesar de no haber incluido cómo se pagará por Medicare para todos en S. 1804, enumeró posibles opciones de financiamiento en su sitio web (www.berniesanders.com/medicareforall/). "No ha habido el tipo de investigación y estudio que necesitamos para armar estimaciones de costos y planes de financiamiento en la propuesta de ley," explicó Sanders en el Washington Post.
Sanders sabe que el 115° Congreso no va a aprobar S. 1804, pero ese no es el objetivo. Indica que el objetivo del proyecto de ley es "forzar una conversación". Estados Unidos es el único gran país que no garantiza un sistema de salud para todas las personas, que gasta mucho más dinero por persona en la atención médica que cualquier otra nación y paga los precios más altos por medicamentos recetados.
La medida del senador Sanders está lejos de suceder, pero aquí está la realidad política. Se ha inyectado nueva vida en el concepto de un único financiador en una coyuntura crítica en el historial de los servicios de salud de nuestra nación. El lunes, el presidente Trump declaró que ACA estaba "muerta" y que se había"acabado". Medicare para todos de Sanders proporciona un punto de partida para discutir un reemplazo saludable.