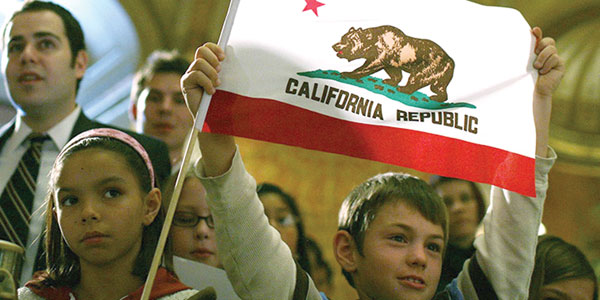 By Tere Siqueira
The citizens of Catalonia are inspiring people in two places they might not have imagined: California and Texas.
As multiple media outlets have reported, Catalans recently voted to break away from Spain. Since Catalans voted on Oct. 1 to approve Catalonia's independence referendum, leaders of the region's separatist movement have been imprisoned, with prosecutors alleging that Jordi Sanchez and Jordi Cuixart orchestrated protests in September in Barcelona, the Catalan capital.
Since Donald Trump's election as U.S. president, movements have intensified in Texas and California for those two states to secede from the United States. And according to the New York Daily News, the leaders of secessionist movements in both states are showing "a rooting interest in Catalonia." In fact, the Texas Nationalist Movement has declared on its website that it's pursuing the same secessionist strategy as the Catalans are using.
The Daily News also reported that Louis Marinelli is among those California residents who are following the developments of the push for independence in Catalonia, along with the process of Great Britain's efforts to leave the European Union, dubbed as "Brexit" in the press.
"If it happens and it happens successfully, it will be the best example for us," Marinelli told the Daily News.
President Trump also is among those Americans who are following the events in Catalonia, albeit with a different mindset than secessionists in Texas and California are. During a press conference in late September at the White House, Trump expressed support for the Spanish government.
"It would be foolish of Catalonia not to stay with Spain," the president said.
____________________________________________________________________________________
Cataluña inspira movimientos de secesión en California y Texas
Los ciudadanos de Cataluña están inspirando a personas en dos lugares que tal vez no habrían imaginado: California y Texas.
De acuerdo a múltiples medios de comunicación, los catalanes votaron recientemente para separarse de España. Desde que los catalanes votaron el primero de octubre para aprobar el referéndum de independencia de Cataluña, los líderes del movimiento que busca separar la región han sido encarcelados y los fiscales alegan que Jordi Sánchez y Jordi Cuixart orquestaron protestas en septiembre en Barcelona, ​​la capital catalana.
Desde la elección de Donald Trump como Presidente de los Estados Unidos, los movimientos se han intensificado en Texas y California para que esos dos estados se separen de los Estados Unidos. Y de acuerdo con el New York Daily News, los líderes de los movimientos secesionistas en ambos estados muestran "un interés radical en Cataluña". De hecho, el Movimiento Nacionalista de Texas declaró en su sitio web que está siguiendo la misma estrategia secesionista que los catalanes utilizaron.
The Daily News también informó que Louis Marinelli se encuentra entre los residentes de California que siguen el progreso del apoyo a la independencia en Cataluña, junto con el proceso de los esfuerzos de Gran Bretaña para abandonar la Unión Europea, apodado "Brexit" por la prensa.
"Si sucede y sucede con éxito, será el mejor ejemplo para nosotros", indicó Marinelli al Daily News.
El presidente Trump también se encuentra entre los estadounidenses que siguen los acontecimientos en Cataluña, aunque con una mentalidad diferente a la de los secesionistas en Texas y California. Durante una conferencia de prensa a fines de septiembre en la Casa Blanca, Trump expresó su apoyo al gobierno español.
"Sería absurdo que Cataluña no se quede con España", indicó el Presidente.