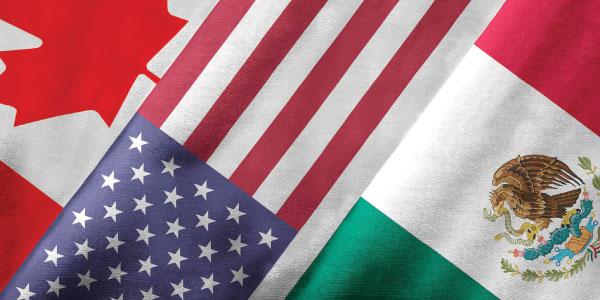 Commentary by Tere Siqueira
President Trump keeps threatening to withdraw the United States from NAFTA.
He should reconsider and withdraw his threat instead.
Withdrawing from the agreement with Canada and Mexico, which took effect in 1994, would produce serious economic and social consequences, including the following:
*It would negatively affect the bilateral cooperation against drug trafficking and illegal migration: Mexico and the United States have worked together extensively to combat drug cartels and secure the U.S.-Mexico border. But Mexico's foreign minister has warned that terminating NAFTA could bring relations with the United States to the breaking point. Without Mexico's cooperation on addressing those issues, it would be costly for the United States to walk away from NAFTA.
*It would hurt consumers' pockets: The taxes that Canada and Mexico place on their goods would increase, causing prices on those goods to spike. Consumers would then feel the effects of price increases on a range of goods.
*It would shake up supply chains: Mexican, American and Canadian companies have spent decades building up complex supply chains. Even minor changes to NAFTA would have a major impact on their procurement and logistical procedures.
*It would cause significant losses in agribusiness: NAFTA opened major markets to U.S. farmers. American corn, for example, has become a key import from the United States to Mexico. In addition, Mexican avocados, tomatoes and other fresh fruits and vegetables have become commonplace in U.S. grocery stores because of NAFTA. The losses in tax revenue from those products alone would produce meaningful losses in the agricultural industry if NAFTA were to end – or if the United States were to withdraw from it.
*It would hurt manufacturing businesses, especially the auto industry: The automotive industry in the three countries is tightly linked, with billions of dollars generated from exporting and importing vehicles – and even vehicle parts. Because of NAFTA, America produces about 1 million more vehicles annually than it would otherwise. Ending NAFTA would jeopardize around 800,000 auto industry jobs.
---
Poner fin al TLCAN generaría consecuencias considerables
El presidente Trump sigue amenazando con retirar a Estados Unidos del TLCAN.
Aunque debería reconsiderar y retirar su amenaza.
Retirarse del acuerdo con Canadá y México, que entró en vigencia en 1994, produciría serias consecuencias económicas y sociales, incluyendo las siguientes:
* Afectaría negativamente la cooperación bilateral contra el tráfico de drogas y la migración ilegal: México y Estados Unidos han trabajado conjuntamente para combatir los cárteles de la droga y asegurar la frontera entre México y Estados Unidos. Pero el canciller de México advirtió que el terminar con el TLCAN podría llevar su relación con Estados Unidos a un punto de ruptura. Sin la cooperación de México para abordar esas cuestiones, sería costoso para los Estados Unidos alejarse del TLCAN.
* Lastimaría los bolsillos de los consumidores: Los impuestos que Canadá y México colocan en sus productos aumentarían, lo que provocaría un alza en los precios de esos bienes. Los consumidores sentirían los efectos del aumento de precios en una gama de productos.
* Sacudiría las cadenas de suministro: Las empresas mexicanas, estadounidenses y canadienses han dedicado décadas a desarrollar cadenas de suministro complejas. Incluso cambios menores en el TLCAN tendrían un gran impacto en sus procedimientos logísticos y de adquisición.
* Causaría pérdidas significativas en los negocios agricultores: El TLCAN abrió mercados importantes para los agricultores de EE.UU. El maíz estadounidense, por ejemplo, se ha convertido en una importación clave de los Estados Unidos a México. Además, debido a los aguacates, los tomates y otras frutas y verduras mexicanas se han convertido en un lugar común en los supermercados de EE. UU. Las pérdidas en los ingresos fiscales de esos productos producirían pérdidas significativas en la industria agrícola si el TLCAN llegara a su fin o si los Estados Unidos se retiraran.
* Haría daño a las empresas manufactureras, especialmente a la industria automotriz: La industria automotriz en los tres países está estrechamente vinculada, con miles de millones de dólares generados por la exportación e importación de vehículos e incluso partes de vehículos. Debido al TLCAN, Estados Unidos produce aproximadamente 1 millón de vehículos más anualmente de lo que lo haría sin el tratado. Poner fin al TLCAN pondría en peligro alrededor de 800,000 empleos en la industria automotriz.