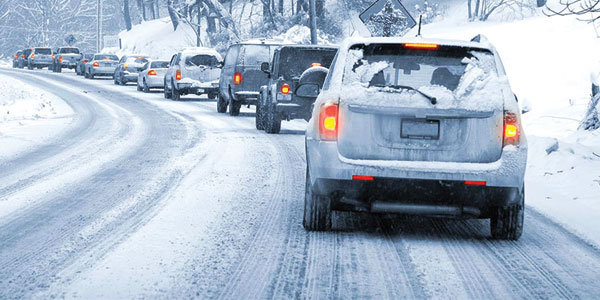 With winter quickly approaching, now is the best time to ensure your vehicles are ready for cold weather conditions.
Because one never knows when inclement weather will hit the Kansas City area, it's best to be proactive and prepared for when the day comes. Below are a few ways to make sure your vehicles are safe for your family:
*Give your vehicle a proper inspection: Consider what your car needs to work efficiently, such as an oil change, good windshield wiper blades, windshield washer fluid, a good battery, and belts and hoses that aren't too worn or torn. You can do those checks yourself or take your car to a professional. The ultimate decision is yours, but make sure you're addressing the concerns in a timely manner.
*Make sure your tires are winter-ready: Appropriate tire pressure is essential in wet, icy or snowy driving conditions, so check your tire pressure regularly. And depending on the area where you live, snow tires might be a better option for your vehicle to get better traction. It doesn't hurt to ask or to get a quote to get a better idea of what options you have and if snow tires would be the best decision for you and your family.
*Prepare an emergency car kit: If something goes amiss and you're left stranded, it's best to always be prepared – especially in inclement weather. Blankets, clothes, water, non-perishable food items, plastic bags and paper towels are among the items you should consider including in your kit.
---
¿Cómo preparar tus vehículos para el invierno?
Con el invierno acercándose rápidamente, ahora es el mejor momento para asegurarse de que sus vehículos estén listos para las condiciones del clima frío.
Como nunca se sabe cuándo el mal tiempo afectará el área de Kansas City, es mejor ser proactivo y estar preparado para cuando llegue el día. A continuación hay algunas maneras de asegurarse de que sus vehículos sean seguros para su familia:
* Dele a su vehículo una inspección adecuada: Considere lo que su automóvil necesita para trabajar de manera eficiente, como un cambio de aceite, limpiaparabrisas de buena calidad, líquido lavaparabrisas, una buena batería, correas y mangueras que no estén demasiado gastadas o rotas. Puede hacer estas revisiones usted mismo o llevar su automóvil a un profesional. La decisión final es suya, pero asegúrese de atender las inquietudes de manera oportuna.
* Asegúrese de que sus neumáticos estén listos para el invierno: Tener los neumáticos en la presión adecuada es esencial al manejar en condiciones de concreto mojado, helado o con nieve, por lo que debe verificar la presión de los neumáticos con regularidad. Y dependiendo de la zona donde viva, los neumáticos para nieve podrían ser una mejor opción para que su vehículo tenga una mejor tracción. No hace falta pedir u obtener una cotización para tener una mejor idea de las opciones que tiene y si las llantas para nieve son la mejor opción para usted y su familia.
* Prepare un kit de emergencia para el automóvil: Si algo va mal y quedará varado, lo mejor es siempre estar preparado, especialmente cuando hay mal clima. Cobijas, ropa, agua, alimentos no perecederos, bolsas de plástico y toallas de papel son algunos de los artículos que debe considerar incluir en su kit.