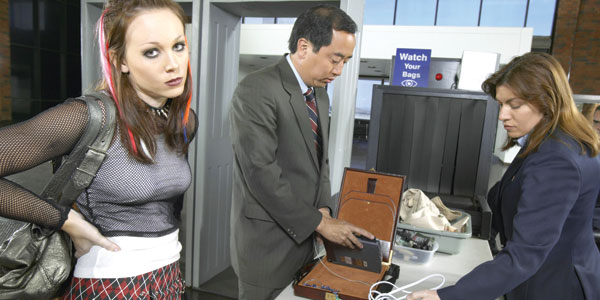 By Chara
Recently, the Transportation Security Administration (TSA) announced it would soon start implementing new security measures at airports in the United States and outside the country.
The measures will affect passengers with carry-on items. One measure is that passengers will be required to place electronics larger than a cellphone in bins for X-ray screening.
"TSA has enhanced its security procedures to stay ahead of evolving threats," Jerry Henderson, TSA federal security director, was quoted in a press release as saying. "TSA is committed to raising the baseline for aviation security, and we appreciate the cooperation of the traveling public in this endeavor."
The measures are expected to affect 325,000 passengers traveling from the United States to other countries. Domestic travelers will be affected, too.
"The security measures affect all individuals, international passengers and U.S. citizens traveling to the United States from a last point of departure international location," stated Lisa Farbstein, TSA spokesperson. "These new measures will impact all flights from airports that serve as last points of departure locations to the United States."
According to the TSA, passengers who refuse to remove their electronic devices from their carry-on bags will undergo an extensive checking procedure.
To avoid delays, TSA officers are advising passengers to follow the instructions in the screening line. In addition, officers are requesting that passengers organize bags with carry-on items and keep them uncluttered.
Items that will be allowed in carry-on bags include food and liquids that meet the requirements. Liquids must travel in small containers (100 milliliters) that fit in 1-quart-sized resealable bags. In addition, passengers will be allowed to travel with books and electronics.
The new measures won't affect passengers traveling under the TSA precheck program.
__________________________________________________________________________________
TSA implementa nuevos procedimientos de seguridad en los aeropuertos
Recientemente, la Administración de Seguridad del Transporte (TSA) anunció que pronto comenzaría a implementar nuevas medidas de seguridad en los aeropuertos de Estados Unidos y fuera del país.
Las medidas afectarán a los pasajeros con equipaje de mano. Una medida es que se requerirá que los pasajeros coloquen los dispositivos electrónicos más grandes que un teléfono celular en contenedores para la escáner de rayos X.
"TSA ha mejorado sus procedimientos de seguridad para mantenerse a la vanguardia en la evolución de las amenazas," indico Jerry Henderson, director de seguridad federal de la TSA, en un comunicado de prensa. "TSA se compromete a elevar las medidas para la seguridad de la aviación y apreciamos la cooperación del público viajero en este esfuerzo".
Se espera que las medidas afecten a 325,000 pasajeros que viajan desde Estados Unidos a otros países. Los viajeros domésticos también se verán afectados.
"Las medidas de seguridad afectan a todas las personas, pasajeros internacionales y ciudadanos estadounidenses que viajan a Estados Unidos desde un punto de partida internacional," declaró Lisa Farbstein, vocera de la TSA. "Estas nuevas medidas tendrán un impacto en todos los vuelos desde los aeropuertos que sirven como puntos de salida a Estados Unidos".
Según la TSA, los pasajeros que se nieguen a retirar sus dispositivos electrónicos de sus bolsas de mano se someterán a un extenso procedimiento de revisión.
Para evitar demoras, los oficiales de la TSA están aconsejando a los pasajeros que sigan las instrucciones en la línea de detección. Además, los oficiales están solicitando que los pasajeros organicen bolsas con artículos de mano y los mantengan despejados.
Dentro de los artículos que se permitirán en bolsas de mano incluyen alimentos y líquidos que cumplan con los requisitos. Los líquidos deben viajar en contenedores pequeños (100 mililitros) que quepan en bolsas resellables. Además, los pasajeros podrán viajar con libros y productos electrónicos.
Las nuevas medidas no afectarán a pasajeros que viajan bajo el programa de confianza del Departamento de Seguridad Nacional (TSA).