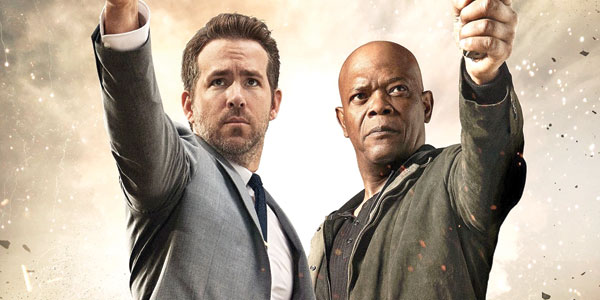 By Chara
The Hitman's Body Guard is a movie that will get your attention with action and comedy. However, the production in the movie was not an easy task. Greg Powell, stunt coordinator in the movie talked to Dos Mundos about his experience and why is important that people watch the movie.
Dos Mundos: How did you get started in the stunt field?
Greg Powell: It was a family business really.  My father was a stuntman like his brother.  So, you know, we'd go to studios and work alongside him as a kid.  So, it's a natural progression to me because all through the, you know going on to James Bond films and all of them old films, so I was naturally going to be a stuntman.  So, I just carried on like my younger brother, like my youngest daughter also does stunts.
DM: What scene did you most enjoy filming in the Hitman's Body Guard?
GP: I think the boat chase in the motorbike and cars around Amsterdam.  You know it was all high speed. very exciting stuff. I think that was mine but the fire stuff I enjoyed doing as well but I think I really enjoyed doing that one.  
DM: What would you say was the most challenging part of shooting?
GP:  I think it was the boat chase with the motorbike and cars because we, as you know, shot that in Amsterdam, which as you know is a very busy place.  There are small streets and narrow canals there, so we had to make sure we have everything covered safety-wise where we chose to shoot to make sure we could do everything that we wanted to do in the time and space that we were there. 
DM: and Why do you think people should watch the Hitman's Bodyguard?
GP: I think it's a film that people will go to in the cinemas. They will enjoy it because it's funny it's got live action i think it all worked.  It's got great music. It's got everything.  People can actually go and sit down and enjoy something you know without watching big screens full of CGI.  You know?  What you see is what you get, and I think that's what people are coming to enjoy again, at films now.
You can get your Hitman's Body Guard Combo Pack at your favorite store.
__________________________________________________________________________________________________
Conversando con un doble
The Hitman's Body Guard (Duro de Matar) es una película que llamará tu atención con su acción y comedia. Sin embargo, la producción en la película no fue una tarea fácil. Greg Powell, coordinador de dobles de la película habló con Dos Mundos sobre su experiencia y por qué es importante que la gente vea la película.
Dos Mundos: ¿Cómo empezaste en la industria de los dobles?
Greg Powell: En realidad es un negocio familiar. Mi padre fue un doble, como su hermano. Entonces, de niños íbamos a los estudios y veíamos su trabajo. Por lo que fue algo natural para mí, el experimentar las películas de James Bond y todas esas películas antiguas, así que era natural que me convirtiera en un doble. Después, continué junto con mi hermano menor y también mi hija menor hace acrobacias.
DM: ¿Qué escena te gustó más filmar en The Hitman's Body Guard?
GP: Creo que la persecución del bote en la moto y los autos alrededor de Amsterdam. Todo fue en alta velocidad, algo muy emocionante. Creo que esa fue mi favorita, pero también disfruté hacer las escenas con fuego.
DM: ¿Cuál dirías que fue la parte más desafiante de las escenas con disparos?
GP: Creo que fue la persecución en bote con la moto y los autos, porque como sabes se filmó en Ámsterdam, que es un lugar muy concurrido. Allí las calles son pequeñas y los canales estrechos, así que donde elegimos disparar debimos asegurarnos de que teníamos todo cubierto en lo que respecta a la seguridad y que podíamos hacer todo lo que queríamos en el tiempo y el espacio en el que estábamos.
DM: ¿Y por qué crees que la gente debería ver The Hitman's Body Guard?
GP: Creo que es una película que la gente irá a ver en los cines. Lo disfrutarán porque es divertida y tiene acción real, creo que funcionó. Tiene buena música. Lo tiene todo. La gente puede ir, sentarse y disfrutar de algo que sabes sin mirar grandes pantallas llenas de CGI. ¿Sabes a que me refiero? Lo que ves es lo que obtienes y creo que actualmente eso es lo que la gente viene a disfrutar en las películas.
Puedes obtener tu paquete de Hitman's Body Guard en tu tienda favorita.