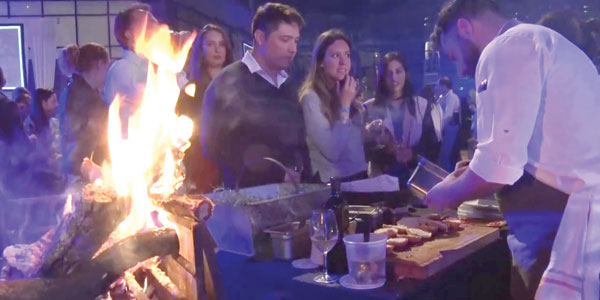 Colondres www.LaCocinaNoMuerde.com
La Semana del Rock, un evento declarado de "Interés Turístico Nacional" por el Ministerio de Turismo de Argentina y creado por el Park Hyatt de Mendoza y Bodega Monteviejo, ha sido premiada con oro en el Best of Global Award 2018.
Este concurso, organizado por Great Wine Capitals, reconoce los mejores eventos del turismo del vino a nivel mundial. Premiando a las que se hayan distinguido por su excelencia en arte, cultura, sostenibilidad y vino.
Entre las actividades que se llevan a cabo en esta semana de abril, está el Masters of Food & Wine Rock Edition. Un evento de gastronomía y vino que nació en California y que en Mendoza se ha convertido en un ícono del universo gourmet, reuniendo a más de 20 Chefs y 25 bodegas mendocinas, junto a un show acústico bajo las estrellas. En este festival gastronómico inspirado en los íconos del rock, los sabores encuentran el ritmo y el maridaje perfecto.
El año pasado, tuve el inmenso honor de participar y me tocó diseñar una receta con el nombre de la canción "Amores Lejanos" de la banda argentina Enanitos Verdes y maridarlo con un vino de su bajista Felipe Staiti junto al enólogo de Monteviejo, Marcelo Pellereti. Fue una experiencia inolvidable cocinar para más de 400 personas.
Después de disfrutar de esa gran noche del festival gastronómico con el aperitivo del show acústico, el día oficial del Wine Rock, viajamos al viñedo de Monteviejo en el Valle de Uco. Ahí tanto los chefs como los asistentes, disfrutamos del "plato principal", la fusión del rock, el vino, el arte y la gastronomía, rodeado de una de las mejores vistas del mundo: el paisaje de la cordillera de Los Andes.
Este año, los asistentes del Wine Rock, disfrutarán de una extensa agenda de actividades que promete durar todo el día y la noche. Si este próximo mes de abril te quieres saborear de una experiencia única en el mundo, visita el Park Hyatt Mendoza o Bodegas Monteviejo para más información. Recuerda que la moda ahora es viajar a destinos gastronómicos, empieza a "cocinar" tus ricas vacaciones.
Doreen Colondres es nuestra celebrity chef. Latina, viajera incansable, graduada y certificada en cocina y vinos. Síguela en las redes @Doreen Colondres y para más recetas visita su web www.LaCocinaNoMuerde.com o adquiere su libro en Amazon o Itunes.