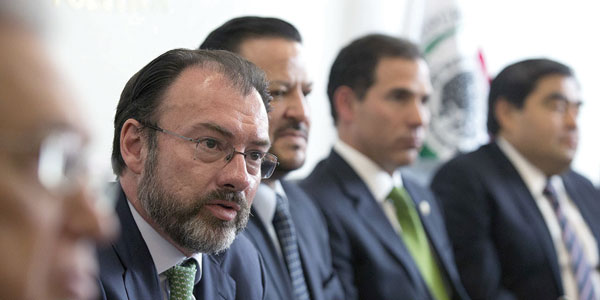 President Trump continues to insist that Mexico will pay for a wall along the U.S.-Mexico border to curb undocumented immigration and drug trafficking-related violence.
Mexico continues to insist that it won't.
Reacting to some Jan. 18 Twitter posts by Trump, Mexican Foreign Minister Luis Videgaray posted a statement on Twitter, saying: "As the Mexican government has stated, our country is not going to pay, under any circumstance, (for) a wall or a physical barrier that is built in the American territory."
Videgaray's statement also recognized the violence problem that Mexico faces – an issue Trump raised in a tweet by claiming the United States needs a wall "for the safety and security of our country." But Videgaray denied the president's claim that Mexico is "now rated the number one most dangerous country in the world."
"Mexico is far … (from) being one of the most violent countries (in the world)," Videgaray said. "In Latin America, there are other countries that have higher homicide rates."
According to the Institute for Economics and Peace, Mexico is ranked 22nd on the Global Peace Index's list of the world's most dangerous countries. The list puts Syria in first place, followed by Afghanistan, Iraq, South Sudan, Yemen, Somalia, Libya, North Sudan, the Central African Republic and Ukraine.
In addition, the World Economic Forum recently published a list of the top 20 most dangerous countries. Mexico wasn't on it.
Moreover, Videgaray said that the violence generated by drug trafficking is a problem shared by both countries – and that the high demand from the United States and the supply from Mexico and other countries are issues that must be tackled. He concluded his statement by saying that Mexico wouldn't discuss NAFTA or other bilateral issues by using social media.
---
Videgaray reitera la negativa de México a pagar por el muro fronterizo de Trump
El presidente Trump continúa insistiendo en que México pague por un muro a lo largo de la frontera entre Estados Unidos y México para frenar la inmigración indocumentada y la violencia relacionada con el narcotráfico.
México continúa insistiendo en que no lo hará.
Reaccionando a algunas publicaciones en Twitter del 18 de enero de Trump, el Secretario de Relaciones Exteriores mexicano Luis Videgaray publicó una declaración en Twitter que decía: "Como el gobierno mexicano ha declarado, nuestro país no va a pagar, bajo ninguna circunstancia, por un muro o una barrera física que se construya en el territorio estadounidense ".
La declaración de Videgaray también reconoció el problema de violencia que enfrenta México, un tema que Trump planteó en un tweet al afirmar que Estados Unidos necesita un muro "para la seguridad de nuestro país". Pero Videgaray negó la afirmación del Presidente de que México "ahora está clasificado como el número uno del país más peligroso del mundo ".
"México está lejos … de ser uno de los países más violentos en el mundo", dijo Videgaray. "En América Latina, hay otros países que tienen tasas de homicidios más altas".
Según el Instituto de Economía y Paz, México ocupa el puesto 22 en la lista del Índice de Paz Global de los países más peligrosos del mundo. La lista coloca a Siria en el primer lugar, seguida de Afganistán, Iraq, Sudán del Sur, Yemen, Somalia, Libia, Sudán del Norte, la República Centroafricana y Ucrania.
Además, el Foro Económico Mundial publicó recientemente una lista de los 20 países más peligrosos, México no estaba en ella.
Además, Videgaray dijo que la violencia generada por el narcotráfico es un problema compartido por ambos países y que la gran demanda de Estados Unidos y el suministro de México y otros países son temas que deben abordarse. Concluyó su declaración diciendo que México no discutiría el TLCAN u otras cuestiones bilaterales mediante el uso de las redes sociales.