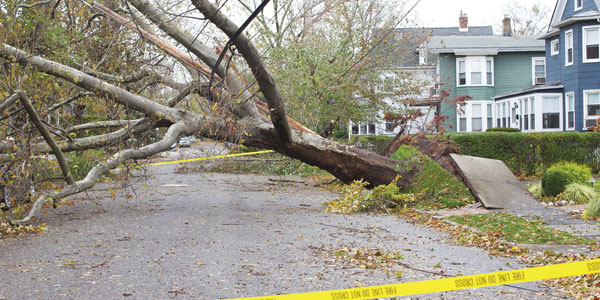 When it comes to storms and hurricanes, you can never be too prepared. To keep your family safe, it's important to prepare for the worst because once a hurricane or storm hits, action must be taken quickly.
In the case of a power outage, a common side effect of natural disasters, one of the best pieces of equipment to have on hand is a portable generator. Portable generators can provide the power needed to access important radio or television weather updates, lights, hot water and refrigeration for safe food storage, among other necessities. After a storm, it is difficult to predict when power will be restored, so it's best to be prepared with a backup power source.
When used properly, portable generators can save lives, but there are some risks that come along with using them. Safe use is critical to avoid dangerous carbon monoxide which you cannot see, taste or smell.
The Portable Generator Manufacturers' Association recommends taking time to reacquaint yourself with your generator's features and safe operating instructions, as well as keeping these safety tips in mind:
Keep the operator's manual in a safe place so you can refer to it easily for further information about safe operation and potential hazards.
To avoid dangerous carbon monoxide accumulation from a portable generator, always "Take It Outside." Never run a portable generator indoors, in areas such as garages, basements, crawl spaces, breezeways, sheds or other partially enclosed spaces.
Always place a portable generator downwind and point the engine exhaust away from occupied spaces.
Avoid placing a portable generator near windows, doors or vents, as carbon monoxide gas can accumulate and potentially be drawn indoors.
Install battery-operated carbon monoxide alarms according to manufacturer's instructions. Replace batteries and test the alarm regularly to ensure it is in good working condition.
Learn to recognize the symptoms of carbon monoxide poisoning: headache, nausea, dizziness, shortness of breath, weakness and fainting.
If you feel sick, dizzy or weak while using a portable generator, get to fresh air immediately and call 911 for emergency medical attention­­­.
Now is the perfect time to educate yourself and your family on the safe and proper use of portable generators in preparation for major storms and natural disasters. Learn more about safely operating a portable generator during severe weather at takeyourgeneratoroutside.com or pgmaonline.com.
---
Prepárese para el mal clima
Cuando se trata de tormentas, huracanes y nevadas, nunca se puede estar demasiado preparado. Para mantener a su familia segura, es importante prepararse para lo peor porque una vez que llega un huracán o tormenta, debe tomar acción rápidamente.
En caso de una pérdida de electricidad, el cual es un efecto secundario común durante los desastres naturales, uno de los mejores equipos para tener a la mano es un generador portátil. Los generadores portátiles pueden proveer la electricidad necesaria para tener acceso a importantes actualizaciones del clima por radio o televisión, luces, agua caliente y refrigeración para conservar la comida, entre otras necesidades. Después de una tormenta, es difícil pronosticar cuando se restaurará la electricidad, así que es mejor estar preparado con una fuente de electricidad.
Cuando se usa apropiadamente, los generadores portátiles pueden salvar vidas, pero hay algunos riesgos que vienen al utilizarlos. El uso seguro es crítico para evitar el peligroso monóxido de carbono, el cual no se puede ver, oler, ni tiene sabor.
La Asociación de Fabricantes de Generadores Portátiles recomienda tomarse el tiempo para familiarizarse con las características de su generador y las instrucciones operativas seguras, así como mantener estos consejos de seguridad en mente:
Guarde el manual de instrucciones en un lugar seguro para que pueda consultarlo fácilmente y tener mayor información sobre la operación segura y peligros potenciales.
Para evitar la acumulación del peligroso monóxido de carbono con un generador portátil, siempre "llévelo afuera". Nunca opere un generador portátil adentro, en áreas tales como garages, sótanos, sótano de baja altura, pasaje techado, cobertizo y otros espacios parcialmente cerrados.
Siempre coloque un generador portátil a favor del viento y apunte el tubo de escape del motor lejos de los espacios ocupados.
Evite colocar un generador portátil cerca de ventanas, puertas o tubos de ventilación, ya que el gas de monóxido de carbono puede acumularse y potencialmente entrar al interior.
Instale alarmas de monóxido de carbono de pilas de acuerdo con las instrucciones del fabricante. Reemplace las pilas y pruebe la alarma regularmente para asegurar que está en buenas condiciones de funcionamiento.
Aprenda a reconocer los síntomas del envenenamiento por monóxido de carbono: dolor de cabeza, náuseas, mareos, falta de respiración, debilidad y desmayos.
Si se siente enfermo, mareado o débil mientras utiliza un generador portátil, salga a tomar aire fresco inmediatamente y llame al 911 para recibir atención médica de emergencia.
Ahora es el momento perfecto para informarse usted y su familia sobre el uso seguro y apropiado de los generadores portátiles al prepararse para las fuertes tormentas y desastres naturales. Aprenda más sobre operar con seguridad un generador portátil durante el clima severo en takeyourgeneratoroutside.com o pgmaonline.com.